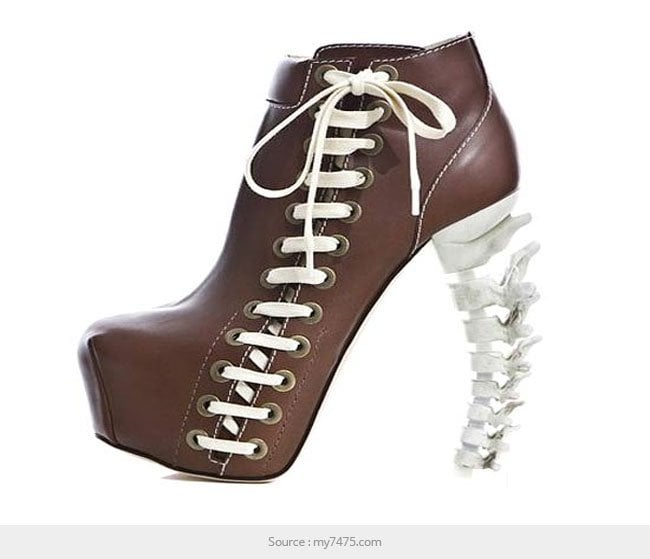 If diamonds are girl's best friends then shoes are her 'sole' mates (pun intended)
While heels have always been fashion staples in every fashionista's wardrobe; the statement – 'Why women can't have enough shoes' is very well exemplified. Now exceeding the style factor, some fashion designers have come up with the world's most bizarre fashion trends just like the following 5 unique stilettos you never knew existed.
While we have enough discussed on the trending runway shoes from shoe gurus like Dolce and Gabbana, Prada and Gucci to Jimmy Choo, Christian Louboutin and Alexander McQueen; let's have a look at the most unique heel designs that are nothing but bizarre fashion trends which require a lot of guts to be pulled off.
While the heels of the stilettos are usually thin and narrow; each of these unique shoes are incorporated with weird designs that force you to think if you could balance your weight by walking on those heels. Better have a look to convince yourself!
1. DSquared2 Heels
The fall 2010 footwear collection by DSquared2, which had first appeared in Milan Fall 2010 Fashion Week, is sure to rattle a few bones of yours!
The shoe house has induced the 'human skeleton' theme in their wide range of shoes from peep pumps and booties to knee high boots and stilettos.
These expensive spinal cord heels priced at $1500 are a thousand fold weird but insanely attractive. They are indeed going to blow your mind, putting you into an utter euphoric state and if these spinal cord heels have failed to give you the 'shoe-gasm' then better scroll down for more impact!
2. Kobi Levi Slingshot Shoes
I don't know how the trend hunters will take these strikingly fierce Kobi Levi Slingshot Stilettos, but I do know I can never get into these designs as far as my comfort is concerned. However, these unique wooden heels have nonetheless impressed the fashion world and went viral soon after their launch.
As the name suggests, these stilettos feature slingshot-shaped heels with straps giving full justice to the design.
These edgy Kobi Levi shoes are for highly fashion-forward women of the new age.
3. Kobi Levi Coffee Pot Shoes
If the slingshot shoes were not enough, the shoe designer has come up with another pair of super funky stilettos you never knew existed. These attention-grabbing heels can not only grace the wardrobes of celebs like Lady Gaga, but can be a preferred choice for the extreme fashion lovers.
The Israeli shoe designer, who has already showcased his footwear creations in Italy, China and Brazil, is in a bid to create innovative designs quite possibly for his heels. Most of his inspirations are from the daily chores, creating humoristic results and realization.
4. Cesare Paciotti's Light-Up Stilettos
Having made their debut at the Paris Fashion Week, these sexy pair of shoes that cost only $2000 have small bead-like crystals which get illuminated by a small switch that is placed under the sole.
Not sure if I would personally wear these at an event, even if I could afford the price tag. I probably think these would suit best for those who love swinging around the poles for fun.
5. Kobi Levi Stewardess Heels
Kobi Levi undoubtedly makes the most of my 5 unique stilettos you never knew existed, thereby becoming the undisputed shoe designer of bizarre yet fashionable stilettos.
The designer takes his imagination to the next level, which is pretty evident from his sole-less pair of stewardess shoes from his 2014 uniform series collection. These pretty girls scout stilettos don't have heels except for a flat base.
While you can easily balance your weight on these heels; you can add some strong doses of style statement to your look.
We'll leave you with some more images of unique stilettoes.
Tell us which ones you might like to give a try to and experiment with?