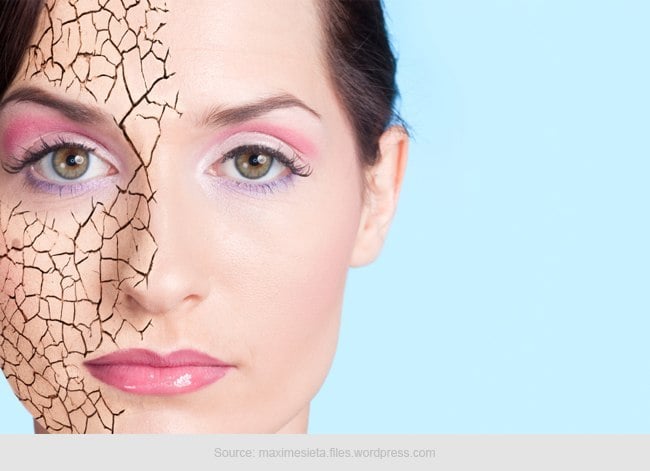 Your makeup could be caking off; chemicals may be sucking out the moisture; no matter how hard you try you can never achieve that fresh glow on your face – these are just a few problems faced by those who have dry flaky skin. You have one advantage though – no blemishes, because lesser chance of acne. But then there is the redness caused by sensitivity. Infections cannot be kept away from the dry skin as well. You don't have to worry about the T-zone either. But then the radiant complexion is absent too.
The reason for your sebaceous glands pumping out lesser amount of essential oil to your face could be age or genetics. Tight flaky skin is a sign of damaged protective layer on your skin that locks in the required moisture content. The damage could occur due to hot water, dry air, cold weather or harsh cleaners and scrubs.
[Also Read: How To Treat Dry Skin Patches]
The best easy makeup tips is to keep your face well moisturized all the time. Use cream based skin care products rather than gels. Apply moisturizers at least 3 to 5 minutes before using foundation on your face. Makeup can be especially tricky for some areas on your face. Make sure you know how to do it right so that you are not highlighting the imperfections instead of hiding them.
The following tips will help you:
Moisturize
Prepare your skin for makeup by moisturizing it well in advance. You need smooth soft skin to prevent the foundation from caking. Use a moisturizing face mist right after a bath. You could use rosewater which helps in keeping the skin cool. Follow this with a rich cream – massage it in to let the skin absorb it well. You may use a makeup primer after this to lock in the moisture. This forms a protective barrier and prepares a smooth surface for the make-up to settle in, thus eliminating any risk of patches. For a shiny hydrated look, you can use a pearly highlighter before foundation.
Conceal
Dry skin is an easy victim of wrinkles and lines. Use a creamy foundation and concealer to smoothen these out. It is best to use a brush for applying the concealer. You can also use concealer sticks that smoothly glide on your skin. Give special attention to your under eyes. Now apply a cream based foundation with a brush. For a natural look you could use a tinted moisturizer too. Start at the middle of your face and spread the foundation outwards. You may use a light dusting of clear powder to seal the foundation. But if the skin is too dry, avoid the powder.
Colour
Use a creamy blush and eye shadow – these will give a soft glow to your face too. Unlike powdery makeup, cream based products can hide fine lines and wrinkles. Also, you can avoid patches and caked make-up due to dryness. Highlight your cheekbones with a shimmery bronze or gold for the night or a rosy shade for the day. Do not use your fingers to apply makeup. Use a brush for even application.
Seal
For a glowing look, you can use a large fluffy brush to dust some powder bronzer – start with your cheeks and spread to your nose, chin and forehead. Dust off the remaining powder in the brush on your neck for a uniform complexion. Translucent and sheer hydrating powders are available for dry skin. Make sure you use these for picture perfect finish.
Follow these simple tips and you will never have to worry about patchy makeup and dull looks.