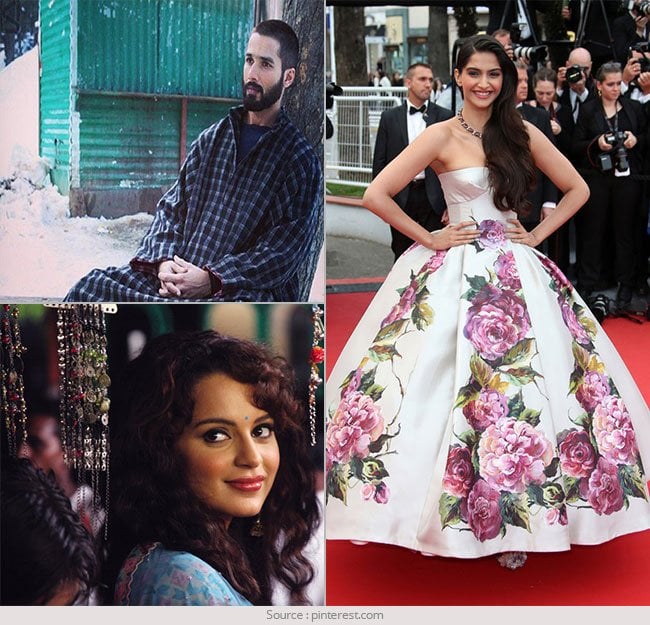 Gone are the days, when celebrities were hesitant to make a bold style statement. There are many celebs in our industry, who take heroic decisions to make the industry more stylish. Now, the Bollywood style statements have hit the newspapers and film magazines are creating spicy headlinesin a big way! Be it Kareena Kapoor for her size zero controversy, Fashionista Sonam Kapoor for her de glam look or Shahid Kapoor's new conversion for his upcoming film 'Haider'.
Bringing Back a Style Quotient
Sonam Kapoor seems to be quite devoted towards her look for the movie.
The Fashion icon famous for experimenting with her looks shared her de-glam look for her forthcoming film "Dolly ki Doli" and it is not the first time that the actress has changed her avatar according to the demand of the role.
Whether it's "Raanjhanaa" or "Bhaag Milkha Bhaag", sporting the girl-next-door image has always worked well on the silver screen. And now, the first look of her next flick also defines the same.
According to our Fashion-diva, "Deglam" is when you're really looking awful. And with every film, she changes her looks and wear clothes according to her character.
Shahid Kapoor for Haider
After a long time Shahid Kapoor has been in buzz for his new look in his upcoming film 'Haider', the actor has kept his beard and moustache look to live his character of a Kashmiri guy.
However Shahid's fan disappointed with his decision to go bald and the hashtag #DontGoBaldShahid was trending on twitter after he had given away a reason of impending hair loss to his fans. While it's not the first time that the R Rajkumar star has attained a new look for his role. From "Jab We Met" to "Kaminey", Shahid worked a lot for his look and that is why we see a lot of celebs experimenting not only with the story line but also with their roles and look for the film. There is no more holding back.
That's When it all Started
Unlike other actors in Bollywood, Aamir Khan is also known for changing his looks, be it the role of uber-cool guy with a goatee in "Dil Chahta Hai" or him retaining eight packs for "Ghajini".
Aamir's goatee that he sported in "Dil Chahta Hai" was perhaps his most trend-setting look for the youth, with his spiky hairstyle and goatee look became a fashion statement. Being a perfectionist in every sense he tries almost everything before finalising his look for his movie. Style statements have always been an important part of our celebs life and nothing seemed to change a lot as the Khans and Kapoor brigade have also started taking effort to undergo a transition in their looks.
The Phase of Variation
These Celebrities not only experiment with their looks but also undergo changes to enhance their features. Every actress has improved her style over the years, some naturally and some with the help of surgeries.
Post her debut movie, there was a drastic change seen in Kangana Renault where she was always in news for playing with her style statement. She has always been in news for her edgy and exceptional fashion sense that worked well with her. The "Tanu Weds Manu" star believes that one can't give a certain name to her style as it keeps evolving.
While few celebs like Vidya Balan don't believe in experimenting with her looks despite being disapproved by fashion critics. What really has not changed for Vidya was her signature style. Traditional wear were her favourite whether you see her making appearance in Cannes or any other award show. After being slammed for her weight, the actress has now decided to have more fun with her looks
Kangana Ranaut's Different Appearances for Movies and Promos :
Vidya Balan's Different Looks :
What's your opinion? Have they all done justice to the looks they were offered for the roles? Share it in comments and let us know.