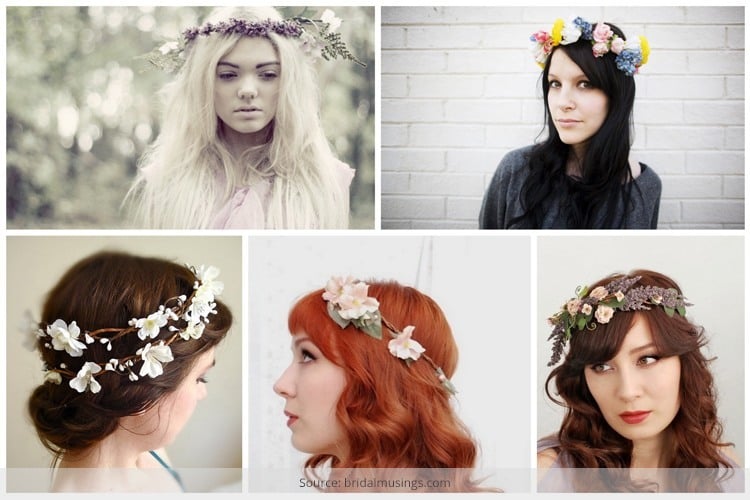 Silver tiaras or the oxidized ones to wear at your wedding? Confused, well this is a peril most PYTs who plan a Bohemian wedding face, but why wear metal at all is the question.
Here are some bohemian wedding wreaths
Why metal when you can wear a pretty wedding flower crown or bohemian wedding wreaths to up the ante when it comes to haute bridal trends.
[Also Read: Bohemian Style]
Back Then
In the days of the ancient, olive wreaths were the norm, symbolizing fertility and abundance for the bride who enters her new home. Not much has changed with the oncoming of the new-age though, but for sure, there are wedding flower crowns with touches of the sacred olive branch crowning the glorious tresses of gorgeous Bohemian brides these days. Here's a sneak peak!
Pretty Wedding Flower Crowns You Could Wear At Your Wedding
It could be a fashion statement you would start by wearing one, but traditional boho-chic wedding wreaths now are the norm for most unconventional weddings, especially if you do not fancy wearing a veil!
[Also Read: Bohemian Bridal Fashion]
Gorgeous Touches To The Bridal Ensemble
Keeping it minimal and chic, au naturale to say so, the classiest floral wedding crown is one made from fresh flowers in light colours – pinks, peaches to whites and creams.
[Also Read: Trendy Bohemian Hair Accessories]
Made With Love Using Classic Roses Or Soft Hydrangeas
With the amalgamation of all things beautiful on a bride-to-be, the classy touches of hydrangeas and roses and spun into a wedding floral crown, cannot be underestimated!
Tiny White Primroses
Don't like the flowers too large, opt for chic tiny ones that sit pretty on the forehead and match the gorgeous bridal ensemble and the bouquet too!
Colourful Carnations
Carnations on the hair and with a chic minimal touch as well; perfect for the bohemian bride who wants no shine or bling or too much fancy at her wedding!
[sc:mediad]
Floral Pink Wedding Wreaths
Love it in pink and all shades of it? The dusty powder pink floral wedding wreath speaks of elegance and simplicity, yet with a touch of bohemian attitudes and a nonchalant bride ready to take her vows!
Large White Flowers
You could DIY this large bridal floral crown at home with the help of wire and twine, and a few nag champa flowers. Smell heavenly as you walk down the aisle, your man at the altar would be floored for sure!
Bright And Vibrant
Bohemian weddings aren't dull and shabby to say the least; Bohemians know how to celebrate the most joyous events, musicals and in short, their lives with plenty of colour pops now and then.
Bohemian Inspired
Perfect for a beach wedding and with a bohemian touch, the wedding head wreaths made from tiny white primroses and sitting entwined with olive reeds are a sure shot eye grabber to flaunt; the best part is, the salty sea winds wouldn't blow the wreath off!
Deep Red Passion
Red roses speak of passion and sensuality ahead, and a bride so confident about what she wants, must have red roses as her crowning glory.
Let's Play Violets And Blues
Breaking from the conventional norms of whites, pinks and reds, wedding hair wreaths in colours of violets and blues are making a comeback too.
Happy In Her Own Ways
The quaint smile says it all, and the bride-to-be is the happiest today. She wears to burden and weight on her head, which is what the bohemian wedding flower crown she sports, says!
[Also Read: Wedding Hairstyles For Short Hair]
Roses And More Of Them
Choose roses, the symbol of love and in various shades and hues that too!
We loved them all, we surely did! Choose your style and let us know too!