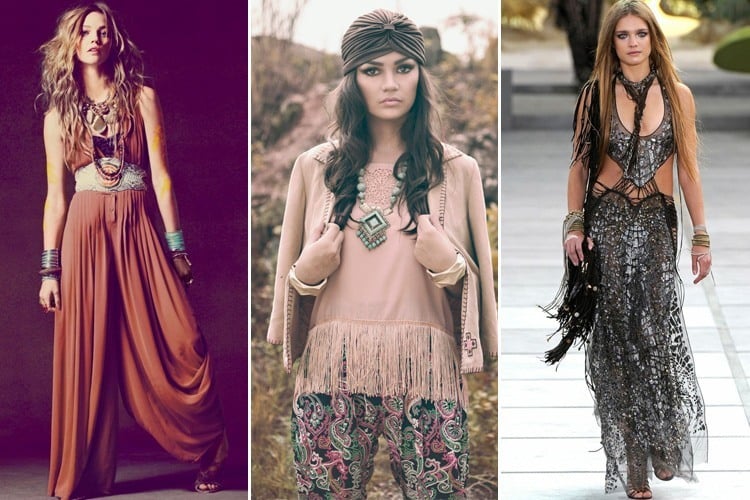 Are you boho lite or boho heavy? If you are in the boho girl bracket, then it's time to warm up to bohemian style aesthetics.
Looking boho starts off from thinking boho. You know it's like saying style meets character. To enable your understanding of bohemian style clothing, I have rounded up a couple of bohemian style outfit ideas that would give you style tips to slip into this cool new wardrobe statement. Enjoy this cult of a concept which will redefine your way of living.
[Also Read: The Bohemian Style Trend – How to Boho from Head – To – Toe?]
Bohemian Style Outfit Ideas
1.Simple Maxi Skirt
A maxi skirt is a classic example of bohemian dressing style. It can be simple or solid colored and is the easiest to build an outfit from.
Team a maxi skirt with a graphic t-shirt and a versatile vest. Give it the finishing touches by wearing gladiator sandals and a top knot.
If you want to switch over to this quick and comfy ensemble for outdoors, then wear a maxi skirt with a solid colored V-neck and a floppy looking sun hat. A pair of canvas sneakers, not to forget a bright lipstick would amp up the bohemian style miles ahead.
2. Printed Maxi Skirt
Adding geometric or nature-inspired prints is a bonus point that makes a simple looking maxi skirt look a hot item.
On top of that, wearing chunky jewelery and wedge sandals makes bohemian dressing style give you a perfect night date look.
[Also Read: Boho Clothing]
If you want a casual effect, then go for a denim vest with a printed maxi.
3. Ankle Boots Neutral Colored
The concept of new and polished boots is not for the bohemian girl. She prefers slouchy, distressed booties. The kinds of heels to wear are your choice but they shouldn't be too high or skinny.
As a thumb rule, wearing ankle boots with skinny jeans and a hippie headpiece will bring you closer to the boho tag. You can also wear skirts with fringed suede ankle boots.
4. Headwraps And Hairbands
Thin elastic hippie bands are there in the boho race, but getting bolder is becoming the need of the hour today. The good way to wear a head wrap is to wear it back an inch or two past your hairline, halo effect style. But make sure the elastic in the head wrap is tight enough for it to comfortably sit on your forehead. Even cloth styles in headbands are a good option, other than plastic styles.
The other way to get glamour and fashion in your hairstyles is going for hairbands.
[Also Read: Trendy Boho Head Accessories – Make Heads Turn As You Enter Your]
5. Gladiator Sandals
Summery, light, yet extremely polished looking and fashionable, bohemian dressing style goes one step ahead with the truly god-sent gladiator sandals.
Knee-high gladiators give you a bold and fabulous look making it perfect for an outdoor festival or concert. Whereas high heel gladiators give you the badass look with dresses, skirts, and skinny jeans.
Make sure the styles you choose in gladiators are easy to slip in and take out. Versatility is the key, so it will pain you no end if it takes more time to take off or slip into the sandals.
6. Brimmed Hat
A simple straw sun hat when paired with sandals and a sundress and big sunglasses is good to go when it comes to how to wear bohemian style.
[Also Read: Bohemian Gypsy Fashion]
When you wear a floppy looking brimmed hat, it gets you the perfect gypsy flair you had wanted all along. Team such kind of a hat with open button-down shirt, high-waist skinny jeans, wedges and cropped top and you can expect flying kisses and sighs.
7. Chunky Earthy Jewellery
A key component of bohemian dressing style is bohemian jewellery which you will find dime a dozen in flea markets. You just have to find the right pieces from natural materials such as wood, coral, feathers or suede.
Earring wise, oversized hoops and dangling ones are the perfect bet. Statement necklace can't be left behind as that adds plenty of style to a bland outfit. And yes, wooden or metal bangles are a perfect icing on the cake.
8. Hippie Purse
Fringe or suede, a tiny cross-body or an oversized hobo bag, there can be no better way to complement your boho clothing than a bohemian purse.
You can go for cute and fringy cross-body bags since they keep your hands relatively free. Plus they are good to carry at music concerts and hippie festivals.
Oversized floppy purse is yet another favourite among the hippie crowd.
And then there is the good old canvas messenger bag which is a fashion staple for earthy girls.
[Also Read: Top 5 Fringe Bags for the Boho Look that Add Luxury]
9. Affair With The Vest
Vests can be awesome when teamed up with floral mini dresses, simple maxi dresses, or even a plain t-shirt.
Denim Vests look equally cool when paired with a plain V-neck t-shirt, a maxi skirt, sandals and a hippie headpiece.
There is also the crocheted vest which you can wear with a floral dress, or flared jeans and t-shirt.
[sc:mediad]
10. Oversized Sunglasses
Call it a huge fashion trend for the boho girls, oversized sunglasses is a bohemian staple diet for off-duty look. Go for cat-eye sunglasses, aviators, or wayfarer styles to prove your bohemian dressing style.
If you want a very hippie look, then put on John Lennon-esque round wire sunglasses which are bold and statement value.
11. Patterned Scarves
This is one of the most important part when it comes to how to wear bohemian style. Wrap a pashmina around your shoulders, along with a maxi skirt, ankle boots and a head wrap. In fact, there are tons of ways to fold, tie or pin large scarves around you.
So, when are you trying on bohemian style for yourself? Give us a shout about your experiences and comments when you switch over to bohemian dressing style.