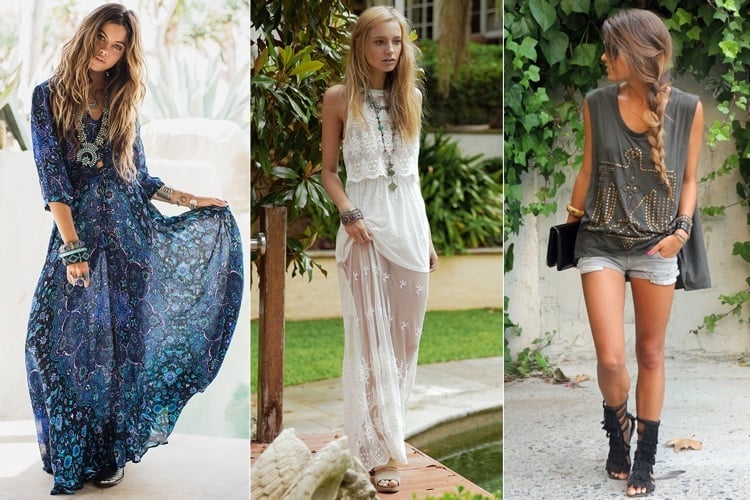 It's that time of the year, when you would want to dress up all trendy and chic, without being over the top and yet with a statement to make. What better way to do that and to enjoy the blissful summers, other than going boho chic in bohemian style.
What Is Bohemian Style All About?
As the name suggests, bohemian style is all about being free and vibrant- a nonchalant attitude as such towards trends, but with an individualistic personality of your own as well. Without much ado and since you are excited about boho clothing, we bring to you chic fashion trends that style up with a wild soulful touch- check them out!
10 Ways So Boho Chic!
1. Remember the tie and dye fashion posts we have spoken off a year back, check them out and learn how to fashion up in such ensembles. They come as indigenous and chic to create a look, and at the same time can be worn just about anywhere. Rompers in tie and dye for example bring about an exquisite look. Wear them in neutral tones or vibrant colors, without or without leggings- style up with kolhapuris or mojaris for the feet too!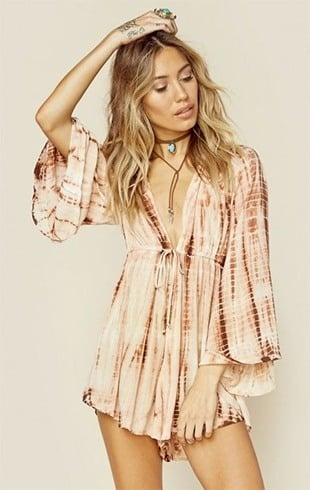 2. Summer braids, a sleeveless embellished top and hot pants for the pool and beach parties, can bring about a fashionable touch in bohemian clothing too. Once again, if your top is embellished; keep the bottoms in faded tones to strike a balance. Summer wavy braids for the hair and open toed sandals are best to complete the look with.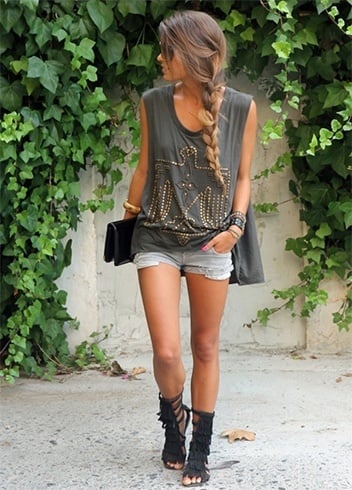 3. Long flowy maxi skirts are apt boho dresses that help you flaunt your pizzazz and individualism in style- so free, so sexy, so chic and so very summerish too- would you want to think of anything else, other than what bag to carry and complete the look with? We guess NO- bags should be jholas or sling bags!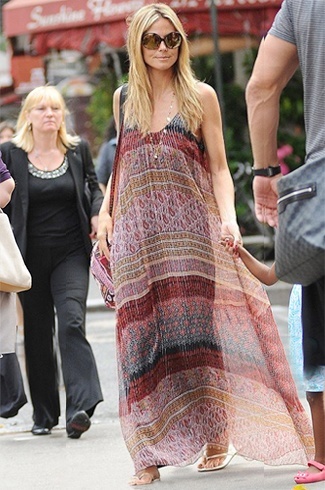 4. Lacey maxi tops with skirts in the same fabric, style and hue- all pristine white and serene by nature; cottons for sure this summer, and what way to celebrate the uber wild child with a sensual touch in you than an all white ensemble so bohemian! Expand and complete the look with beaded accessories to add pop of colors on your persona!
[Also Read: Bohemian Gypsy Fashion]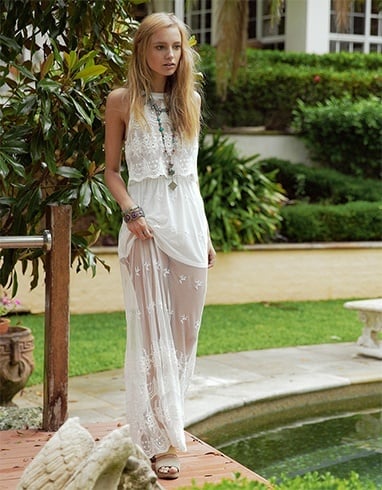 5. Chunky pieces for the head, the hair, the arms and the feet complete the individualistic boho style clothing for sure; you can be the boho queen or princess on the street in a tie and dye lehenga skirt in cool tones, wearing a matching wrap scarf on the head and a crisp cotton white shirt. Complete the look with ballet flats for the feet in jute or khadi!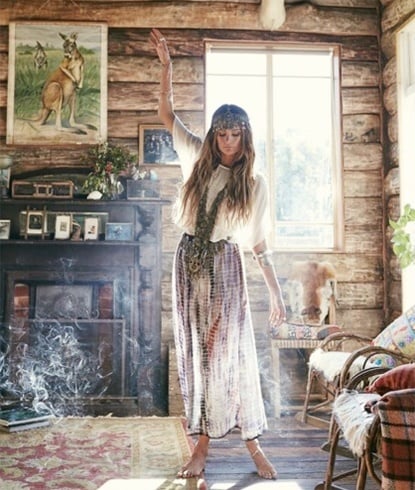 6. Printed floral maxi low neck cut skirts with bohemian braids make for a haute style to flaunt this summer. What we are looking at here is the way the long black beaded evil eye neckpiece juxtaposes with the colorful ensemble and the pretty laced shoes in ethnic touches.
[Also Read: Stylish Tips On What To Wear With Floral Shorts]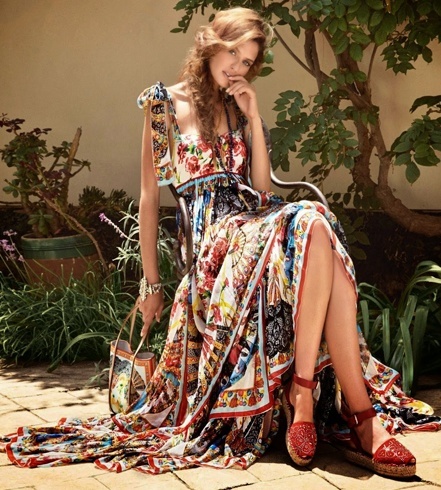 7. Lacey cut crop tops in white with printed leggings and chunky pieces for the arms, the neck and the wrist makes an amazing fashion statement. You can go ahead and wear heels with this look for the semi-formal event, a girls night out or maybe for a friend's birthday bash too.
[sc:mediad]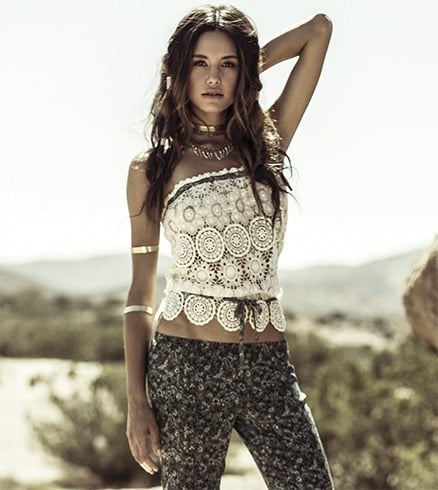 8. Pirate like and very hipped, puffed up cotton cholis and blouses in cool to warm tones- pinks, peaches, fuchsia et al make for amazing boho fashion, especially when paired with stone washed denim shorts. Complete the look with flats for the feet and leave it to there.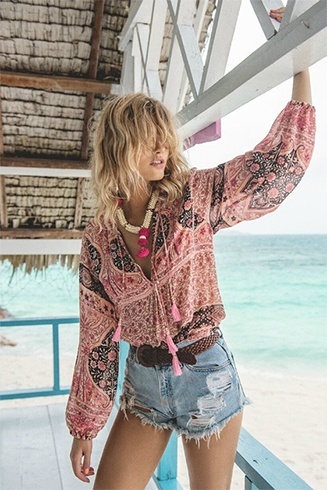 9. Accessories play a large role when styling up in boho tops and long flowing maxi skirts. As seen here, a deep low V neck maxi skirt brings about a complete bohemian look with cool toned chunky accessories for the neck and the hands.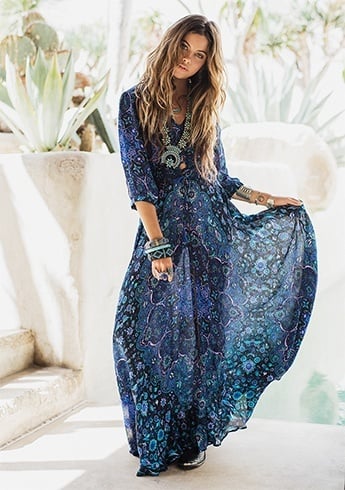 10. An amalgamation of warm and cool floral tones on a beige to creamish maxi skirts makes for wonderful gypsy outfits, and you don't need to spend too much time for the look to come as clean and complete- wear heavy neckpieces in beads though!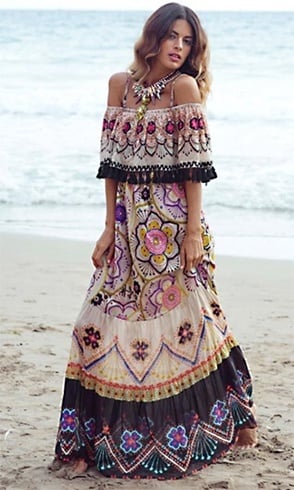 Do let us know which of the gypsy fashion and gypsy styles you loved the most!
Images Source: pinterest.com