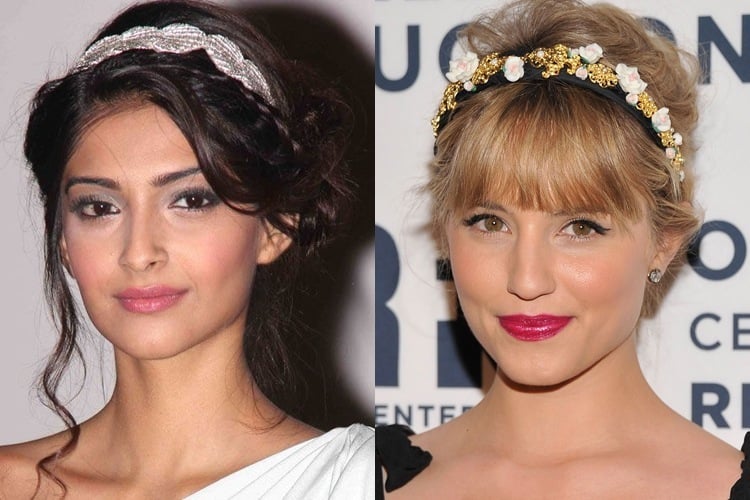 So this is how it goes. Head bands were your favorite accessories while you were growing up and you had at least one to go with every outfit. Admit it, they are still your favorite, but you are in a fix, not sure if it will be age appropriate to wear them anymore. So here are our fashionistas showing you how to wear headbands like a rockstar.
[Also Read: Headbands for Short Hair]
Celebrity Headband Style
Who better than our gorgeous celebrities can teach us how to pull of the different headband styles with utmost grace and cuteness. This is what we call the perfect celebrity headband style, Take a look and make notes.
1. The Broadband
Now this is of course not your internet broad band we are referring to. We are discussing the broad hair band that has sat gracefully on almost all the B-town girlies. As much as it looks fashionable it helps in keeping those fringes away when it is time for more serious business.
Aishwarya Rai Bachchan's first onscreen appearance was in fact with a band on her head. This is the one.
And even years later, through another TV commercial, she set the trend straight again.
Soon Katrina followed her with this trend too, like, is there anything that Aishwarya does, Kat doesn't try a hand on? But no denying that she looked uber cute in Ajab Prem ki Gazab Kahaani with these hair bands on.
[Also Read: Flower Girl Headbands]
However, nobody but nobody put the heartbeat into the broad hair bands like Kajol in Kuch Kuch Hota Hai. The style had spread like an epidemic during the year 1998.
Case Rested!
2. Size Zero
While the broad bands hold the hair back tightly, a new fashion of very slim plastic hair bands have emerged in the marker since the past couple of years. These bands won't be too strict with the hair, they will allow your mane to be a little naughty, yet keep your face undisturbed. What's more? They make you look at least 5 years younger.
Check out Sonam in this picture below, she almost looks as young as a school girl:
And here is how Kareena Kapoor Khan prefers attending to the press candidly:
3. Bow Down To The Queens
Now these were all normal stuff. You could be wearing them at work, educational institution, at home doing the dishes and even at the mall engaging yourself in some shopping.
But if you want to make it a tad more fancy and yet real, add a bow to it. No, get over that, bows have grown beyond the babies. You too can place a few on your head. Like Deepika does it here, but with an up do:
Or wear your hair down securing them with a bow, like Parineeti Chopra:
Or take classes from Alia Bhatt's to carry the look in Student of the Year:
Shraddha Kapoor doesn't fall behind either.
But the genesis of the bow traces all the way to Ariana Grande who wears it like she owns it:
But, how could the queen of country music, and equally successful pop diva Taylor Swift not exemplify this one for you? But for her, it is a more elegant and tiny version of it. Because, less is more than enough for this country Diva:
[Also Read: Exquisite Hair Accessories For Festivals]
Guess, this piece of hair accessory is her favorite because she wore it twice.
Hey wait, it is not even twice, she repeated it thrice. Which pop diva wears the same thing thrice unless she swears by it? I am a Swifty and I have to have this piece.
4. Floral Affair
The same 'bow' look can be maintained, but also given a little variation by using flowers instead. Taylor Swift plays your guide here too:
And Selena takes it too another level with a flower-girl look:
And she doesn't shy away from wearing the floral head gear even in the street, whoever said those were for wedding only, by the way?
And for a change, see who we found sporting the flower? None other than heiress Paris Hilton.
[sc:mediad]
5. Braid In The Hair But As a Band
That is pretty much the mantra. Either you can braid a small section of your hair and wrap it around like a band, of use a few strings to make a colorful braid band. Like the one Selena opted for:
But she prefers the hairlike braid headband more because she has been seen rocking that style multiple times. At times with borrowed hair:
And at others with her own:
Selena and Taylor are perhaps the most common celebrities wearing headbands. Therefore, bestie joins Gomez in this trend too, here is how Taylor wears the braid headband:
The desi divas doesn't run far behind either, check out Deepika Padukone's braided hairstyle:
6. Glam It Up:
The Bollywood beauties have adorned the hair band even at special occasions like cannes, fashion shows, and parties. So in case you want to get all glamourous with the head gear, this is how you take tips from them and try out different headband styles for festivities.
Check out Aishwarya Rai's head gear at the Cannes Red Carpet, going perfect with her Indian attire.
Sonakshi Sinha steps in with a unique air:
The country singer's love for bling is universally acknowledged, then why not in the department of hair bands?
[Also Read: Headband Hairstyles To Make A Style Statement]
So now you know that hair bands are not limited to kids anymore. As a matter of fact the most gorgeous princess in glamour world have tutored you on how to wear headband with panache. This piece of accessory has walked past the gates of elementary schools and the celebs have nailed it for you. Put it on, ladies and rock it.