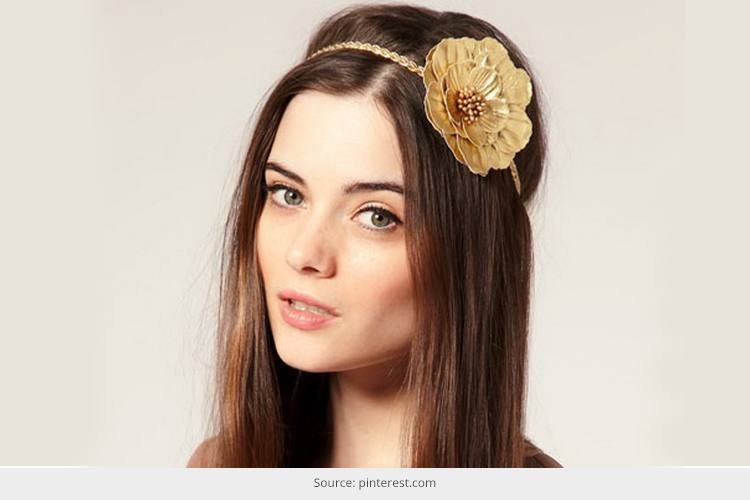 Gone are the days when a headband was considered to be an accessory for bubbly teenagers only. Nowadays it is not only an excellent accessory used by women of all ages but headbands are now enough to make style statements and turn heads. What more! A headband comes handy when you are facing a bad hair day. Just find the right headband and you are ready for the day. Also you can look different everyday by trying varied hairstyles with head bands.
Let us show you how to do headband hairstyles like a diva
Now if you are wondering whether you have the right hair for a good headband hairstyle, then do not worry. A headband hairstyle can look good on any type of hair whether straight, curly or wavy. It also looks good irrespective of your hair length – Long, Medium or Short.
So, get ready for some trendy and chic Headband hairstyles for medium hair and short hairstyles with head bands
Head Band On Pixie Cut
There are very few hair accessories which go well with a pixie haircut. But a headband looks simply ravishing on this short hairstyle. Just remember that your band is not too broad nor too overpowering. A simple thin band can do wonders. Have a look.
Head Band On A Chignon
Who said that you need to keep your hair open if you want to sport a head band? A band looks equally good when you style your hair in a chignon or even a french roll. It is important that you match your band with the occasion. For a party you can choose an embellished one also and if it is just a casual day then a simple thick head band is enough.
Head Band On Forehead
There is no hard and fast rule that you should wear your head band on your head only, you can flaunt it on your forehead also. The rule to wear the band on your forehead is to choose a thin one so that your forehead does not get covered
Headband With Ponytail
[Also Read: Headbands for Short Hair]
A pony is the most common and easy hairstyle for everyone. Even with this easy style you can wear a headband. Make sure you have either a high tied ponytail or a loosely tied low pony, don't choose the middle one. An excellent piece of headband looks amazing with a pony.
Headband With A Side Ponytail
Twist your ponytail aside and wear a scarf style or even a beaded headband. We simply love this look. It is a perfect headband hairstyle for medium hairs.
[sc:mediad]
Headband Tuck in Hairstyle
This is a beautiful hairstyle and your saviour for bad hair day. For this hairstyle you will need an elastic headband. Now take your low end hairs and start tucking them inside your band. Make this wrapping of hair as neat or as unkempt as you like. Both look equally wonderful.
[Also Read: Most Weird Hairstyles]
Now check out the who's who of Bollywood sporting Hairstyles with head bands:
Sonam Kapoor, the ultimate fashion diva looks stunning in this black avatar. Check out her neatly tucked in headband hairstyle. Her headband is also a statement piece
Sonakshi Sinha who is known for her own quirky style, sports an excellent forehead headband. She looks beautiful in this don't you agree?
Deepika Padukone is someone who can carry herself with élan and perfection. See how gorgeous she looks in this retro style headband.
[Also Read: How To Wear Headbands]
Believe us! Head bands are in vogue these days, so do not remain behind in fashion. Opt for a fancy headband hair style and make heads turn.
Do let us know what you think about this article on how to do headband hairstyles to make a style statement.