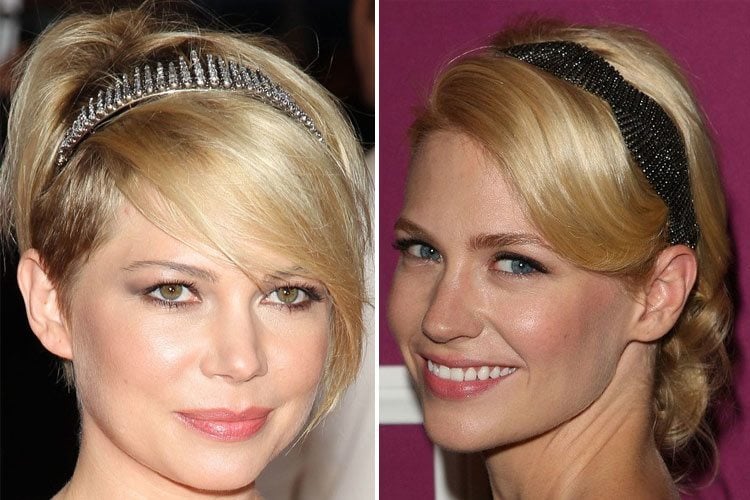 In fast age life of today, everything is short and snappy. Text messages (TC stands for 'Take Care', MM is 'moron malfunctioning' which could also be 'Maggi Madness', tsk tsk), T-shirt size description (XL/XXL/XXXL), movie names (DDLJ vs KKHH). The list is endless. What about the clothes and hairstyles? Well, their names have to be trimmed down to our comfort level, too.
In which case how would you define short hair? They come just above our ears, and most of the time they are chin length. There are some girls who fear on the manageability of short hair but that isn't anything to write home about. But whatever it be, headbands for short hair are here to stay, with all the poise, charm and cuteness.
Thin Headbands
Classic they are in looks and there's no doubting it. Chin up and wear them to umpteen occasions – whether it is to the gym, work or evening out with friends in dapper shorts or skirts. Thin headbands with fabrics and flowers added to it make an interesting picture when added to your hairstyle (and this is something you will not regret).
Floral Headbands
What's your take on this English actress Keira Knightley? Doesn't she look stunning dressed up in her tousled updo? But what stands out the most is a delicate looking red coloured floral headband in her short as ever mocha brown hair locks. This short hair style is absolutely perfect for curly hair, as the headband controls the wildly done up tresses at the same time making the hairdo look pretty and girlish. All you need to do with this tousled updo is put on natural looking makeup to look gorgeous.
[Also Read: Lustful Chunky Hair Accessories Every Girl Needs To Have]
Sparkly Headbands
Actress Natalie Portman makes you drool with her short locks tied up in a small bun. But what work as an icing on the cake is her sparkling headband. You can recreate it by first using a textured spray on damp hair, then pull your locks into a bun, slip a fancy looking headband into your hair and position it few gaps away from your hairline.
[Also Read: Flower Girl Headbands]
Metal Headbands
Slip into this whimsical, chic looking and pretty boho headband. It has a metal front and patterned flower rose in metal oozing vintage style. Blobs of rose petals connected and encircling the head look oh so pretty.
[sc:mediad]
Embellished Headbands
Style it Right with Hair Accessories such as the embellished headbands. This type of headband for short hair is cut out for the evenings and the night outs. As you can see, there is the embellished floral and completely jewelled headband to make your hair stand out in the crowd.
Leather Headbands
If you thought leather was reserved only for handbags and shoes, think again. Leather has stayed on a material for headbands too as it sits on the hair mane in a perfect gripping manner. Whether it is a boho look or the refined classic look for a formal event, a leather headband can take you notches above in style.
[Also Read: How To Wear Headbands]
Tips while wearing Headbands
Headbands are the perfect accessory when it comes to pixie hairstyles or short bobs. They not only look cute and friendly, they put volume and texture around the crown. In short, they add dimensions to the shortest haircut you wish to sport.
If you have a short hair style say under 3 inches, then look around for headbands that are under 2 inches in width. The variety of headbands is huge in terms of material and print. Make sure the short headband you chose goes with your age and the event you want to attend. Happy choosing and wearing short headbands!