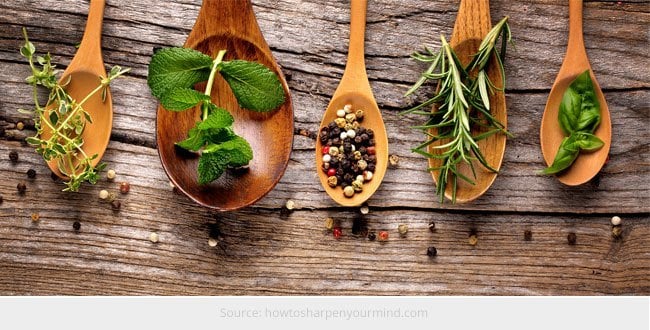 Guess the similarity between the human Brain and a computer chip? They are the key drivers that run and govern the entire system. What if something goes wrong with them? The entire functioning goes kaput. One very critical part of a human brain is memory which tend to reduce with age. Forgetfulness steps in. Causes of memory loss can be numerous – sleeplessness, stress, depression, head injury, stroke, nutritional deficiency, drug abuse, etc. There are several home remedies for memory problems. One of them is nature itself. Nature has remedies without any complications or expenses!
Let's look at some Natural Herbs for Memory
Try out the time-tested natural herbs and get your memory back on track.
Ashwagandha
An Ayurvedic medicine, this herb is a rejuvenating tonic that helps combat stress, reduce anxiety and improve cognition. This root is one of the most effective herbs for memory improvisation.
Bacopa
Commonly known as Brahmi, Bacopa is a herb packed with multiple medicinal effects. Its effectiveness on cognition and memory cannot be ruled out, making it a perfect herbal treatment for memory loss.
[Also Read: Benefits Of Flaxseed Tea]
Gingko
This is a top herb when it comes to improving memory and overcoming memory loss. Gingko biloba improves your blood flow to your brain, which allows your memory to function effectively. Gingko biloba can be taken in pill form, or ground up and sprinkled on food or in a beverage. It may take 2-4 months for it to create a noticeable impact on the memory, and it must be taken in a large daily dose of between 120 and 240 mg. Read the manufacturer's label for dosage information.
Ginseng
There are many types of tea, but drinking tea with ginseng helps increase your mental function and improve your memory. People with mild dementia who took ginseng extract for 12 weeks showed major improvements in short term memory function.
[Also Read: Different Types of Herbal Teas: The Mystique and The Flavours]
Gotu kola
It is a common herb in Indian medicines that stimulates blood circulation and is taken as a brain tonic. It has also been used to successfully treat neurodegenerative disorders, enhance memory, improve concentration and attention span.
[sc:mediad]
Green Tea
We all know Green Tea being rich in flavonoids that help reduce weight and increase immunity. Most importantly, the catechins in it known as epigallocatechin gallate or EGCG produce the best benefits on memory, by increasing the production of new brain cells and improving memory and learning.
Rosemary
Sprinkle some rosemary on your food, or just smell it. It is a herb that has carnosic acid, which goes directly to our cerebral vascular tissues, in the process dilating them and improving memory. There are numerous health benefits of rosemary essential oil. You can use it in potpourris, aromatic baths or as perfume. This will help enhance brain function and memory.
Sage
Traditionally used in Europe, the sage plant helps improve memory. Active ingredients in the leaf show antioxidant and anti-inflammatory effects which are beneficial to brain cells helping improve memory and mood.
Shankhpushpi
The benefits of Indian Ayurveda cannot be ruled out. One such product is shankhpuspi which is an excellent nerve stimulant that rejuvenates brain functions.
Memory loss natural treatment
Include natural omega-3 fatty acids in your diet in the form of nuts, seafood, fish and flaxseed. They are known to help stimulate brain activity, increase memory and improve mental awareness. Foods rich in omega 3 stops skin ageing, as well.
Take antioxidant supplements such as Vitamin E and Vitamin C. They will help prevent memory loss, boost cognitive function, protect the brain from minor strokes which cause dementia and reduce the risk of Alzheimer's disease.
A busy mind is a healthy mind. Keep your mind active by reading, playing word or number games, writing or for that matter memorizing your favourite music or poetry. This will help in strengthening your memory.
Get regular exercise and plenty of sleep to help protect your memory. Increased oxygen flows to your brain can enhance brain chemicals and protect brain cells, thereby preventing memory loss.
Remember, natural medicine for memory and memory exercises are the safest and effective methods to keep your mind and memory sharp.