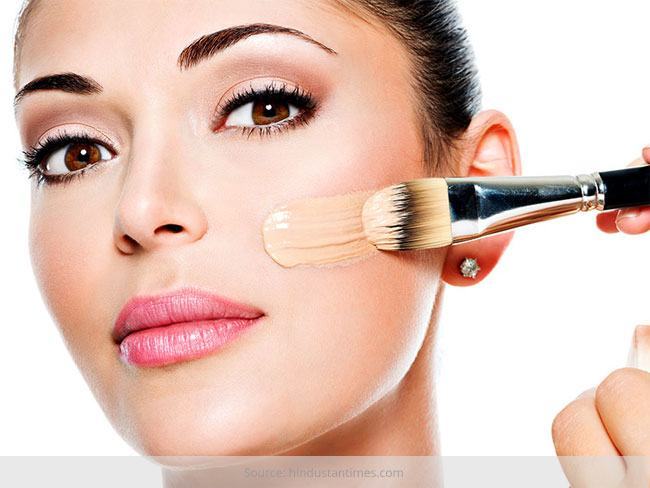 Foundation shouldn't be your mask; instead they should be your second skin. Let's not leave any room for fashion police and take pledge to never step out with a cakey and mask-like makeup. As experts suggest wearing makeup should be like we are au naturel. Since applying makeup is an art, we offer you 5 golden tips from celebrity makeup artists on foundation.
[Also Read: How To Do Chola Makeup]
As per celebrity makeup artist Troy Surratt, who has worked with Jennifer Lopez, Mariah Carey, Emma Stone and Lea Michele, the secret behind celebrity's flawless complexion is because of the foundation they have worn perfectly.
1. Icing Foundation
Melani Inglessis, another celebrity makeup artist suggests that foundation is the complex of all makeup items. The artist prefers iced rosewater that helps blend foundation perfectly with the skin tone. She usually prefers BeautyBlender sponge that she soaks with iced rose water, as she feels icing refreshes the skin, whilst shrinking down and tightening the larger pores. So always remember to damp your sponge before applying foundation to get the best results.
2. Use Both Sponge And Brush
As per Pati Dubroff, who has worked with Miley Cyrus and Kate Bosworth, foundation will turn out to be a 'real skin' when we use both sponge and brush for application. The celebrity artist prefers Shiseido's Perfect Foundation Brush, as she feels it's best of its kind in the beauty industry. She suggests dabbing it couple of times on the skin and then finishing the look by lightly passing the sponge over it.
3. Spray Floral Water
Pati Dubroff further suggests spraying floral mist over the sponge helps in giving a luxury effect to the makeup. She prefers Caudalie's Beauty Elixir that not only offers super-refreshing results, but also makes the skin look radiant.
4. Lymphatic Massage
Tom Pecheux, who is popular for his unique lymphatic facial massage on models before any fashion show, claims his models look super refreshing with radiant complexion even on the fifth day of the fashion week. He says that just as breakfast is essential to keep ourselves nourished, skin also needs regular care.
[sc:mediad]
Tom uses a mix of oil and moisturizer that are the ingredients of his secret recipe of his legendary facial massage. This massage helps to bring the most out of his foundation.
There's no such thing as good foundation without good skin!
Pecheux prefers a light exfoliant, say Eminence Organics' Strawberry and Rhubarb Dermafoliant that helps in polishing off his client's complexion. He then uses Tata Harper Resurfacing Mask as a part of quick treatment that helps remove all the dead skin cells, whilst retaining the glow.
The artists then takes few drops of facial oil, say Sunday Riley products—try Artemis and massages it into the complexion. And if you're not sure about how oil would work, then you can start from your neck and gradually move towards the T-zone. The artist then slathers an oil-free gel moisturizer, like NARS's. Voila! The plump, radiant look is ready. The artist strongly feels that the thicker the skincare treatment is, the lesser is the possibility of losing makeup.
5. Primer
On primers, Pati Dubroff had this to say,
"Primers are golden to help reduce the need for foundation."
The celebrity makeup professional insists that since the goal of foundation is to make you flawless naturally, it is ideal is to wear the minimal amount of foundation. As per the artist, the primer should give an illuminating effect along-with a brighter base. And Melani Inglessis considers the new Dior Glow Maximizer Light Boosting Primer as a game changing product that can also be used to hide under eye dark circles.
If the skin is dry, she suggests using a more hydrating product like Sunday Riley's Effortless Tinted Primer. It's her cult favorite as it offers instant radiance.
And for oily skin, she prefers to use a mattifying primer on the T zone. She recommends L'Oréal Paris Miracle Blur that is capable of camouflaging pores, whilst removing oiliness.
So those were the top 5 golden tips from celebrity makeup artists on foundation. Hope you found this post useful!