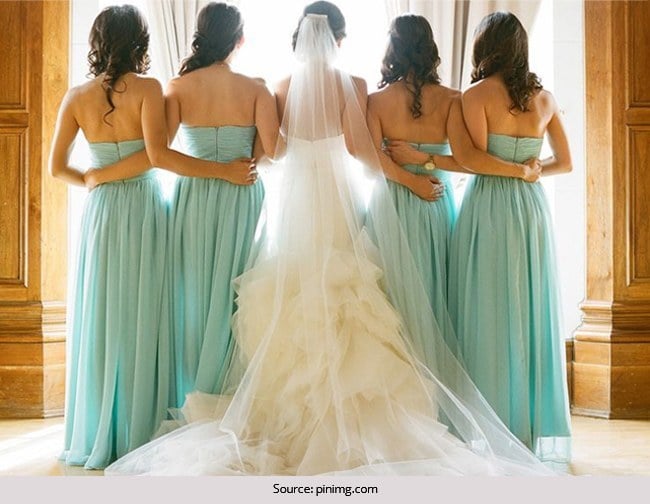 A wedding day is every bride's time to shine, to be in the spotlight and to enjoy and make some fond memories that she can look back on years later. One such important aspect of making memories is the photographs that one takes on the wedding day. In order for the photographs to look spectacular, not only will the bride and groom have to look their best, but the bridesmaids and groomsmen have to look nice too. It is relatively simple for the groomsmen since all they have to do is wear a black suit and they are ready. But it's a totally different story when it comes to the bridesmaids. So many factors have to be considered, right from the colour of the dress to what style and cut will suit all the bridesmaids.
Perhaps the most important and the most difficult part of choosing dresses for your bridesmaid is picking a colour. You need to pick a colour that will not overshadow your bridal dress and at the same time it should be something that goes with the colour of your dress. In short, the bridesmaids' dresses need to be in harmony with your dress.
You should also consider the skin tone and hair colour of your bridesmaids. Certain colours may look great on dusky skin but might make a fair-skinned person look pale and washed out. Similarly colours that suit fair skinned women may not necessarily look good on dusky skin tones. So the trick is to find a balance and pick a colour that brings out the best in both.
Here are some great colour suggestions for bridesmaids' dresses. We'll look at both Indian weddings and white weddings and see what colours work best for them.
This a great colour for a bridesmaid dress. The champagne gold looks festive and bright, yet at the same time it does not douse out the bride's white wedding dress.
Deep, royal purple is another great colour for the bridesmaids' dresses. It is a rich colour that when worn by the bridesmaids actually make the bride's dress pop. It looks beautiful on photographs as well and suits pretty much every skin tone.
Whoever said that bridesmaids should wear the same dress? You can have your bridesmaids pick out their favourite colour from a list of options to have an array of different shades. What's more, they can even choose the style of the dress. This is a win-win situation as letting them pick the colours and style means less hassle for you, and your bridesmaids are also going to be super happy since they got to pick their dress.
[sc:mediad]
A slight variation on having different colours for the bridesmaids' dresses is to have different shades of the same colour. This adds more dimensions to the entire ensemble and creates an interesting effect.
Indian weddings are all about the bright colours so go ahead and pick any bright colour of your choice to drape your bridesmaids in.
Grey is a great colour for bridesmaids' dresses. It looks sophisticated and elegant but is muted enough that you don't have to worry about it clashing with your dress.
You can also use a third colour as an accent colour for the maid of honour. Introducing a third colour to highlight the maid of honour will look great in photographs. The use of three colours – grey, yellow, and white works beautifully in the above picture to create an overall look of a happy wedding.
The most popular colour options for bridesmaids' dresses seem to be grey, purple, mint green, and pastel shades. But of course it all depends on a myriad other factors such as the theme of the wedding, what colour the decorations are going to be, and in which season the wedding is going to be in.