'Give me some sunshine, give me some rain, I want to carry my stylish umbrella once again!'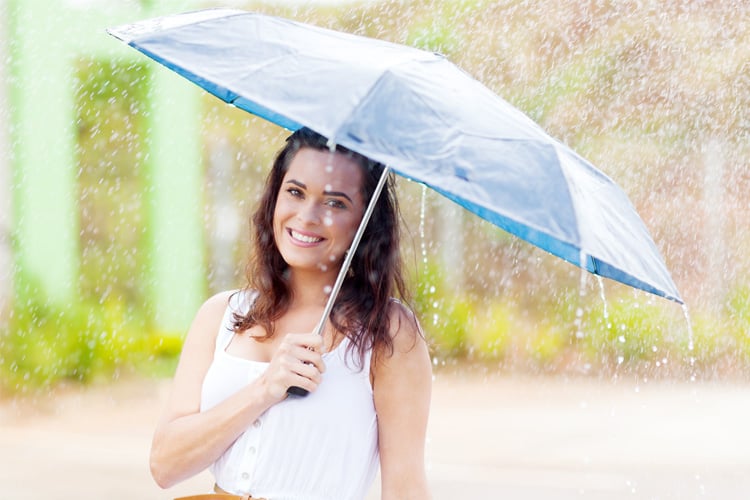 With international celebrities carrying the umbrella as their favourite fashion accessory, the trend is soon hitting the Indian streets as well. Till now, an umbrella has always been looked upon as the sun and rain protection accessory. These days, it is becoming a style statement to carry one. Not only, does an umbrella save you from sun tanning in strong sunshine and from getting drenched in the monsoon rain, but a trendy umbrella design will also set you off on the radar of being a stylish woman on the go.
International designers or labels with the likes of Alexander McQueen, Marc Jacobs and Burberry have also introduced the range of classic and pretty umbrella designs as part of their collection. Burberry autumn 2012 show at London Fashion Week brought the surprise element when the models strutted down the runway closing the show with carrying Burberry umbrellas at the end.
According to an article published in Squidoo.com –
In US, March is celebrated as a National Umbrella Month. Thomas Edward Knibbs originated National Umbrella Month. He initially started National Open an Umbrella Indoors Day on March 13th and it progressed to be a month long celebration.
Much before that, celebrities have been using the umbrellas or parasols as a prominent fashion accessory for long. Kate Middleton, Duchess of Cambridge, is known for carrying parasols to her international visits. Recently, she carried one on her travel to Singapore. Burlesque dancer, Dita Von Tease likes to have a vintage-styled parasol, while American actress Gwen Stefani ensures to carry one whenever she steps out in the sunshine. Megan Fox also flaunts her style with an umbrella. Legendary actress Marilyn Monroe was known to love her equally iconic white umbrella during her photo shoots near beaches.
Difference between Parasol and Umbrella – 
Parasols are designed to protect you against sunlight and umbrella from rain.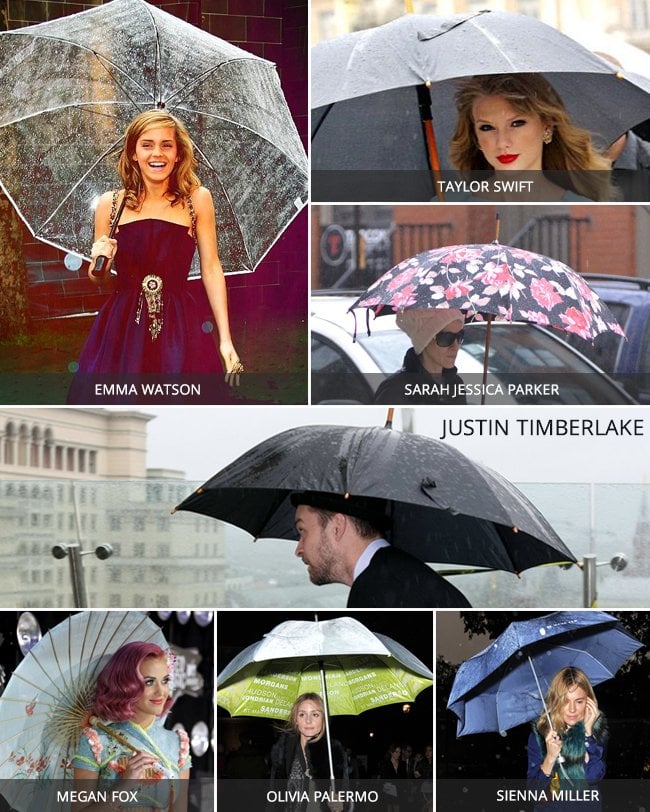 Choosing a Right Umbrella 
Besides prioritizing the style quotient on top-notch, comfort factor also scores high when it comes to umbrellas. After all, nobody likes to carry a heavy and uncomfortable one. Hence, when you are busy choosing your favourite pattern, print and design, also look for the handle and grip design, since you only have to carry one while travelling or walking. Prefer an umbrella with a semi-circular curved handle with a rough surface for a good grip. However, fashionistas are opting for designer handles like what Burberry offers i.e. umbrella handles in the shape of a dog or a duck.  Some umbrellas come in a rifle shape too. Ensure that the umbrella is sturdy enough to not collapse in a heavy wind.
You can opt for a Teflon-treated hood as the umbrella fabric is water-repellent because of which the hood may get wet easily. Women prefer to carry an umbrella in their hand bag, hence the correct size becomes relevant. Choose collapsible umbrellas, the size of which may vary between 42 and 44 inches and they occupy less of space in your hand bag.
A person can show off one's taste, quirkiness and classiness with the kind of umbrella design one chooses to carry. Fashionlady gives you a peek into the kinds of umbrellas you can flaunt this season.
1. UV Rays Blocking Umbrella:
If your major concern is to protect yourself from sun-tanning then UV Rays blocking umbrella is best for you. Since it is designed especially to filter UV rays before they reach you. Often, they are constructed of Solarteck fabric which reflects UV rays and provides 50 + UV Protection Factor. Most of these are available in silver and black colour, but Fulton (Umbrella brand) provides colour options too.
2. See Through Umbrella:
Having a romantic appeal to it, this transparent or see-through umbrella, can be mixed and matched with any of your outfits as they complement all. One of the best tricks about it is that you can also add some Do-It-Yourself creative art to it by stitching buttons or ribbons or flowers or simply write down your favourite words on the umbrella fabric. See-through umbrella is a must have in your accessory wardrobe for the monsoon.
3. Heart Shaped Umbrella:
If you are into love, heart shaped umbrella can truly express yourself. Its different shape makes it an eye-catcher where ever you go. However, the most preferred colour is red, the umbrella is available in the myriad of hues ranging from yellow to black and blue. Carry one to show your romantic side or a softer quirkiness.
4. Polka Dots Prints:
Polka dots has always been the coolest fashion trend in summers. People are now carrying this trend in their umbrellas and parasols. Polkas are adored by women a lot. In umbrellas, the trend looks even prettier and those who don't like the dots in their outfits can carry it on their new fashion accessory.
[sc:mediad]
5. Floral Shaped:
Likewise Polkas, floral prints are in too. Buy one floral printed umbrella for yourself if you are very much into the trend. How would you feel holding a flower in place of your umbrella? These floral shaped umbrella is exactly about the same. Search out the floral shaped umbrellas in the market, and step ahead in style.
6. Bird Cage:
Bird cage umbrellas are more like dome shaped than the regular umbrellas. They look like a cage (while actually they are not). Most preferably, they are best when transparent since it allows you to look beyond your circumference when carrying these. You can also opt for number of quirky prints and colours available in Bird Cage umbrellas in the market.
7. Animal Print:
Animal prints add a boldness to your wardrobe. These umbrellas will surely catch the admiration whenever you open it up and hold confidently. You are sure to get hundreds of eyeballs vying to own the similar umbrella as part of their style accessory. In animal prints, you can choose from number of patterns with leopard print being the popular ones.
8. Plain Coloured Umbrellas:
Some believe that beauty is in simplicity. However, that holds true since the beauty of a simple pastel shaded umbrellas is still there. You can opt from various bright colours such as yellow, red, blue, green, white or simply black to match with your outfit or use one in contrast. They add charm to your look.
9. Frill Umbrella:
Look as pretty as princess under the umbrella with gorgeous frills. Frill umbrellas are ever popular as you must have seen princesses carrying these umbrellas on their wedding day for added beauty. Now, frill umbrellas are truly a classic style statement. They are best to hold when you are wearing a gown or a beautiful frock dress. Even, Indian version of these umbrellas have their own charm with Indian crafts work over it.
10. Camouflage Goggles Umbrella:
It can also be named a 'Spy Umbrella' since it allows you to be in your surroundings without being identified. These goggle shaped umbrellas are a quirky accessory that you can choose to flaunt in your closet. While goggle shaped umbrellas are much different than other umbrellas, they are equally sufficient to keep you dry in heavy rains. So you would not need to fear of getting drenched while you are flaunting your newly owned umbrella goggles.
What do you think about these stylish accessories? Love them? Want to make a style statement with these? Tell us in comments.