It's time of the month again when you are eagerly wait for 'what's on the glossy covers' come to an end. August is the month of celebrating birthdays, off-beat beauty, going nerdy and indulging on some family time. While international glossy covers have caught attention with just that, Indian Vogue and Elle too have been leading ahead for this month's cover.
Take a look at the magazine covers for August 2014.
1. Vanity Fair
Prince George appeared on the magazine cover, for the first time. Vanity Fair has featured the royal couple, Prince Williams & Kate Middleton, on its cover page with their year old son, Prince George.
The cover is titled "Happy Birthday Prince George! Raising the most world's most eligible infant. How the future kind spent one year", for which Vanity Fair contributor Katie Nicholl speaks to the palace insiders to learn about how Prince George has already become a star.
The story on Prince George reveals about the behind-the-scenes look at George's first year, the search for his new nanny, the palace redecoration and the family's adventure trips.
As per to Vanity Fair, the queen breached protocol to allow Prince William and Kate Middleton to fly together with Prince George to Australia and New Zealand. Direct heirs do not normally travel together, but the Cambridges got special permission.
2. Flare
British singer, songwriter and actress – Rita Ora oozes her style on the cover of Flare magazine. The 23 years old looked no less than stunning in blue denim outfit with heavy chunk accessorising.
The author says-
As I soon learn, this sentence 'It's so good for us. It's called GLAMAH' functions as an ethos for Ora, who, even on her most blasé days, imbues everything she does with a powerful theatricality, from her high-energy music videos to her trademark bold beauty looks.
In Flare, she disclosed that she recently teamed up with the brand Rimmel to launch her own collection. She also has an upcoming capsule collection with Adidas, and next February she makes her acting debut with a supporting role as Christian Grey's sister, Mia, in the highly anticipated movie adaptation of "50 Shades of Grey".
Rita Ora is one of the muses of designer BFF Jeremy Scott, who spoke to Vanity Fair about her-
Rita never gets lost in a look, and that is a really rare quality. Nor does she look simply like a model wearing fashion—she still looks like Rita. She retains her DNA in all her different guises.
3. Glamour Magazine
Another singer-songwriter on the cover is Ellie Goulding, who is sensationalising Glamour UK's August issue. Goulding looks gorgeous in a blue skirt ensemble, cleverly showing a bit of her cleavage.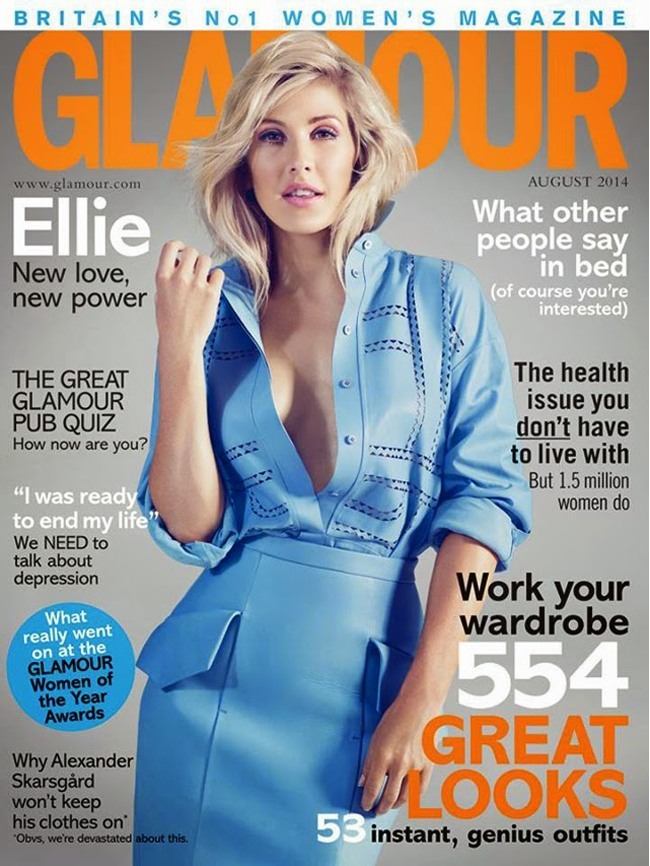 4. Fashion Magazine
Dancer turned actress, Zoe Saldana is reigning all over covers for August month. She is the cover girl of Canada's Fashion magazine as well as on Marie Claire US.
Zoe Saldana is wearing designer Julien Macdonald's dress on the cover of Fashion, which has been styled by Zeina Esmail.
The actress is known for nailing roles in number of films like 'Center Stage', 'Avatar' and 'Star Trek'. In conversation with Fashion's features editor, Zoe talks about her sequel to 'Star Trek', 'Avatar' as well as two new films 'Guardians of The Galaxy' and 'Nina'.
On advising women, Zoe says –
It's important to not have women be afraid of you, to accept your mortality and your aging so that you can be a better mentor for up and coming women.
Three tips she gives to young women –
1. Don't hike up your skirt too much.
2. I'm pretty sure you're intelligent so act like it.
3. Read a book.
5. Marie Claire
Marie Claire US describes Zoe as –
The girl is pure space princess. Also, she wears clothing like nobody's business: dressed today in a soft oatmeal-colored J Brand cashmere sweater, tight Citizens of Humanity jeans, brown Chanel lace-up boots, and a whopping Colombian-emerald engagement ring that Perego had made for her.
6. GQ Magazine
Kylie Minogue shoots an iconic advert for the GQ Italia cover. Wearing Dolce & Gabbana outfit, Kylie looks as fun as she appears to be.
7. Vogue UK Magazine
Victoria Beckham has got two Vogue UK's covers this month. The style diva, who likes to don skyscraper heels, looks uniquely stylish in wellies and an array of gardener-inspired outfits. Victoria Beckham has indeed bended like true style expert.
8. Cosmopolitan Magazine
The Transformer star, Megan Fox, looks absolute stunning in Cosmopolitan US' cover page.
9. Elle Magazine
In India, Kiran Rao is taking the storm by its name in her nerdy look for Elle's August 2014 cover.
Kiran Rao is wearing salmon pink jacket dress with a grey shirt, both from Rajesh Pratap Singh's Spring Resort 2014 collection. Fendi glasses gives her a gorgeous look, though a geek one!
The director cum producer looks absolute geek-chic! By putting Kiran Rao on cover, Elle India has tread on the fresh path of introducing women from other walks of life as well, besides actresses and models.
10. Vogue
Twinkle Khanna ravishes the cover of Vogue with her grace and beauty in a gold sequined full length dress from Emilio Pucci's pre fall 2014 collection.
She was also awarded with the 'Timeless Beauty' award at the Vogue Beauty Awards which were held recently.
As Vogue puts it, "she's fantastic, she's fashionable and she's funny."
Click here to view more cover pages of the leading fashion magazines.
So, which cover celebrity are you going to read first? Do let us know.