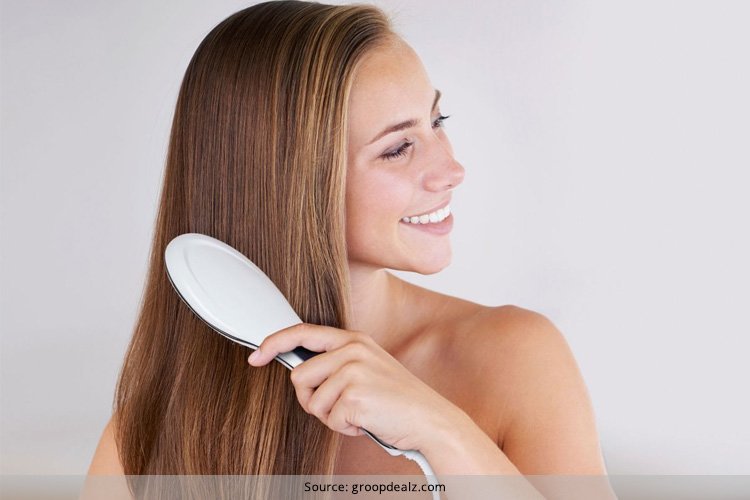 Getting smooth frizz-free locks is a tall and hefty task. Especially, if the hair are thick and bulky. Though there is hair straightening iron, it can end up damaging your hair in the longer run since it has a tendency to break hydrogen bonds in the hair.
Ever Heard Of Hair Brush That Straightens Hair?
Hair brush that straightens hair has the same purpose like that of a straightening iron such as taming unruly hair and making them poker straight. But there's lot more to straightening hair brush than you thought. Let us see for ourselves.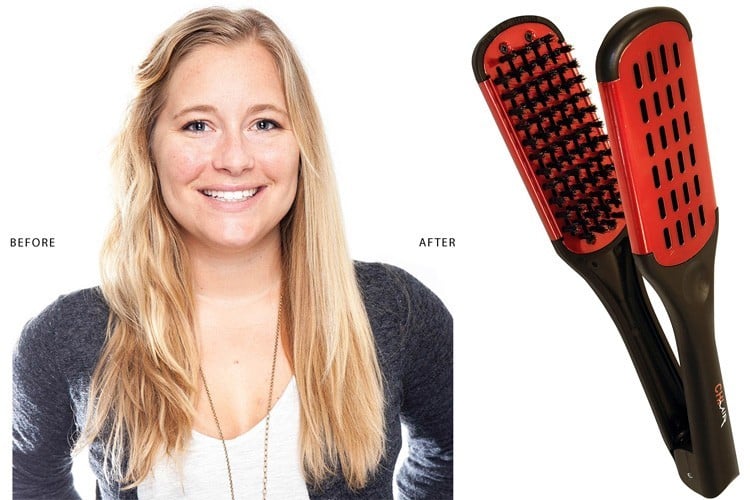 1. Detangling Hair Straightening Iron Brush
The new generation of hair straighteners, this electric hair brush straightener is easier to use as a flat iron and takes all of 8 to 10 seconds to do that. It usually heats up hair to 450F while emitting negative ions. Plus this brush hair straightener comes with a triple action system – not only does it detangle hair, but also straightens them and ups the natural hair shine.
2. Hot Air One-Step Dryers And Styler Straightening Brushes
Should you be looking at a brush that straightens hair from one of the premium brands, then without a doubt check out the recently released Pro Collection Paddle Brush Dryer and Styler from Revlon.
This intuitive paddle brush hot air styler has tangle free bristles and uses ionic technology to get you ultra smooth silky hair.
3. Hot Air Rotating Round Barrel Hair Straightening Brush
Whether your hair are long, short, thin, thick, curly or whatever, this type of hair brush that straightens hair also dries your hair while straightening it.
This time, it is Revlon Perfect Heat Tourmaline Ceramic Hot Spin Brush gaining on popularity rating which is armed with the professional heat power of 900 watts.
Coming up next in laurels is Babyliss Pro Nano Titanium Rotating Hair Brush.
The next in demand is Conair Infinity Pro Spin Brush, the bestseller both online and offline, which is also the winner of the Beauty Star Award.
[Also Read: Hair Dressing Tools]
4. Two Rectangular Hair Brushes Facing Each Other
Much similar to the metal or ceramic plates found in flat irons, this type of straightening hair brush requires you to use it not alone but with a blow dryer or any other heating tool. That is because they don't emit heat on their own (as in the case of flat irons) but come up with heat-retaining materials which trap heat emanating from a blow dryer.
Scalpmaster Ceramic Thermic Straightener is a popular ceramic plate hair straightening brush followed by Denman Thermoceramic Straightening Brush.
Things To Look Out For In Hair Straightening Brush
No doubt straightening hair brush helps you make your mane more manageable and get silky smooth hair. You can carry them with you in your handbag plus they are convenient and effective to use.
Some of the popular brands in hair brush straightener include Conair, Avon, Denman, Vega, Scalpmaster, and Babyliss. While shopping for a brush that straightens hair, look out for the following parameters:
1. Nylon Bristles
When you are in the process of choosing brush hair straightener, select the one that have nylon and boar bristles. This is because they don't hurt your scalp neither cause any hair breakage.
2. Cushioned Handle
This helps you brush your hair comfortably without putting any extra effort.
[sc:mediad]
3. Tourmaline Technology
Since the tourmaline plates heat up faster, such straightening hair brush gives you poker-straight and shiny hair faster.
4. Ceramic Technology
Very much like tourmaline plates, even ceramic plates are known to give you smoother and shining hair by releasing negative ions. When paired with a hair dryer, this speeds up the process of straightening hair.
5. Ball-Tipped Bristles
These come to aid when you are drying your hair, thereby preventing any hair tangling.
6. Brush Shape
Keep in mind the fact that flat brush works best for short and medium length hair, whereas roller brush is ideal for long hair.
So now that you have various options in straightening hair, tell us which of them you are going to use on yourself or gift it to your daughter or daughter-in-law in the New Year.