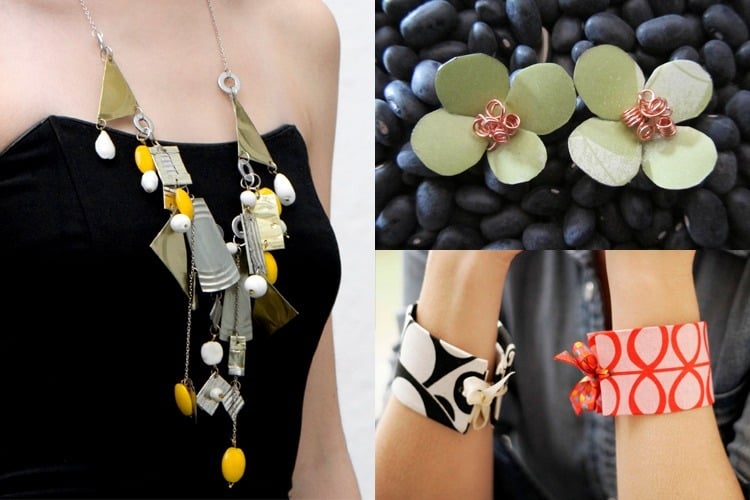 You will be surprised at how many things lying around your house that you consider 'trash' can be turned into a beautiful piece of recycled jewelry. If you love wearing quirky accessories and would rather make them yourself at home than buy them, then this article is for you.
Let's get started on DIY jewelry
We're going to take you through some easy DIY recycled jewelry that will help you turn some of the seemingly useless items found in your home into awesome jewelry.
1. Neck Tie Bracelet/Necklace
Things required:
An old neck tie
A fancy button
Needle and thread to sew
Method to make Neck Tie Bracelet/Necklace
[Also Read: DIY Gothic Jewellery]
Depending on whether you want to make a necklace or a bracelet, cut out the neck tie to a required length.
Fold the rough cut end and stitch it up to make a clean end.
Now sew the button onto the stitched up end.
Next, cut a small vertical slit onto the opposite end; this slit is going to be the button hole, so make sure it is big enough for the button to go through but small enough that the button does not come undone eventually.
Stitch up the outer edge of the button hole to finish it up and there you have it, your very own funky neck tie bracelet or necklace.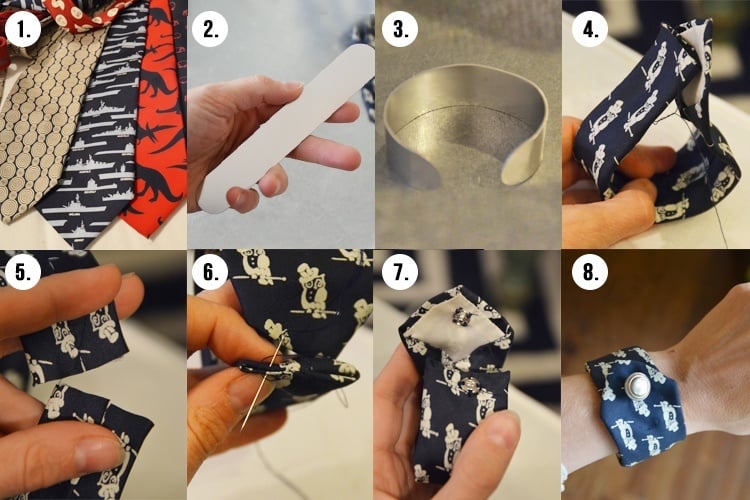 [sc:mediad]
2. Ceramic Pendant
Things required to make this recycled jewelry:
Broken ceramic piece
Sand Paper
Metal nail file
Industry strength adhesive
Small metal clasp or loop
Let's face it – it is impossible to own a ceramic dinnerware set and not break a plate or two at some point. If you've been clumsy and broken a plate, do not throw away the broken pieces just yet! You can make some cute ceramic pendants with the broken pieces.
Method:
Choose a broken ceramic piece to work with.
Using the nail file, try to smooth out the sharp edges. Then use the sand paper to further smooth it out.
Once you are satisfied with the result, use the industry strength adhesive to stick the metal loop onto the back of the ceramic piece.
Once dry, you can loop the pendant onto a thin chain. It is as simple as that. Pieces with floral patterns or bright colors work particularly well when it comes to ceramic pendants.
[Also Read: DIY T-Shirt Necklace]
Continue reading for more recycled jewelry ideas.
3. Puzzle Pieces Earrings
Things required for this DIY recycled jewelry:
Two puzzle pieces
Earring Hooks
Pin or needle
If you happen to have a puzzle game with some pieces missing, then you can use the remaining pieces to make this cool DIY jewelry.
Choose two pieces (they don't have to be similar!), punch a hole at the top of them with the needle or pin and attach the earring hook to them.
That is it.
You have your cute little puzzle piece earrings! You can either pint the pieces in a nice metallic color such as gold or bronze or you can leave them as it is.
4. Chunky CD Necklace
Things required for this DIY recycled jewelry:
A CD
A pair of scissors
Some fabric ( preferably satin or velvet)
Industry strength adhesive
This is the ultimate DIY project when it comes to jewelry. You know those scratch CDs that you've got lying around in your room? Yes, those damaged-beyond-hope CDs that are just not usable anymore. Well, here's a cool way to upcycle them.
[Also Read: DIY Jewelry Box Ideas]
Cut out the fabric in the required shape (note that the fabric will act as the base of the necklace).
Also, cut out two thin strips of fabric to be tied around the neck.
Attach the ends of both pieces to the fabric base that you cut out earlier.
The next step is to cut out the CD into pieces of random shapes and sizes.
Stick them onto the fabric in such a way as to cover up all the space.
Once the glue dries, tie the necklace around your neck to add a nice dose of bling to your look.
There are so many other DIY projects that you can try out with all the things that you find around the house. Most of these are simple projects that won't take much time or effort.
The next time you are on the verge of throwing away something because it is not useful anymore, try to come up with some innovative way in which you can turn it into a cool piece of art instead. Let your creative juices flow and let your imagination run wild!