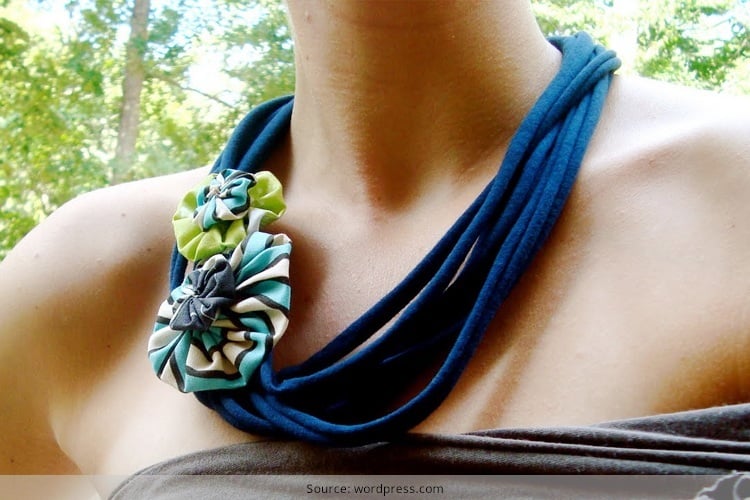 Reuse, recycle and repurpose everything! That should be our motto. Most of us tend to throw away our old T shirts that have lost their purpose and charm. But did you know that your poor old t-shirts can actually be turned into some really trendy jewelry? If you want to know more on turning your used t-shirts into quirky necklaces and jewelry, scroll down!
Here are the things you will need for your DIY necklace from t shirt journey
So, before we start with how to make a Tshirt necklace, let's look at what are the basic materials that we will need for this DIY project.
Materials Required For DIY T Shirt Necklace
Soft and old t-shirts (these work the best, because they are easy to style)
Some copper tubing
Copper and gold chains
Golden coloured key rings
Brass rings
Cords
Jewelry fasteners
Tools Required for DIY T Shirt Necklace
Scissors which can cut fabric
Hand saw
Tube cutter
Pliers
Sand paper
Fringed Pipe Necklace
Cut out small strips of your T-shirt
Loop it around a decently sized hollow pipe
Either tie or knot the fringes along the pipe
Insert a thin golden necklace through the tubing or the pipe
It's a very casual necklace and you can easily wear it for a date or when going for movies!
[Also Read: Creative T Shirt Cutting Ideas]
T Shirt Necklace With Beads
Now this one requires a lot of precision because if you cut the t-shirt strips too fat then the beads won't go in and if you chop them off two thin, they will be too flimsy to hold the beads. The number of strands you will have will have to be according to be how long you want your necklace to be.
String the beads into the strips and loop the strips through copper tubing.
Make sure you fasten them well so that they don't come off.
The beads will make the strips a little cumbersome, but tying them well will ensure that none of these come off.
[Also Read: Washer Necklace Tutorial]
DIY T Shirt Necklace with Fringes
The best thing to create from old t-shirts is fringed necklaces. They are easy and super fun to make!
Cut ½ inch strips of your t-shirt and pull them to stretch it.
Cut them all into chord like shapes and loop around any coloured chain and pull through.
Tie a topsy tail knot and you are good to go!
Wear it with maxi dresses to bling up your look. Here are some step by step pictures on how to make this necklace:
[sc:mediad]
Braided Chain Necklace
For this one too all you need is a golden or a copper chain and fabric scissors.
Cut thin but long strips of your t-shirt
Use different coloured strips to give an accent to your necklace
Braid it up and then clasp both the ends with a jewelry clasp or a fastener.
Now entangle the gold or the copper chain into the t-shirt braids
And you are done!
Easy DIY T Shirt Necklace
If you are one of those who love simple jewelry and not the chunky ones, then this one is definitely for you. This one is very similar to the ones you have made before.
Braid the T-shirt strips onto copper tubing
Wrap a copper necklace around the t-shirt and loop it through the copper tube
Fasten the ends with a jewelry fastener
Since this one is a very simple necklace, you can even attach a pendant on the tubing to make it look even better. It's on the subtle side of the spectrum, so you can thus wear it for formal affairs too.
See, how well you can reuse those old and fluffy t-shirts. Make them into amazing necklaces!
Hope this article on DIY T shirt necklace is helpful. If you have taken inspiration for this post and made something quirky, do not forget to share it with us.