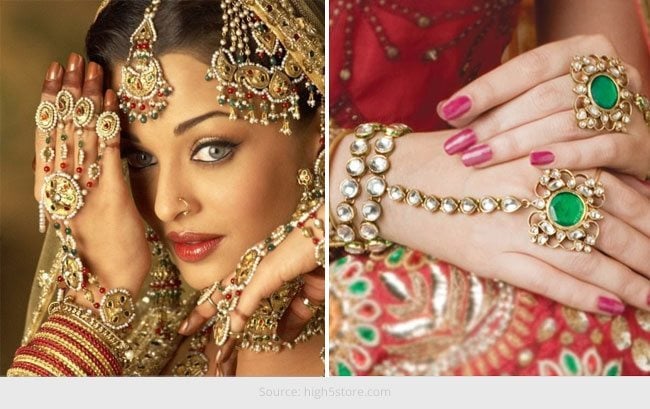 Indian tradition is always in – never fading and full of joy, spell, glory and exquisiteness especially when it comes to weddings. One such part of an Indian wedding is Hathphool. Two dainty delicate hands decorated with henna and adorned with hathphool. Oh, what a sight it is. Truly irresistible and endearing!
Hathphool or the flower of a hand is a fine piece of jewellery made with intricacy and art. It in fact decorates and adorns the bride's hands as no other. In the yesteryears, Indian brides wore golden hathphools but now other varieties are trending too.
It was believed that the hathphool was usually a jewellery piece set up only in kundan or jadau. However contrary to popular belief, it was usually made up of gold or silver or even uncut stones and diamonds. They were very popular in the Mughal era and were believed to be a staple jewellery of the Persian dancers at that time too.
[Also Read: Body Chain Jewellery]
Hathphool has always been a favourite piece of jewellery for any bride. In fact, yellow gold has always been in demand. Of late, diamonds too are becoming an integral component of hand jewellery. The modern world would call them Hand chains! Now it's an essential part of a bride's wedding couture. Modern versions of the hathphool can also be worn with Western attire. So there is no end to embracing the time-honoured hathphool that graces the feminine hands beautifully.
The Choice of Celebrities
From Kelly Clarkson to Miley Cyrus, Meena Kumari, Sonam Kapoor to Madhuri Dixit, the Oscar red carpet to the Filmfare green carpet, many a celebrity have dressed up their ensemble and their hands with the traditional and contemporary versions of the very versatile hathphool.
The more recent and trending versions of hathphool carry modern influences, along with the traditional elements that justify this elegant piece's beauty and timelessness. Every big designer from Manish Malhotra, Anju Modi to Tarun Tahiliani has created their version of the hathphool in recent times and won the hearts of the masses and classes with its beauty and charm.
Features of Hathphool
Hathphool comprises of eight rings (barring the two thumbs) that the bride wears on both her hands. These are attached to a central flower adornment on the upper part of the hand and subsequently to a beautiful wrist bangle. It consists of a dangling chain which is spread behind both hands. Each of this chain symbolizes goddess's power for the bride's protection.
[sc:mediad]
Ancient sciences vouch for this traditional ornament as perfect recharge tools since they press against various nerves on the wrist and fingers; the round shape ensures that energy is transferred back to the wearer. The traditional 'hathphool' may sound an impractical piece of jewellery to some given the trends of minimalistic jewellery but has found many contemporary stylisations keeping the bridal hands in focus.
The Intricacy of Hathphool
Any kind of jewellery when worn by a bride needs some amount of effort when it comes to selection. Same is the case when it comes to selecting Hathphool. Let us take a look at the Ethnic Kundan Hath Phool in Rhodolite Color. This piece of handmade finely crafted jewellery has high quality stones and has rhodium polish that makes it suitable for wedding & festive occasions.
No matter the trend fix or changing times, the Hathphool will remain a constant in the Indian bridal scenario. After all, nothing can beat or surpass the magic of the Indian rituals that always showcases the best in workmanship.