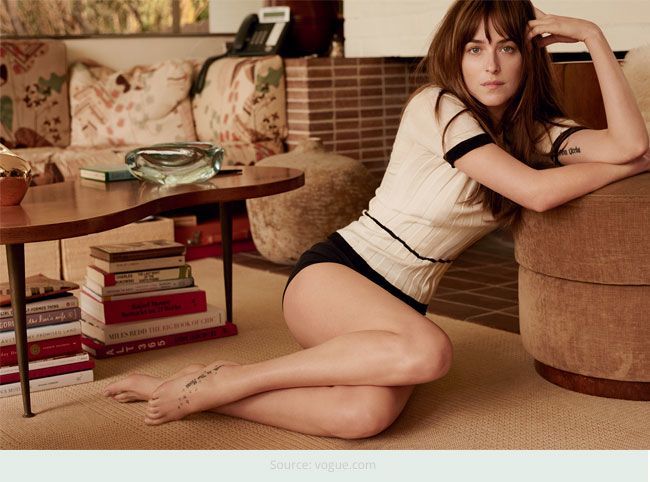 While actors Benedict Cumberbatch and Keira Knightley grace the cover pages of W magazine's February 2015 issue; Love Magazine has featured Kim and Cara Delevingne together on their cover page, and Rita Ora sports 1970's makeup by flaunting a bowl haircut for the cover page of L'Officiel Paris. Let's find out the best February 2015 fashion magazine covers!
W Magazine is back with its exclusive annual "Best Performances" issue, featuring some of Hollywood's brightest stars. And to grace the cover page Benedict Cumberbatch and Keira Knightley get surreal with photographer Tim Walker. While Keira Knightley flaunts Chanel blouse worth $3,900, and skirt of $3,400, Benedict Cumberbatch has worn Philipp Plein jacket worth $1,950 for the photo shoot.
Other actors including Amy Adams, Shailene Woodley, Reese Witherspoon, Julianne Moore and Emma Stone also grace the cover pages. And inside the magazine, you'll find Elle and Dakota Fanning, Meryl Streep and Emily Blunt who are all shot in equally outlandish Tim Walker style.
There is no doubt Kim Kardashian loves to pose before the camera. The photogenic Kim once again proves her love for camera as she graces the cover page of Love magazine along-with super model Cara Delevingne for the February 2015 issue.
While on the cover page, the "Keeping Up with the Kardashians" starlet looks absolutely sensual with her flawless skin, on the other hand she is barely recognizable for the UK magazine of the same issue. The reality star is photographed by Steven Klein flaunting a vintage Prada.
[Also Read: Anushka Sharma Magazine Cover]
Back in September, the magazine had published a teaser in a sexy camcorder-style photograph with a caption known as "secret project" and now the cover page is out with both the beauties gracing the cover page.
Kardashian has also tweeted, "Working w @stevenkleinstudio was so crazy! We shot for 3 days straight at a motel in LA. One night til 4am. Katie Grand @kegrand dressed me in all vintage and custom Prada for our Love shoot! Can't wait for these pics."
The star of much awaited movie, Fifty Shades of Grey, Dakota Johnson is gracing the cover page of Vogue UK this month with an exclusive interview inside titled as "Dakota Johnosn: An Interview with a Woman on the Brink of Frame". Vogue has already surmised Dakota to be the decade's Vivien Leigh and the public will also accept their prediction after watching the movie that's slated to be released this Valentine's Day.
Allison Williams, who has played a boy in Peter Pan and one of the Golden Globe winning HBO hit series 'Girls', is gracing the cover page of February 2015 issue of Glamour magazine. Allison, who has already flaunted a picture-perfect and confident Marnie Michaels, poses before the camera with the same confidence and poise, as she flaunts a Bottega Veneta dress.
[sc:mediad]
Gwyneth Paltrow looks extremely glamorous, as she wears a Saint Laurent by Hedi Slimane dress and Harry Winston bracelet for the photo shoot of Harper Bazaar. As she graces the cover page of Harper Bazaar, she has also opened up with in an exclusive interview where she talks about her new life in L.A, new career and new relationship and also about Chris Martin.
Anushka Sharma is for sure on cloud nine for all the right reasons, with her latest movie 'PK' breaking all box office records making her Jagat Janani character immortal, to her much awaited Bombay Velvet movie. And how could we discount her love life which is also full of color these days. Grazia leaves no stone unturned in covering this fabulous actress on their cover page. While last month she had graced the Vogue cover page, this month Jagat Janani is all set to woo her audience by posing for Grazia.
Who could have justified the cover page of Women's Health better than our Begum Kapoor, who is more curvaceous, prettier and fitter than ever? While she looked extremely regal in a pink Manish Malhotra saree during Soha's wedding; Kareena Kapoor Khan looks super fit and smoking hot in a red dress as she poses for the cover page of Women's Health.
And with Fimlfare Awards just a couple of days away to be aired on TV, our fashionista Sonam Kapoor is gracing the cover page of February 2015 issue of Filmfare. Her movies may not have volume, but nothing takes away the style quotient from Sonam, whether it's a Girogio Armani event, her movie premiere or posing for the cover page of any magazine. And this picture of hers tells it all!
So those were my top picks on the best February 2015 fashion magazine covers. Hope you enjoyed it!