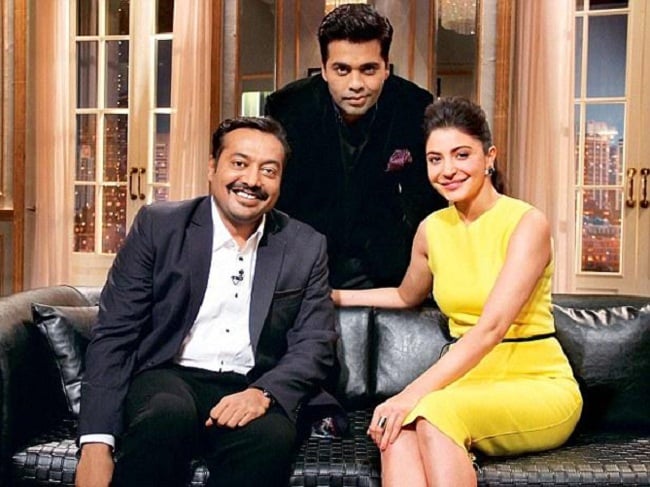 Anuskha Sharma's appearance on the popular TV show Koffee with Karan earned her the ridiculed moniker of 'joker lips'. The Jab Tak Hai Jaan actress became a laughingstock soon after she appeared on the Karan Johar's chat show. She fell prey to all the mockery on Twitter, as she appeared to go through some kind of cosmetic surgery done to her lips.
The poor girl was bombarded with an array of sarcastic comments on the social networking sites – whether her lip job went wrong or she was accidentally hit by the bat of her beau Virat Kohli.
Here are a few comments Anuskha was tweeted with –
They say couples start looking like each other after they've been together long. Take Anushka Sharma and Virat Kohli's pouts for ­instance…— Jamal Shaikh
Virat Kohli can sleep on the new Anushka Sharma lips — Raj ThackerYAY
Anushka Sharma's lips are so huge she once tried to kiss her boyfriend but ­accidentally swallowed him instead — Hardik Rajgor
Before: Anushka Sharma 2 plastic surgeon, 'Pls gv me the lips tht Heath Ledger had in ­Batman' After: Surgeon to Anushka 'Why so serious?' (sic)— Sainath Saraban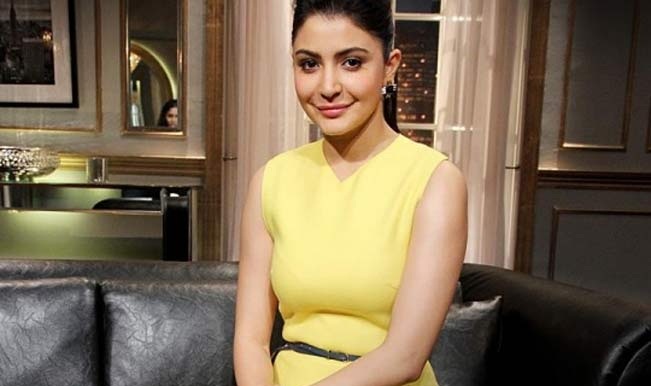 The actress finally decided to open up by reacting to all these claims of her being 'botched up'. She therefore released a statement on her micro-blogging site denying going under the knife.
While other celebs usually overlook such comments, letting the rumor die with time, the Band Baaja Baaraat actress instead published a lengthy letter clarifying the gossip.
She has definitely tried to clear the air by tweeting a long content piece. This is what we have gathered from her Twitter page. Do have a read!
"Hellooooo everyone !! Today I am here to talk about my lips !! Yes ! There ! I said it .. My lips ! As a person I find it difficult to talk about my personal life and hence have always maintained a low profile choosing to interact with you all on Twitter with my random -mostly illogical thoughts seeming like the only thing I feel ok about ..that's just who I am .. But in today's time where PR stories and feeding people with information constantly or making appearances is a fad somewhere people like me get lost in translation or in this case translations !
Lately there has been a LOT of talk about me in this particular episode of Koffee with Karan . Mainly regarding my lips . I am here to just convey what I have to say regarding the same . I am talking about it only because this story has taken a scary direction and things have been 'blown out of proportion' ( pun intended 😉 ) ..
[sc:mediad]
For a short while now I have been using a temporary lip enhancing tool and that along with make up techniques ( I have learnt over the years) is the reason why there might be a change in the appearance of my lips. Having stated this fact let me very vehemently assure everyone that I have by no means gone 'under the knife ' or done any kind of 'plastic surgery' or undergone any intrusive procedure . This was my decision and was done for the sake of my look in my upcoming film Bombay Velvet,a period drama where I play a jazz singer in the 1960's – 70's . And it was taken from the referencing of that time .
The drastic change in my appearance on KWK is due to lot of factors put together and not just my lips . Everyone goes through good and bad days. Did I think I looked good on the KWK episode ? NO . I do feel I could have done things differently .
To put the current conjectures and reportage straight once and for all from my end – I have said this before and am saying it again .. I do not believe in plastic surgery or any other means of unnatural permanent changes to the body . I do not support it or stand for it or recommend it .
Now if someday my legs appear different and sexy to you ! Please don't say I've done 'Something' …
Oh ! And also … Some of the 'joker' jokes/memes doing the rounds though a bit mean did bring a smile to my lips 😉
Goodnight to all
Love and Light
Anushka"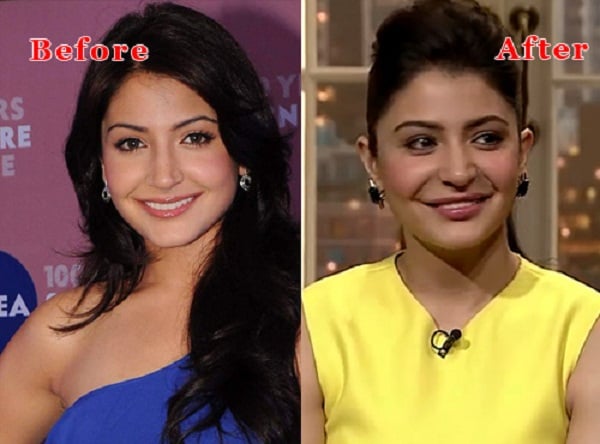 Soon after Anuskha posted her straightforward response, Bollywood came forward to support her courageous approach –
No matter how much the actress defends herself but looking at her lips, it's hard to believe if she will ever recoup her natural beautiful lips. No matter how much the character needs, why use a temporary tool spoiling your natural beauty? There are numerous actors who have lost and gained weight to do justice to the character but such kind of approach is really pathetic. The awful truth is her overall look is now very disappointing. We just lost that cute and beautiful girl, whom we adored from Rab Ne Bana Di Jodi till her Jab Tak Hai Jaan days…
Fashionlady really prays the girl regains her natural beauty, million girls would die for.
Amen!