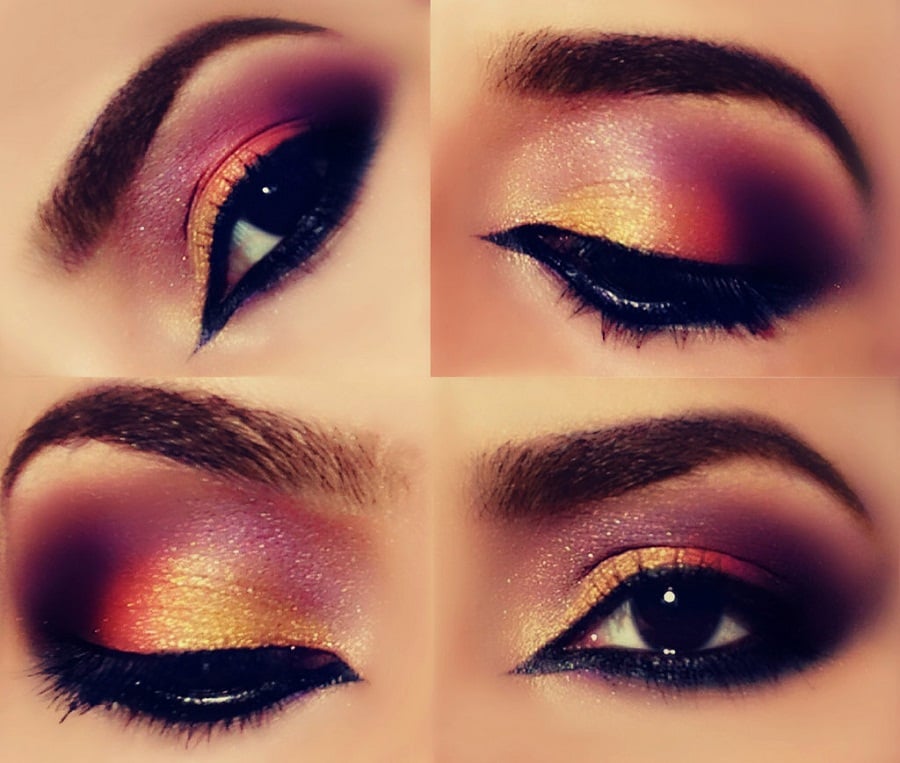 It's a know fact eyes are the focal point of your face. While wearing makeup, you should always maximum emphasis to eyes followed by lips and other areas. Again there is an array of styles when it comes to eye makeup.
Usually we create the look as per the occasion or event, which is again divided into several sub-styles that suit your personality. In this edition I offer you top 3 eye makeup looks which can set your heart alight.
No matter whether it's for Valentine's Day, catching up with friends over Sunday brunch, watching movie with beau or attending a close friend's wedding, these three all time hit eye makeup ideas can instantly spice up your look whilst adding some glamorous elements to your personality as well.
While we are celebrating the month of February as the season of love, even if Valentine's Day has passed by, you can still rekindle the very thought by giving your best shot when you're going out with your beau or if it's just an office party.
The bottom line is to keep up the romance post valentine's week, so I offer you three extremely feminine romantic looks along-with tutorial how to get them. Do have a read!
#1 Soft Pink – The hot & sweet look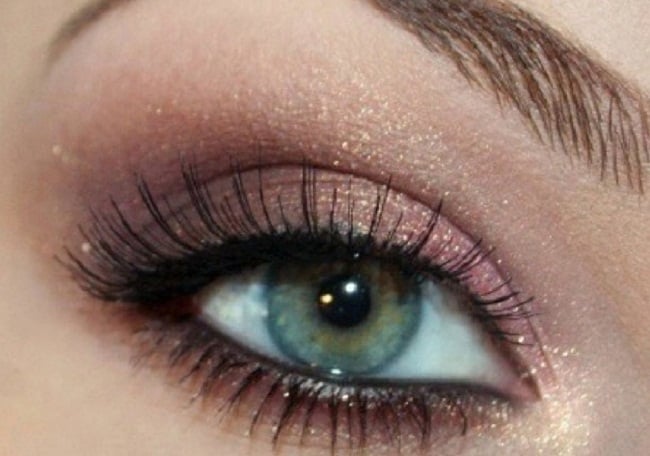 Since love is in air, pink and red are very much in. And when it comes to eye shadow and blush, the soft pink instantly hits my mind. The delicate pink palette adds some strong doses of feminine elements to your look. In order to get this bewitching and velvety pink eye look, you need to go for the seductive plum shade which enables you a flirtatious look.
Here is the tutorial –
Step 1 – Use eye primer: Prep your eyes first by using a suitable primer so as to prevent your shadow from getting smudged. Now apply a shimmery pink shade, just as the Balm's Stubborn at the corner of the lid in both the eyes. This will give some dramatic effect to your look.
Step 2 – Use champagne colored eye shadow: After you're done with the edges, dab some champagne colored eye shadow at the center of both the lids, by gently blending it with the pink shade.
Step 3 – Use cherry, brown-plum hue: The Too Faced Cherry Cordial is the perfect item to get this look. Use this shade at the outer areas and blend it smoothly with the champagne shade present at the center.
Step 4 – Create plum-esque taupe color: Now that you're done with the basics, now use a crease brush to create the plum-esque taupe color. This color is lighter than Cherry Cordial and wear it on the creases.
Start working at the outer edges and lighten up the shade as you reach the inner areas.
Step 5 – Again use champagne colored shadow: This time wear this shade by using a fluffy brush. Simply sweep the brush back and forth above your crease until the two shades are blended with each other. Do add a hint of this shade at the inner edges over the shimmery palette.
Step 6 – Highlight your brow bone: Use a very nude shade to highlight the brow bone areas and blend it smoothly with the champagne shade above the crease.
Step 7 – Use black eyeliner: Now it's time to define the shape of your upper lids. By using black eyeliner pencil or liquid whatever you're convenient with, define your upper lids carefully. Do not make it too thick or too thin.
Step 8 – It's time for mascara: Now apply a gentle coat of mascara to highlight your lashes. Ignore if the weather is humid at your place.
Step 9 – Cherry brown lipstick: Now complete your look with cherry brown lip color.
#2 Radiant Orchid – For bold and beautiful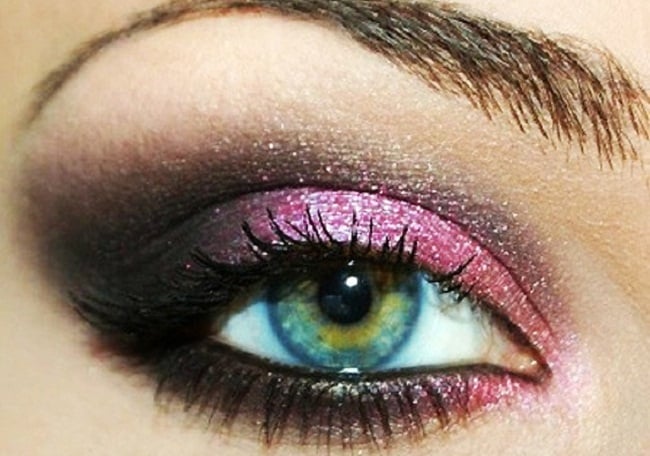 Did you know Pantone declared Radiant Orchid as the official color of 2014?
If you prefer bold look then this shade of purple will do. This playful look will also enable you score 10 on 10 for your fashion forwardness.
Step 1 – Use primer and shimmery boysenberry colour: After priming up your eyes with primer to ensure its longetivity, now apply a shimmery boysenberry shade just as the Urban Decay's Junkshow at the inner 2/3rd areas of your lids.
Step 2 – Use dark plum eye shadow: The Fig.1 by MAC is the best option to get this look. Apply this radiant orchid shade at the outer V and across the lower lashline (do not use at the inner corner). Now highlight this shade by using the boysenberry color.
Step 3 – Reapply dark plum shade: Now use the same shade on the creases using a fluffy brush to blend the color. Create a a winged shape from the outer corner with the blending brush and keep blending till you've obtained the soft edges.
Step 4 – Dad matte white eye shadow: Now highlight your brow bone just like the above look by dabbing some matte white eye shadow and also use some at the inner edges near the tear ducts.
Step 5 – Apply eyeliner: Now define your eyes with your favorite eyeliner in black.
Step 6 – Use mascara: Use a volumizing coat of black mascara or even fake lashes would work wonders for this look.
Step 7 – Wear  shimmery, berry coloured lip gloss: Now complete your look by enhancing your pouts with shimmery, berry coloured lip gloss.
#3 The Flamingo Pink – The feminine factor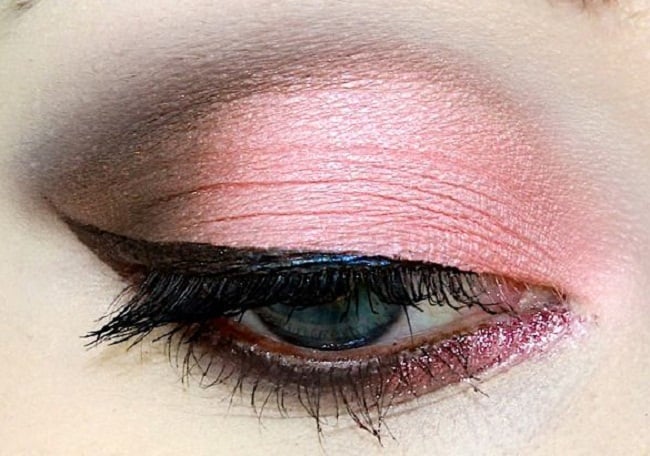 If pink is your best bait this season then I am pretty sure you'll adore this look. The sweet pink, the soothing pink can be fierce sometimes, thereby manifesting the feminine power within you. This look is ideal for those free-spirited and confident gals, who prefer to see the world on their own. Cheers to the women power!
Wear this look and step out in confidence by following this tutorial!
Step 1 – Apply flamingo pink shadow: After applying primer which is now a basic for this makeup, apply the flamingo pink shadow. The Kat Von D's Placebo is the perfect for this makeup. Even pat some of this shade all over your lids. Highlight the center portion by adding some shimmery pastel pink palette to give an edge to your look.
Step 2 – Apply matte brown color: The Too Faced Triple Fudge would be the ideal option to create a matter dark brown effect at the outer V. Now slowly smudge the color inwards, by sweeping it over the crease and lighten the shade gradually. Make sure this shade defines your lids without overlapping the flamingo pink.
Also apply a very thin line of this shade beneath your eyelids and link to the outer V.
Step 3 – Apply white or light champagne eye shadow: Highlight your brow bone by using the  champagne eye shadow. Use a fluffy blending brush to create this effect and also use the same shade to dilute any sharp edges that have been created.
Step 4 – Define your eyes with eyeliner: By using your favorite eyeliner, define your eye lids. This time try to create the cat eye as it perfectly goes with this look.
If you are doubtful of getting the cat eye look. Click here and go through the tutorial.
Step 5 – Use a pink liquid liner: Now define your lower lids as well. Apply kajal on the waterline to complete the shape of your beautiful eyes. Now pick a pink, liquid liner, say NYX Liquid Crystal Liner in Crystal Pink will do. Use this pencil to highlight the tear duct areas along-with the corner of your eyes.
Step 6 – It's time for mascara: You do not have to go for fake lashes, instead mascara will work for this look. Apply on both the lashes in a zig-zag motion, which will help your lashes from clumping.
Step 7 – Wear pink gloss: To give a matching effect, complement your pouts with shimmery pink gloss.
So these are my top 3 picks!