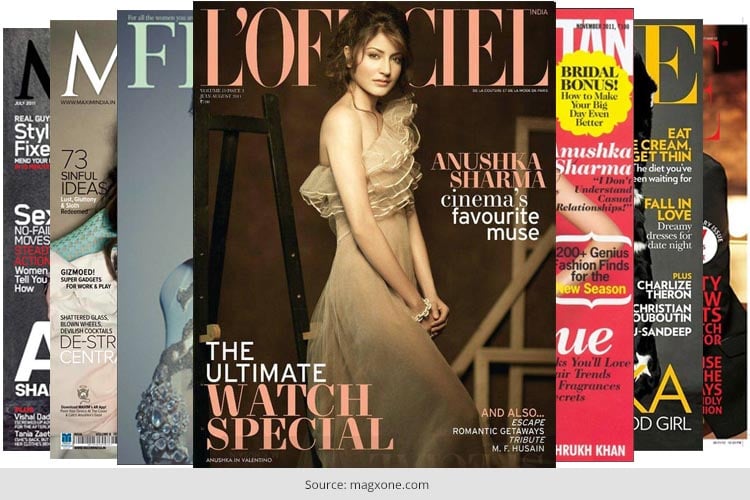 She is madly obsessed with bath products, particularly shower gels and body lotions. She hates complicated people, drama, lies and dishonesty. In her wardrobe, she has clothes waiting to be colour coded. She loves to travel, to grow, and to learn. Ask her about her life and she mentions three things – family, work, love.
This is Anushka Sharma for you which amply shows up in Anushka Sharma magazine cover. There is a blend of raw appeal, non-stop energy, dynamism all rolled into Anushka Sharma photoshoot for magazine.
Just pick a cup of coffee as I take you through some of the hot and sizzling covers showing Anushka Sharma at her saucy best.
Harper's Bazaar, December 2015
Yeah, Anushka Sharma surely looks in command in floral suit and frilly bow blouse, both of them from the house of Gucci. This Anushka Sharma photoshoot for magazine beautifully shows her sitting on a floral printed couch surrounded by floral arrangement.
Filmfare March 2015
This is certainly the hottest and spiciest Anushka Sharma photoshoot for magazine as she candidly admits "Yes, I'm Dating Virat". Anushka has some spunk indeed to have admitted her relationship with the cricketer Virat Kohli last year.
[Also Read: Shraddha Kapoor Magazine Cover Looks]
Verve India March 2015
Catch the absolutely stunning Anushka Sharma in a new avatar on Verve India Magazine March 2015 Issue.
GQ India December 2014
This magazine covers page is where Anushka talks about Men, Media and Madness. I think Virat Kohli is one answer who fits all these three M's. Dressed in an Atsuko Kudo latex bikini, is the top of seduction or the start of it? Well, Anushka Sharma will have to answer it.
Grazia May 2013
What does the Sunshine Girl Anushka Sharma have to offer you on Grazia magazine covers page? Anushka Sharma height for sure. In Gucci Spring 2013 outfit and Fendi handbag tucked in, the pop of blue color makes Anushka Sharma magazine cover blue as hell.
[Also Read: Madhuri Dixit Magazine Cover]
Maxim February 2013
The sexy Anushka Sharma has become something like a veteran as far as magazine covers page go. She bares her well-toned torso and legs as if it's nobody's business. On top of it her tousled hair and a coral and teal outfit is a perfect icing to her sexy avatar.
Notch January 2013
Dressed in oversized shirt and denims for Notch magazine, Anushka Sharma takes you through her beautiful journey from being an outsider to an A-lister. She sports her dishevelled look with so much ease, doesn't she?
[sc:mediad]
Marie Claire India December 2012
As says the magazine covers page, Anushka has made it all by herself when it comes to Bollywood. There is no way you can miss out the hottie as she jazzes it up in pin straight hair and sequinned outfit. Isn't it amazing looking at the growth curve of Anushka Sharma?
[Also Read: Sonam Kapoor Magazine Cover]
Verve December 2012
Tornado on the big screen sums up Anushka Sharma on magazine covers page of Verve. Apart from the beautiful lass, what can't be missed out is her neon dress, black jacket and most of all smokey eyes for this Verve Dec'12 magazine cover.
[Also Read: Aishwarya Rai Magazine Cover Looks]
Harper's Bazaar India November 2012
Trail blazer Anushka Sharma certainly is as she goes old Hollywood by donning hair the classic style, a diamond necklace and fur wrapped around her shoulder. She was clicked by reputed photographer Prasad Naik. Isn't the damsel looking smouldering hot?
Vogue India October 2012
Anushka Sharma magazine cover for Vogue India's fifth anniversary was quite a turner. The fun print and designer pumps she put on fresh out of her release Matru Ki Bijlee Ka Mandola looked whacky. The cover also stumped everybody considering Anushka Sharma height.
[Also Read: Deepika Padukone Magazine Cover]
Maxim July 2011
Meet the scorching stunner Anushka Sharma in this glowing satin dress that has oh-my-god deep and plunging neckline and deep red lips.
Which of Anushka Sharma magazine covers do you find hot and irresistible? Feel free to tell us the magazine name, month and year. Somewhere down the line you will find issues such as Anushka Sharma weight and Anushka Sharma age, that will just look irrelevant.