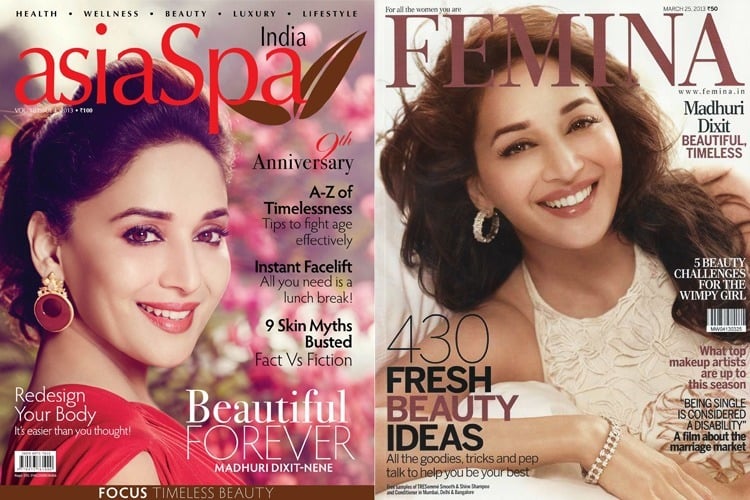 Whether it is Ram Lakhan, Prem Pratigyaa, Tridev, Dil, Saajan, Khalnayak, Hum Aapke Hain Koun…!, Dil To Pagal Hai, Lajja, Devdas, Gulaab Gang, there is only one lady who made these movies as iconic and famous as her.
There is something more popular too when it comes to Madhuri Dixit. The Madhuri Dixit magazine cover. Ever since Ek Do Teen….became a song sensation in the film Tezaab years back, Madhuri Dixit magazine cover photos have become a rage as much as the lady herself.
[Also Read: Alia Bhatt Magazine Cover]
Madhuri Dixit On The Magazine Cover Page
Hold your heart as we take you through some of the gorgeous Madhuri Dixit magazine cover that you won't mind keeping in your wardrobe for eternity. Happy catching a glimpse of Madhuri Dixit on the magazine cover page. You will hopefully like them all.
L'Officiel October 2014
Yes, Madhuri is the real empress of elegance in the October issue of L'Officiel India. In this Madhuri Dixit magazine photoshoot, Maddy is seen in tangerine sheath dress done by Stella McCartney while the jewellery is by PN Gadgil.
Hello! May 2014
This Madhuri Dixit magazine cover was shot in the Jaipur palace of Maharani Gayatri Devi. Dressed in pastel blazer, white trouser and sheer white top, Mads looks gorgeous as ever.
With hair left loose in soft curls and a white pearl necklace, Madhuri Dixit magazine photoshoot looked just as dynamic as she.
Savvy March 2014
The celeb hungry audience should know that Madhuri was settled in Denver, US after her marriage to Dr Sriram Nene for many years. It was when she decided to return to India on a permanent basis that became the talk of the B-town and relief to her innumerable fans.
In this Madhuri Dixit magazine cover photoshoot, she talks about her homecoming.
Hi! BLITZ September 2013
The evergreen diva and the Goddess Returns. Yes, Madhuri Dixit magazine photoshoot is truly sensational going by the cover.
Andpersand July-August 2013
Madhuri Dixit magazine photoshoot in this mag cover reveals ageless secrets of Madhuri on how to look beautiful and fit.
It could also be how to become the heart-throb of millions, or how to be the dream girl of film directors. These are our guesses, which might not be off the mark…he he.
[Also Read: Sonam Kapoor Magazine Cover]
India Today Woman January 2013
Truly described a Million Dollar Mom, Madhuri Dixit on the magazine cover page of India Today Woman put her as an ace when it came to signing new films and celebrity endorsements.
Filmfare April 2011
By any chance does Madhuri Dixit on the magazine cover page look a mommy? In this mag cover, Mads is dressed in Shantanu-Nikhil gown. Never knew Madhuri looks stunning in yellow too. She looks the perfect sunshine, isn't she?
Good Housekeeping 2008
It's nice to know in this issue of Madhuri Dixit on the magazine cover page talking about how she is down on her knees and hands doing her own housekeeping, which is the best way to keep fit.
Wish more and more of modern day celebs and common women follow this principle in day to day life.
[sc:mediad]
Verve 2007
She personifies beauty, grace, poise, and divinity on this cover of Verve magazine. That is why Madhuri Dixit is truly gifted when it comes to looks and intelligence.
Cine Blitz February 1996
Clicked by noted lensman Gautam Rajadhyaksha, Madhuri Dixit on the magazine cover page of CineBlitz magazine talks about "no sympathy for men". That was then.
With the passage of time, Madhuri's views about men would have changed – yay or nay?
Filmfare April 1986
Know when the new Bollywood sensation Madhuri Dixit came first on the magazine covers? It was the April 1986 issue of Filmfare that Dixit diva first graced. And thereafter, there was no stopping her from being in the limelight.
[Also Read: Feisty Deepika Padukone Magazine Cover]
How would you like to describe Madame Madhuri Dixit Nene – timeless beauty, famous dancer, a woman with enigmatic smile or a choreographer's delight?