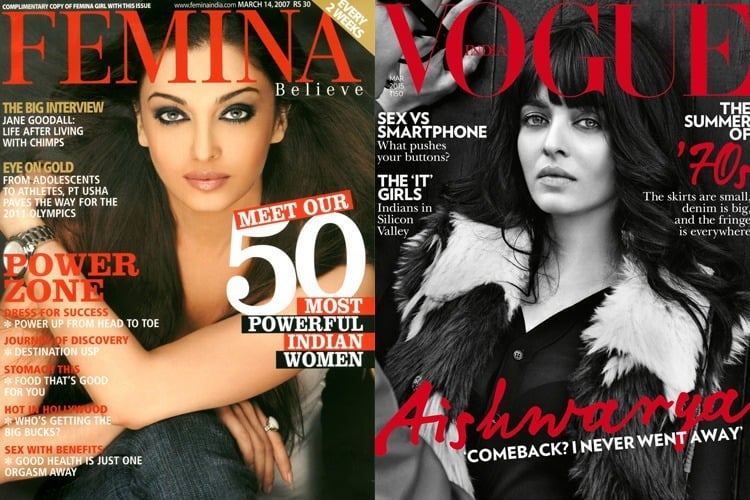 How do you all know her? Or how would you like to know her? As ex-Miss India and Miss World 1994, as the one who goes to Cannes year every year, as a reputed film actress, as a working mother, as Bachchan bahu or as Mrs Aishwarya Rai Bachchan? When there are so many things to pick, the word Ash is good enough.
[Also Read: Shraddha Kapoor Magazine Cover Looks]
In a similar vein, there is no beating Aishwarya Rai magazine cover. Her featuring on magazine covers time and again has proved one thing for sure – there is nothing like looks, talent and blessings from God when it comes to being an international star.
Aishwarya Rai On The Magazine Cover Page
Aishwarya is a mix of confidence and naturally gifted looks which shows in magazine covers. Let's check it out.
Filmfare October 2015
In the stunning appearance she makes on the cover of last year's Filmfare issue, Aishwarya gives a pleasant shocker with her little black dress, light make-up and smoky eyes, and curly hairstyle.
Harper's Bazaar Bride August 2015
Dressed in Sabyasachi lehenga in the latest edition of Bazaar Bride, Aishwarya Rai on the magazine cover page has a different story. Ash was styled by none other than the man himself for Sabyasachi Couture 2015. So much for the love of looking glamorous, isn't it?
Filmfare November 2013
Elegance personified, Ash rules the world with Aishwarya Rai magazine cover photoshoot for Filmfare. Her killer looks shine through in this black and white image of hers.
Verve March 2011
Aishwarya Rai magazine cover photos perfectly capture Ash from queen to a mystical warrior in the Verve issue. She not only manages to grab eyeballs, but keeps you hooked onto this magazine cover.
[Also Read: Sonakshi Sinha Magazine Cover Looks]
Vogue India February 2011
Angelic beauty. That could perhaps be the best description as you lay your hands on Aishwarya Rai magazine cover. This Vogue cover shows Ash posing with her wings and super-sensational black looking attire.
Femina January 2011
Talking about India's 50 Most Beautiful Women and Aishwarya Rai Bachchan has to be there without the blink of eye. Nobody can miss out her smoldering looks that virtually makes your jaws drop.
[Also Read: Alia Bhatt Magazine Cover]
Elle December 2010
Aishwarya Rai Magazine cover photos always have a mystical delight to themselves. Pritish Nandy has brought about the mystique of Aishwarya Rai Bachchan in a heavenly manner in the cover page of Elle December 2010. It is one of Ash's old photoshoots which brings her old world charm in full bloom, considering her high bun to the gown she is wearing to her heavy-winged eyeliner. Need we say more about the charisma of Aishwarya?
Condé Nast India Traveller October 2010
The best thing about the Launch edition of Condé Nast India Oct 2010 was Aishwarya Rai magazine cover Photoshoot. Ash wore Fall 2010 Louis Vuitton dress, whereas inside pages showed Aishwarya Rai magazine photoshoot in Dolce & Gabbana, Dior and Chanel.
[sc:mediad]
Filmfare November 2009
Ash should have been surely arrested for the stunning look she put up on Aishwarya Rai magazine cover in Filmfare Nov 2009 edition. What actually stands out in umpteen magazine covers where she features is her big looking green eyes. No wonder all her photo shoots are breathtaking.
Elegant Living
Meet the most beautiful woman in the world Aishwarya Rai Bachchan on the cover of Elegant Living. She is an epitome of elegance as she flaunts grey suit teamed up with black polo net hat.
Filmfare March 2001
How does this Aishwarya Rai magazine photoshoot look to you which featured on Filmfare magazine cover way back in 2001? Doesn't it take you back to the Pepsi TV commercial which she had shot with film stars Aamir Khan and Mahima? Doesn't Ash look straight out of college dressed in jeans and sleeveless tee?
[Also Read: Feisty Deepika Padukone Magazine Cover]
Hope you enjoyed taking a look at the hot and sizzling Aishwarya Rai featuring on magazine covers. Tell us which magazine cover of hers appealed to you most.