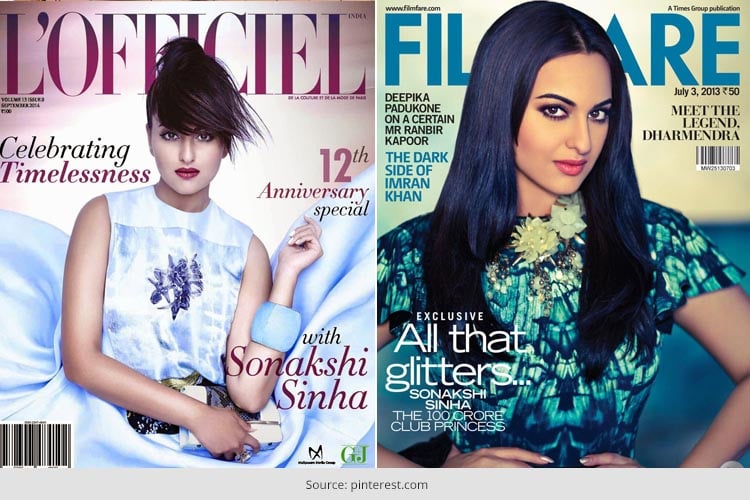 "Thappad se darr nahi lagta, saahab, pyar se lagta hai…" This award winning dialogue in the film Dabangg was barefaced, brave yet beautiful mouthed by the female star Sonakshi. Much the same as Sonakshi Sinha magazine cover.
Ever since her fist film hit the screens, Sonakshi has only gone on an upward curve. She might have had several reasons to downplay her image, but Sonakshi Sinha on the magazine cover page fades away all the negativities that may have cropped up.
With all salute to this big girl taking over the world of Bollywood (good, bad or ugly), let us do a close check of Sonakshi Sinha Magazine Cover Photos before they slip away from the public limelight.
[Also Read: Aishwarya Rai Magazine Cover Looks]
Femina, January 2016
Absolutely cool and drop dead gorgeous is Sona baby dressed in black ensemble which makes her look as if she has come from another world (though it has to be 'cine' for sure). Doesn't Sonakshi Sinha look a voluptuous lassie who is yet to be tamed?
Cine Blitz, December 2015
Succumb to dazzling Sonakshi who appears on the cover of film glossie Cine Blitz, dressed in long shiny gown with heavy neckpiece and minimal makeup. Bold and beautiful she is, plus a good dancer as well.
Harper's Bazaar Bride, June-July 2015
Catch Miss Sunshine Sonakshi Sinha exude fashion in her flaunting best as she features in this stupendous Sonakshi Sinha magazine cover Photoshoot dressed in metallic emboidered couture designed by Gaurav Gupta. Can time stand still? It has to or else how will you come out of the awe Sonakshi puts you in.
Vogue, May 2015
Catch the Bollywood bombshell Sonakshi flaunt her legs to perfection in the photoshoot for Vogue May 2015 cover that highlight her curves pretty well.
Bridal Mantra, February-May 2015
Our sweetheart Sonakshi looks mind-blowing dressed in a lavish pink lace and beaded jacket lehnga for Bridal Mantra magazine. No way can you miss out on the 3-tiered jewelled headpiece and a woven pink headband she wears.
[sc:mediad]
In the subsequent shot, Sonakshi sports a shoulder cutout top with a long net skirt. What say you about this Sonakshi Sinha on the magazine cover page?
[Also Read:Anushka Sharma Magazine Cover]
Harper's Bazaar, November 2014
Yeah, she brings her curves back and in full steam as you hold a copy of Sonakshi Sinha magazine cover Photoshoot. Seen in Dior sheath dress, Sonakshi flaunts her hourglass figure pretty well.
The Juice, August 2014
Sonakshi Sinha magazine photoshoot for The Juice can't be missed out for several factors. One is that Sona has been styled by Pearl Shah. Secondly, Sonakshi gives a boho look wearing a white colored graphic t-shirt with a printed wrap skirt both designed by River Island. On the jewellery front, the two chunky neck pieces, pinned back hair and red lips can't be missed out.
Marie Claire, July 2013
Dressed in Alexander Wang dress and a Valliyan by Nitya Arora necklace on the cover of Marie Claire July 2013, Sonakshi Sinha magazine photoshoot made her look truly beautiful.
But the magazine cover gained further momentum with Sona captured in textured dress from Surendri by Yogesh Chaudhary where she looked fab in Swarovski earrings by Triumphal, and pointy pumps by Dior. Like or love?
This takes me to a point – what if the two pictures were re-shuffled? I mean Sonakshi Sinha magazine cover would have made colossal sense if the LBD Alexander Wang dress was featuring inside.
The Film Street Journal February 2011
No this is not an animated shot but real one. Check out Sonakshi Sinha in this French style hair cut which proves her sassiness quotient.
Don't sit back and stare at Sonakshi Sinha magazine cover. Drop in a word and tell us which cover featuring Sonakshi rocks and melts the bottom of your heart.