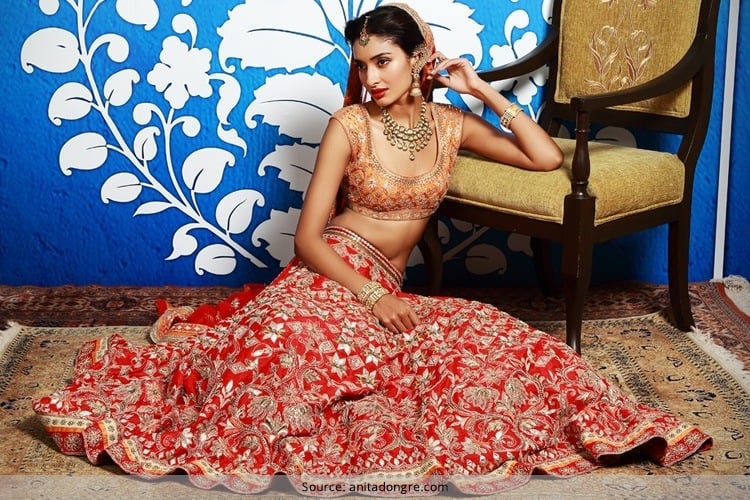 In love with a sultry wedding lehenga? Distressed that your usual bra and panty won't work? Wondering what to wear under a wedding dress to showcase a flawless silhouette? Well, we are here to your rescue, charting your under the wedding dress essentials to look glamorous and chic in that designer lehenga.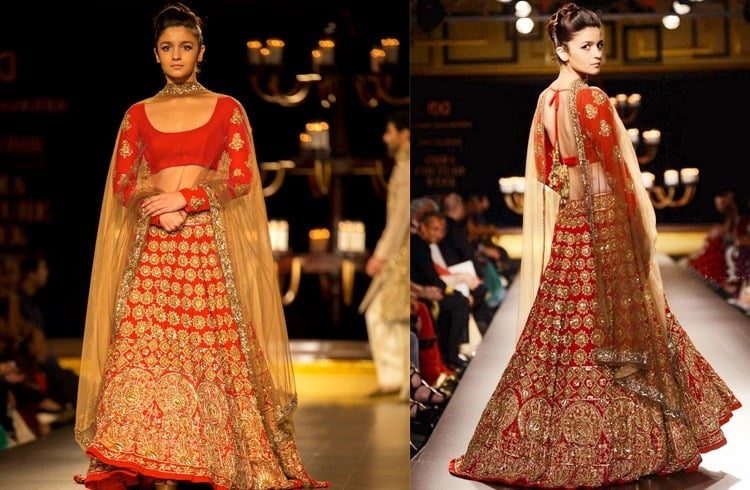 Wedding day attire is much high on the priority list of a bride's shopping foray, but they often miss on what to wear under a wedding dress till the last minute! You must be wondering that you need something lacy and sexy for your big day, but the truth is much diverse from the fantasies you weave for the D-day. You should opt for bridal undergarments that are comfortable, star shapers and easy to peel off (no complicated strings or mechanisms please!).
[Also Read: Wedding Guests Dress Ideas]
UNDER THE WEDDING DRESS ESSENTIALS
What To Wear Under Your Gown Or Choli?
Listed here are best undergarments that would accentuate your assets just right based on the wedding dress style you opt for.
[Also Read: What To Wear In Paris]
Lehenga: With a sexy open back or adorned with a sheer fabric like this
What to wear?
Bras without straps or detachable ones and backless ones are your hero for this one. Adhesive bras will come in handy for this purpose. Silicone cups have a comfortable feel and almost vanish under your dress so any sort of peekaboo is prevented. These bras keep your breasts in place by sticking to them tightly and simultaneously also support them and accentuate them.
[Also Read: What To Wear Under A Dress]
Ultra-deep V-neckline dress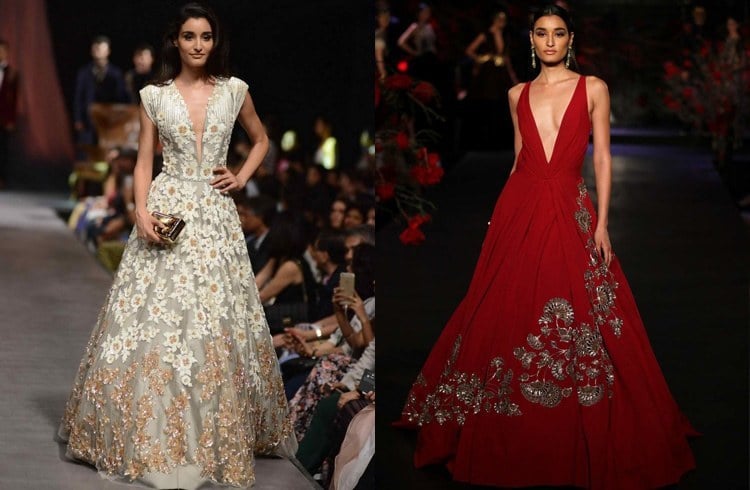 What to wear?
Such a wedding dress makes a bride look beautiful and sensual all together in a traditional wedding lehenga as this one. For a special wedding dress, one also needs a special something to wear under the wedding dress. For deep, plunging necklines, wear bras with a cut-out in front to adapt to low necklines, this gives added support and may be designed as a bodysuit to ensure nothing ruins the bust shape and everything around it till the waist. A low cut bodysuit or bra can be worn that offers support and keeps the breasts in place as do low cut push ups.
[Also Read: Difference Between Corsets and Bustiers]
The good thing about bodysuits is that they smoothen your silhouette and flatten the tummy. But it might be uncomfortable especially if you have to use the washroom. You can also opt for strapless push up bras which have a low neckline like this one
Lehenga: with classic strapless neckline
[Also Read: Wedding Lingerie]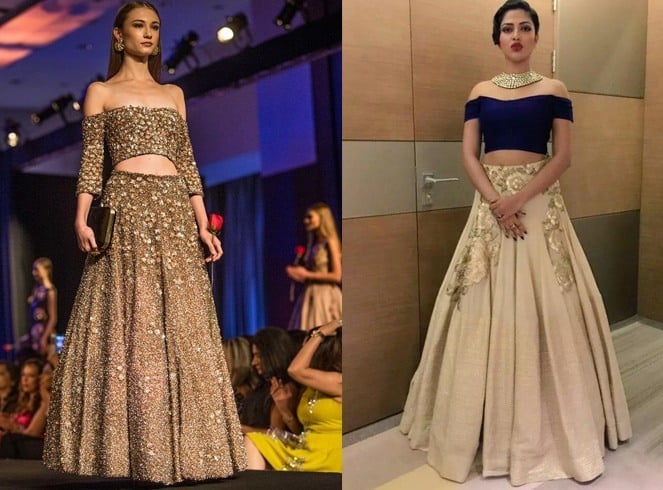 What to wear?
Adhesive bras tend to slip therefore, buy one that has a good hold on the inside or you could also opt for the longline bra. It is attached to a corset-like structure, which gives support and there is no chance of any undergarment slipping off because it attaches itself right till your waist, securing it. Many of them have boning, which is usually a source of discomfort to wear beneath a dress with boning since that curbs flexibility. When you try on what to wear under your wedding dress, ensure it hold your bust in place, comfortably so. If not, you'll be spending your wedding day fidgeting with your dress, trying to make it sit right, which would make your discomfort obvious thereby stealing away a great deal of beauty from your look. Try dancing and stretching wide around to see how much they move during trial.
Lehenga: It fits snugly around your upper body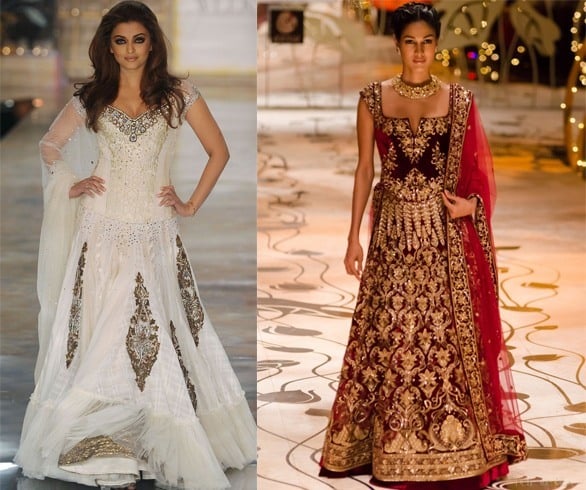 What to wear?
[Also Read: What Bra To Wear Under A Backless Dress]
A-line ghagras, amazingly make everyone look just the right amount of sexy and beautiful and is a bride's most demanded choice. Since these bridal gowns flare out from the waist, they rid you of the worry of the panty line display. Ban the dreaded bulge with an upper-body undergarment that will smooth out your back. Look for a light and flexible undergarment with convertible straps, that would make you move comfortably enough—that way it will complement your bridal wear no matter what pattern it is (strapless, halter, criss-cross, etc.). Bridal undergarments are to be found across stores and you can always consult the person at the counter to give you advice in order to buy the best undergarment.
Your lehenga: Mermaid cut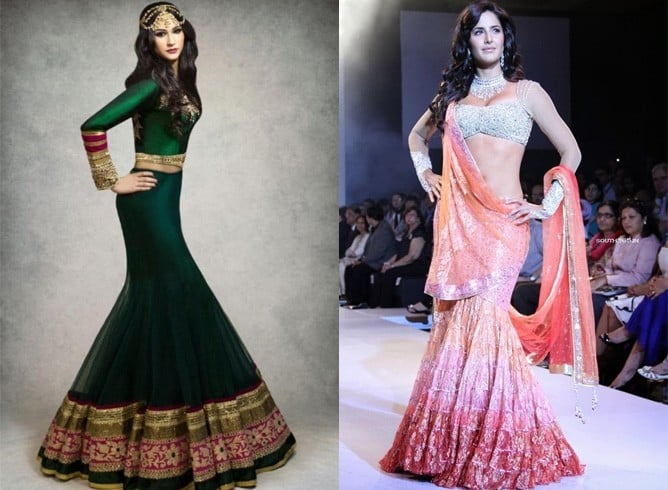 [sc:mediad]
What to wear?
This one definitely accentuates the voluptuous Indian figures. It is like an hourglass, fitting till the knees and flaring out thereafter. This lehenga suits women who have an hourglass figure or a straight body. Find a bodysuit which will hold up your body perfectly to maintain shape till the waist since the saggy and uneven flab would look bad. You want a shaped waist not one with tyres. Spanx or bodysuits are perfect for this. Shapewear flattens your tummy and the uneven areas around the waist, thighs, till the knees making you look shapely. There is a large variety of such undergarments to be worn under bridal garments which have minimum and maximum cover, so choose according to your comfort level and preference.
[Also Read: What To Wear Under A White Dress]
Your lehenga: Ball-gown like flare
Such a lehenga has many pleats near the waist, and look like wedding dresses right out of some age old beloved fairytale. If you have the figure which is shaped in cone, you can opt for such a bridal garment.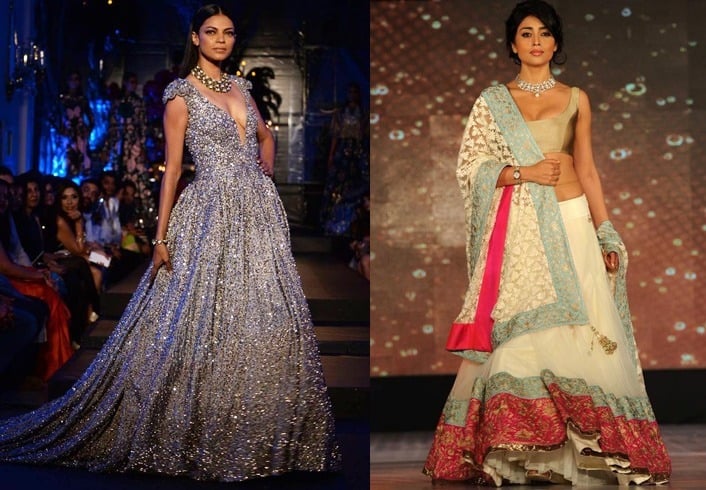 What to wear?
Wear special shorts to accentuate your butt, if you wish to and only if you feel it is necessary since keeping it minimal is always more comfortable for a bride (though people rarely do it). Find silicone, cotton or foam bridal undergarment which will make you look natural. Here are a few options
In conclusion, the most important thing you need to know that, as comfortable you are on the inside you will be on the outside. Your choice of bridal undergarment cannot be overlooked or compromised with, no matter what anyone else opines. The bride needs to look best and for that she needs the best undergarment. So, explore all your options and give innumerable trials to find the right under the wedding dress essential for yourself. Remember to keep your most delicate parts rightly cared for. Happy D-day!
[Also Read: Wedding Dress Shopping Do's and Don'ts]