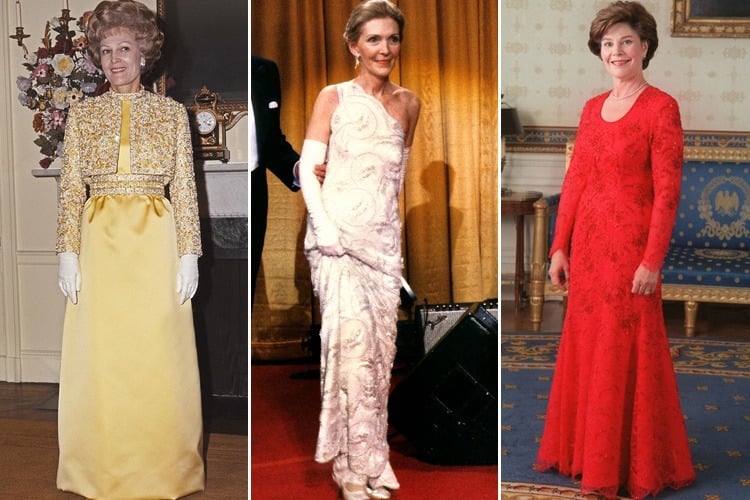 Ladies are ladies, but there is no disputing the charm of the First Ladies. The current fashionista and First Lady Michelle Obama, wife of President Barack Obama, isn't the first one in the First Ladies to rock the nation and fashion lovers in an inaugural gown.
This privilege has been worn by many ladies, proof of which can be checked out in Smithsonian Museum of American History which shows Inaugural Gowns worn by ladies for over a good 100 years. Take for instance, Jackie Kennedy who was the most fashionable lady in the political arena, considering her daring gown and cape.
Let's do a close check of the Inaugural Gowns worn by the First Ladies over a period of time. You can call it the Inaugural Ball fashion, which has virtually given a new meaning to the Presidency, the First Lady, and the nation.
Michelle Obama
This inaugural sleeveless ball gown in red designed by Jason Wu was made of soft, flowy custom chiffon and velvet. It was not only romantic and optimistic, it was a fashion statement in itself.
[Also Read: Michelle Obama Fashion Statements]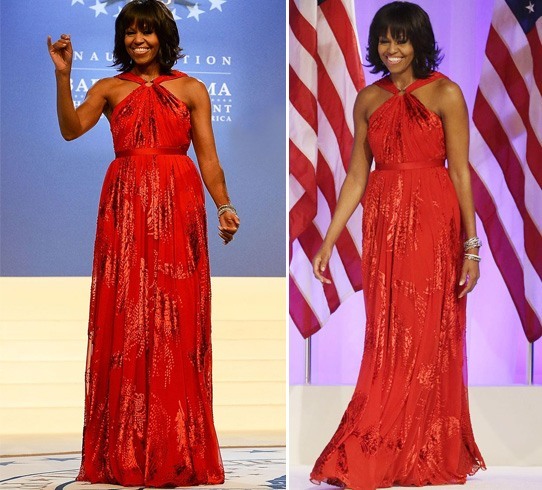 Laura Bush
Wife of George W. Bush, the 43rd President of the United States, Laura Bush looked resplendent in a crystal-embellished gown done in ruby red designed by Michael Faircloth.
Not only did this Chantilly lace design earn Faircloth accolades, but President Bush looked at wife Laura and said "And my Laura always looks so beautiful."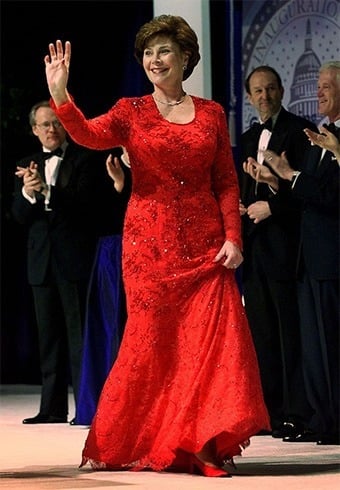 Hillary Rodham Clinton
For the 1993 inaugural ball, the First Lady Mrs. Clinton wore a violet lace gown designed by the New York based Sarah Phillips.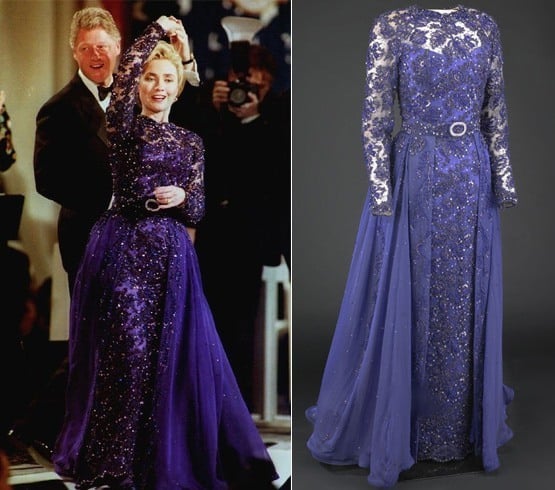 Barbara Bush
In her 1989 inaugural gown outing, Mrs. Bush went ahead and selected a sapphire velvet and satin gown designed by Arnold Scaasi. Such was the fondness of Mrs. Bush towards the asymmetrical drape of the gown she wore that she was unwilling to donate it to the Smithsonian Institution as a customary donation.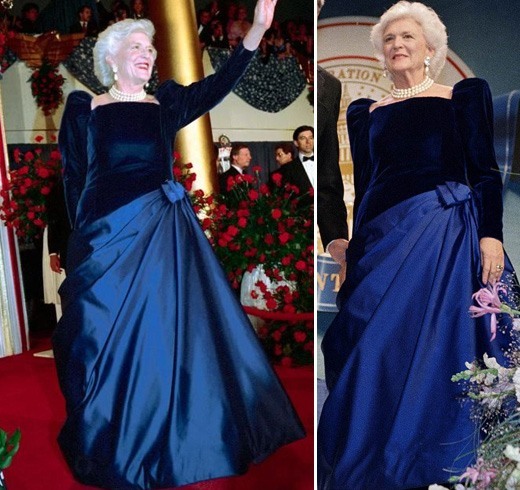 Nancy Reagan
And what did Mrs. Reagan choose for her husband Ronald Reagan's inaugural ball in the year 1981? A single-shoulder white gown designed by American designer James Galanos, who is widely considered to be one of the world's foremost 20th century couturiers.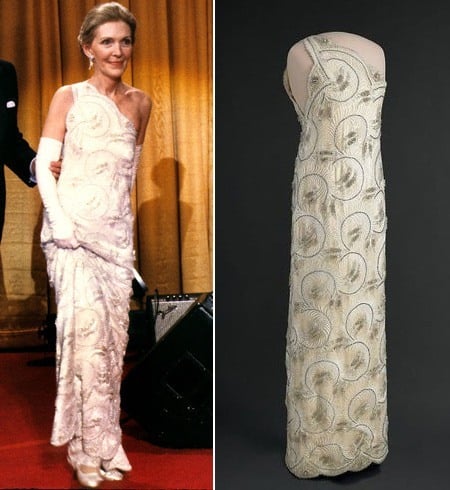 Rosalynn Carter
What a stunning element of sophistication this is. In the inaugural gown worn by the First Lady Rosalynn Carter, what keeps you hooked is the gold-embroidered sleeveless coat over a gold-trimmed blue chiffon gown, designed by Mary Matise which was topped with an evening cape by New York designer Dominic Rompollo.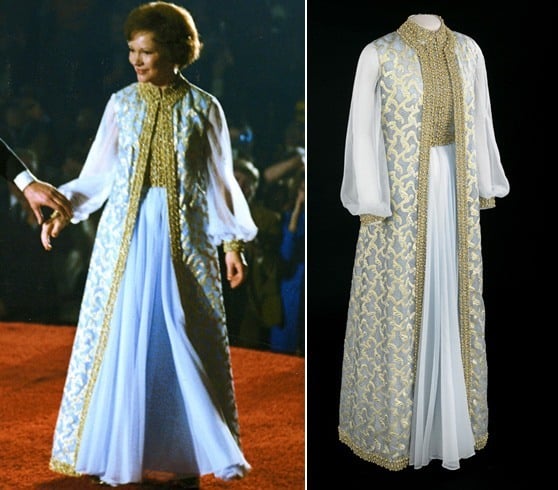 Pat Nixon
In the year of 1969, Nixon selected a yellow gown which was designed by Karen Stark. In fact, such is the beauty quotient of this inaugural gown that the First Lady wore the Swarovski crystal-studded satin dress and matching bolero jacket to two more public events.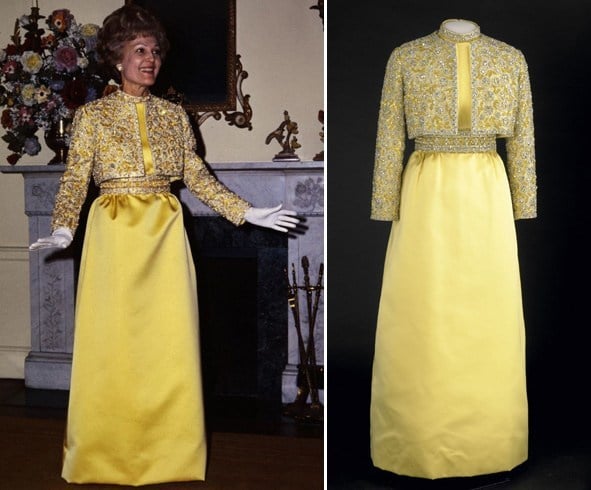 Lady Bird Johnson
Absolutely charming looking, Lady Bird Johnson graced the 1963 event dressed in canary-yellow bateau-neck gown designed by John Moore (who incidentally has also dressed Marilyn Monroe) teamed up with a pearl necklace and a pair of white gloves. She told Time magazine, "I like clothes-I like them pretty, but I want them to serve me, not for me to serve them."
[Also Read: The Royal India Tour Of Kate Middleton]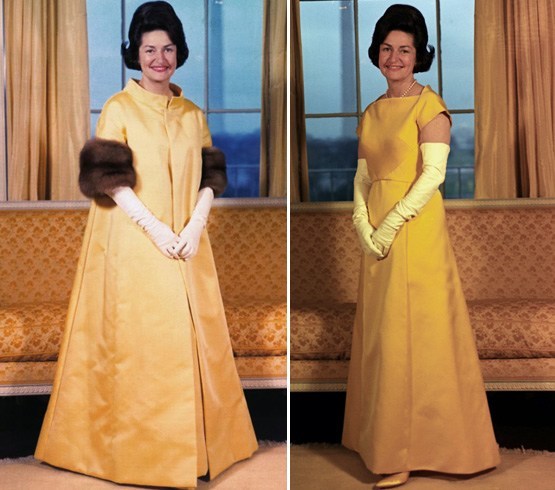 Jacqueline Kennedy
Jackie's grace and style has always reflected her wonderful fashion choices. In fact Jackie Kennedy simply loved to wear bright colors such as pink, yellow, red and ivory. Audrey Hepburn was her personal fashion icon and throughout her life, Jackie followed Hepburn's old Hollywood glamor in her dresses.
For the 1961 celebration, Jackie Kennedy wore an ivory column that had silver embellished bodice, veiled with a sheer overblouse along with a matching cape to bring in a touch of royalty.
The interesting thing is that Jackie herself designed the gown in collaboration with Bergdorf Goodman's Ethan Frankau.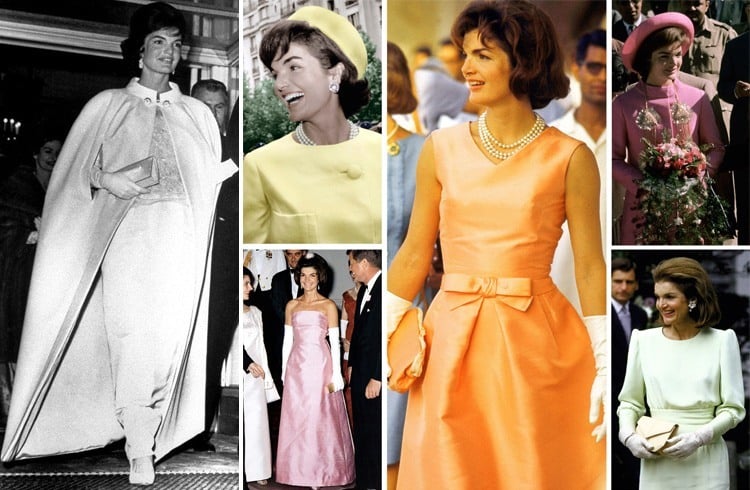 [sc:mediad]
Here is the video of Jacqueline Kennedy's inaugural ball gown:
Hope you have loved the inaugural gowns of the First Ladies. Drop in your comments and tell me which inaugural gown of which First Lady bowled you over at first glance.
Images Source: americanhistory.si.edu, pinterest.com