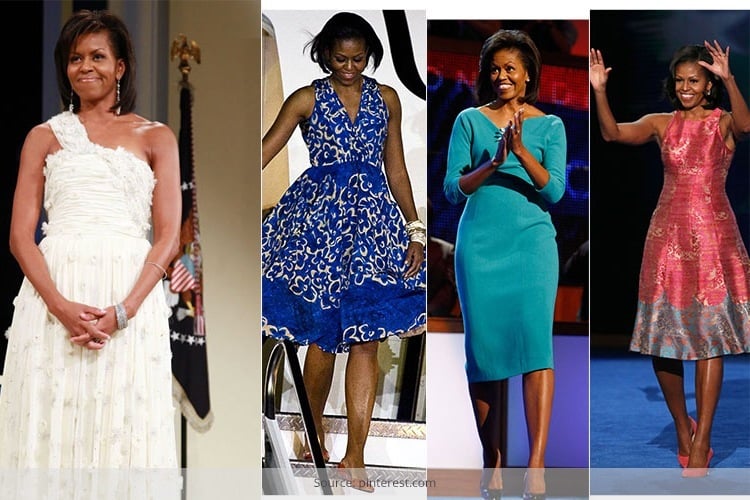 Michelle Obama, the world knows about this powerful lady, not only as the First Lady and Wife of Barrack Obama, but a strong independent and a very courteous woman in her own rights.
Fashion wise, Michelle Obama's style has been criticized and praised aplomb by fashionistas and editors from across the globe. What they do not realise is, Michelle Obama is comfortable in her own skin and flaunts her sense of style when she takes centre stage, when she's at work or when with her doting family!
She pays a deaf ear to the ridicule doing the rounds, and never is bothered, which makes her one confident woman of integrity and dignity, and yes a fashion icon in her own rights.
Let's now take a look Michele Obama fashion and styles, shall we!
In a Carolina Herrera Gown At A 2014 Gathering
She looked very pretty in a beautifully draped satin blue gown with a sheer-lace-net top, courtesy Carolina Herrera. Tall as she is, her graceful poise and stance brought out her curves with utmost elegance!
Snazzy jazzy metallic touches
If you thought Michelle was all about gowns and formal dressing, think again? Ghettofabulous at the Kids Choice Award sometime back, Michelle was seen in a formal suit with a touch of sparkle and shine!
Michelle Obama Style Guide: Dress to kill at Work!
When at work, Michelle takes no chances in playing with couture. She keeps it formal, minimal and crisp, quite monotone for sure, but it works in her stride!
Sharing Holiday Traditions
The White House is known for its elaborate yet elegant White House Christmas décor and parties, and Michelle Obama dresses to the occasion when celebrating the same. A one-piece shimmery satin lace skater dress with a gold band for the waist, brings on the elegant touch to the lady!
Fashion Of Michelle Obama in a Isabel Toledo
When not at work and attending dinner gatherings with her husband, Barrack Obama, President USA, Michelle dresses for the occasion with a touch of smart-casual looks. As seen, Michelle Obama wore an Isabel Toledo for the April 1, 2009 dinner, comprising President Obama and other top notch British politicians. The venue was 10 Downing Street London, England.
[sc:mediad]
Michelle Obama Style Guide In the J. Mendel gown
While presenting the BET Honours award to the Late Maya Angelou, Michelle Obama took stage and stunned the audience with her grace and quaint beauty, wearing a one-shoulder, scarlet organza gown in pretty deep scarlet red! The J. Mendel gown became the talk of every tabloid and fashion town!
[Also Read: The Little Red Dress]
Orange For The State Dinner
At the state dinner in Tanzania, Michelle wore a white dress shirt and a vertical pin-striped midi skirt for the occasion. Needless to say, the vibrancy around was in full-swing, and we know why! Emulating the colours of the South African nation, Michelle in her fashion statement stole the thunder that night!
[Also Read: Styling the Midi Skirts]
Tanya Taylor 2014
Michelle's love for kids cannot be underestimated, and at the 2014 Global Kids Incorporated in New York City event, Michelle was spotted wearing a humble yet very chic white and blue floral Tanya Taylor frock, and she strutted in the ensemble wearing silver pumps for the feet!
Michelle Obama in Tracy Reese
It was at the White House White House Easter Egg Roll on the South Lawn event, held on April 25, 2011, when Michelle Obama went bright and floral, wearing a chic yellow and grey skirt to the occasion, courtesy designer Tracy Reese.
Carolina Herrera Once Again
Carolina Herrera's long printed white gown with graphic prints and circular dimensions made waves, when Michelle wore it to an event downtown!
What else do we say? We are floored with the myriad looks by the First Lady, in all her beauty, charm and grace. If there's one thing we'd like to ask of her, it would be to wear a saree someday and soon! What say girls, should we write to her!