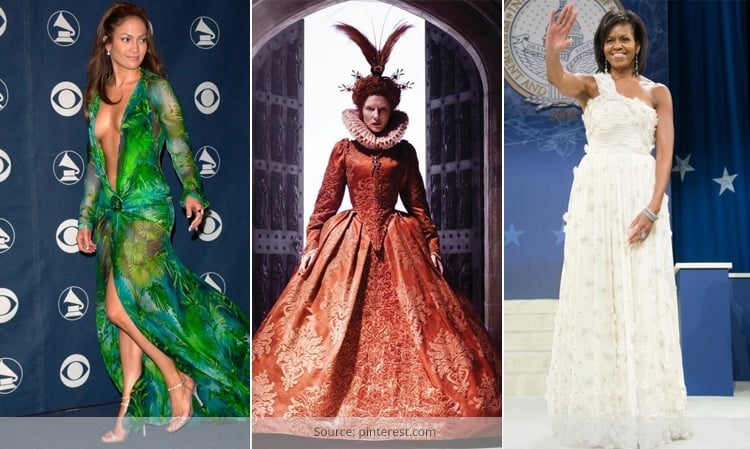 The origin of the words style and fashion dates back to the creation of Eve by God. That is how inseparable has womankind remained from being stylish and fashionable from the beginning of time. Let us take a sneak peek into the top, most talked about and best fashion moments of all times in the light of our favorite celebrities.
[Also Read: Some of the Historical Fashion Moments in Movies]
1. Elizabeth Taylor's Golden Cape
We just cannot afford to start our tour of the most epic dresses ever worn by a celebrity without having paid our homage to Elizabeth Taylor's depiction of the most charismatic queen in world history, Cleopatra, who is still recalled for her beauty. The golden cape with the appearance of the wings of pheonix that Taylor donned in the movie is said to have been made from 24 carat gold.
2. Lady Daina's Wedding Dress:
Talking of queens and princesses, dare we miss to make a mention of the royal lady who once ruled hearts of millions, and still continues to do that even after a decade of leaving us. Yes, it is Lady Daina indeed, and what we have brought for you is her enchanting wedding dress. The antique lace gown and ivory silk taffeta, designed by David and Elizabeth Emanuel was followed by a 25-foot trail. The ensemble was valued at £9000.
3. Elizabethan Extravagance:
Discussing further on royalty, we have another one in the list. And this time it is none other than Cate Blanchette's extravagant costume that she flaunted as Queen Elizabeth in the movie, "Elizabeth: The Golden Age". The heavy gown that sat elegantly on Cate Blanchett's tall frame was designed by Alexandra Bryne and has been displayed in several exhibitions since then.
[Also Read: High Street Fashion]
4. Audrey's Black Dress:
One of the most iconic fashion moments of all times, the LBD was never worn like the way Audrey wore it in Breakfast with Tiffany. The black dress with the black gloves to go with, that Audrey Hepburn wore playing the character of Holly Golightly took the LBD to a different level altogether. The dress designed by Hubert de Givenchy, accessorized with a multi-rowed pearl neckpiece and a mini tiara is still referred to as one of the most desirable dresses of all times by women of all ages.
5. Marilyn Monroe's White Halter Neck:
The globe literally stopped rotating the moment Marilyn Monroe's white dress blew up leaving the sultry diva struggling naughtily to save her modesty. This was a fashion moment in its totality – the dress, the sandal, the Marilyn' legendary mole and the signature pose that still lives in the walls of any memory related to show biz.
[Also Read: Marilyn Monroe Fashion Moments We Will Never Forget]
6. Rose's Ball Dance Gown:
In the history of modern cinema, there is perhaps no other movie as perfect as Titanic. Right from cinematography, direction, background score, acting and costumes. Every aspect of this movie was impeccable. Kate Winslet has never looked as pretty as she did in Titanic, doing utmost justice to the name given to her in this movie – Rose. Of the many periodic costumes that she stunned in, the black sequenced gown she wore at the ball remains afresh in the memories of the audience even after 15 years of the movie's release.
[sc:mediad]
7. J.LO's @ the Grammy 2000:
This sassy number on J.Lo's sexy frame created an everlasting sartorial statement that left no fashion magazine from covering it. The famous green Versace dress was the talk of the town for its plunging V neckline, the never-ending slit and for the aura that it created on J.Lo's appearance. But then only one with a body like that could carry a dress that brave.
8. Cate Blanchett's Expenses:
The evening of Oscar Night in 2014 will also be dated in the books of fashion history for having witnessed the most expensive dress ever worn in the Oscar Awards. The nude Armani Prive gown that Cate Blanchett dressed in had an estimated cost of $100,000. This is excluding the jewelry worth $18 million that she flaunted at the occasion.
[Also Read: Best Hollywood Dresses]
9. Kidman's Haute Couture:
When it comes to award nights, what the Academy Awards of 1997 was brought to, is sadly a scene that Hollywood will not see again. It was Nichole Kidman in her flawless slender frame in a boat neck haute couture gown who walked the red carpet hand-in-hand with the then husband and Hollywood heartthrob Tom Cruise. The ensemble was a Christian Dior by John Galliano and raised the fashion bar to a whole new level.
[Also Read: When Katrina Kaif Stole Our Heart With Her Perfect Fashion]
10. Lady Diana's Revenge Dress:
What Lady Diana knew about fashion could have given any of our Hollywood stars a run for their money and no wonder she had made multiple appearances to our list. The Princess of Wales scaled a new height of revenge when she emerged in this bold figure hugging silk dress by Christina Stambolian. The lady was initially said to have been a li'l apprehensive to sport it as it was too revealing for a Royal family member. But she later wore it to the Serpentine Gallery summer party. This, apparently, was the same day Prince Charles made his infamous confession of his adultery with Camilla Parker Bowles, the present Duchess of Cornwall. The dress thus won its famous title of being The Revenge Dress.
11. Kate Middleton's Engagement Dress:
Time for the royalty to appear in the list again. This time it's none other than the Duchess of Cambridge, Kate Middleton. One legacy Kate has taken over from her late mother-in-law, Lady Diana is her immaculate sense of styling. She wore a conservative yet sophisticated royal blue Issa dress that fell to her knees. The blue of the dress was decided much to go with the color of her engagement ring. This ring had initially served as Princess Diana's wedding ring and was popularly known as the Commoner's Sapphire.
12. Michelle Obama's Ivory Gown:
Having said much about the British Royalty let's make a move towards the White House. Here we have picked up the First Lady's sparkling ivory colored Jason Wu gown that she wore to the Mid-Atlantic Inaugural Ball in Jan 2009. Mrs. Obama stunned the onlookers with her never fading smile and charm and the rest was taken care of by the single shoulder floor length evening gown that she teamed up with multiple bracelets and matching sandals.
I won't be surprised if you are bewitched by the galore of these outrageous, splendid, and historical dresses. And I believe you have enjoyed a little piece of history associated with each one of them also. For more updates on fashion and style, stay tuned.