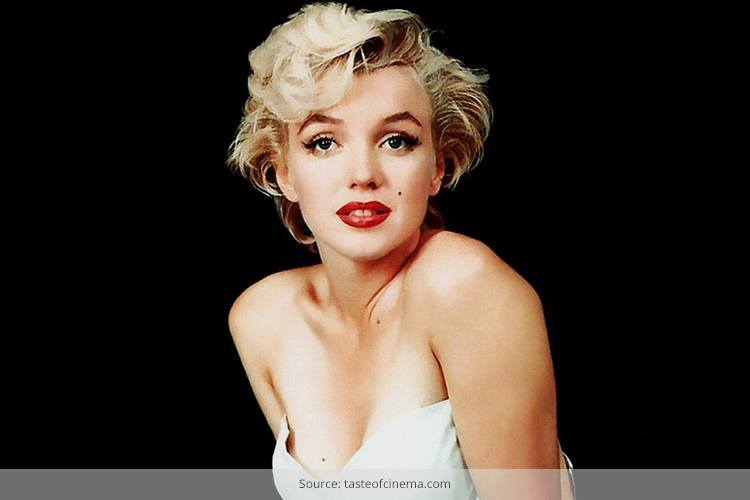 The diva of yesteryears and Playboy's favourite back then, Marilyn Monroe left too young? An inspiration for sure, Marilyn Monroe stirred the silver screen with her unique abilities in acting and the sassiest of skills as well. Marilyn was a lady who cared two hoots about what the media would write about her, especially about her flings and her sense of 'bare-it-all' style. She didn't bother at all about what the tabloids spoke of her, when she graced many a red-carpet fanfare and occasions. While her counterparts burned green with jealousy and envy, Marilyn left no stone unturned to make heads turn around and grab a look!
Here are ten trendiest haute couture looks of Marilyn Monroe to try, as a tribute to the legend that once was!
[Also Read:  Pakistani Fashion]
When Diamonds She Said Were A Girl's Best Friend
Marilyn in her pretty pink cocktail wear and with a host of junior dancers, mesmerized many pairs of eyes with her signature line "Diamonds Are A Girl's Best Friend". She carried the satin-silk in pink ensemble with utmost grace and danced in style that too- an inspired look which you must try!
Marilyn Monroe in "Bus Stop" (1956)
The year was 1956 and with her appearance in the movie "Bus Stop", Marilyn stole more hearts than before with the dangerous wide slit skirt she posed in! Planning a look to steal more glances from the sheep-eyed men at the party, the Marilyn Monroe in "Bus Stop" look would be perfect and haute to flaunt!
Satin black and one shoulder
Marilyn knew how to flaunt her curves and she did that with no qualms. Caring two pennies for the world out there, she made a statement in every piece she wore at the awards ceremonies, red carpets and VVIP parties, because she knew what worked and what didn't! Looking hot Marilyn, in that satin black sexy number!
For An Awards Show
Marilyn Monroe at the 1951 Academy Awards show and as photographed by eminent photographer John Florea, made news and headlines in a simple sheer and net satin shoulder vintage ball gown! Who wouldn't want to have this look for a wedding reception or a grand gala event these days!
Be The Traffic Stopper Like Marilyn
It was in 1953 when a famous tabloid captured the actress on a highway, not lost, but waiting for AAA to come across and salvage her wrecked sedan. Dressed in a satin purple dress, the celebrity made news as a traffic stopper, and we don't see any reason as to why not!
[Also Read: Marilyn Monroe Beauty Tricks]
Promotion Done Right
Marilyn knew how to use her charms, her wit and her fashion sense on a daily basis, and when she went out there to get what she wanted, she dressed for the part. At the promotion of her movie "Some Like It Hot", Marilyn looked fabulous in a sexy beaded dress!
[sc:mediad]
When She Dressed As Elsie Marina
"The Prince and the Showgirl", a movie in which Marilyn Monroe played Elsie Marina, the long white beaded and satin crimped gown stole more than just a billion heart beats. Marilyn rocked the sets and set fire to the silver screen, as she knew how to pose and strut in that beautiful swan gown!
[Also Read: Celebrities who have Emulated Marilyn Monroe]
Polka Fancies
Marilyn was once caught wearing a one-piece polka dotted monotone fashioned theme, much to the surprise of others and since it wasn't fashionable back then- Marilyn carried it all the way with a touch of glam-diva doll blessings! Kudos to the lady who knew her fashion, like the fine men she dated!
Marilyn Monroe Misfits Dress
But of course, we have to mention the famous Marilyn Monroe Misfits Dress, all in black! The diva wore it with aplomb and style, and the tabloids went bazookas over the actress!
Inspired already, so are we? Head off to the tailors to stitch a haute couture fashion look you found calling out to you, or maybe all ten of them! Have fun and praise Marilyn for the haute couture collection inspiration!