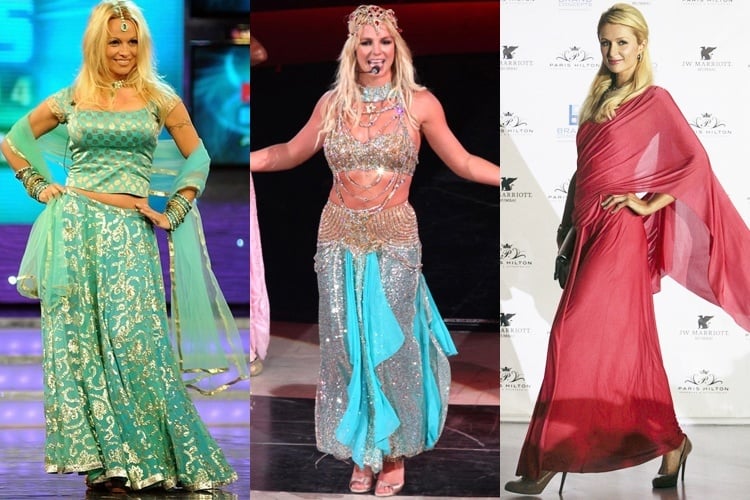 It has been a give and take relationship between them and us, always. If we borrowed their language, clothes, accessories, listened to their songs, watched their movies, they too, were no less mesmerized by our ancient traditions. Many of our favorite Hollywood celebrities have tried our ethnic wear and jewelry multiple times. And they are still not done with it. Such is the essence of India. Check out the list below and see what India has lend to Hollywood.
Lets look how India influenced Hollywood style icons.
Blinging Bindi
The teen pop star had stirred up a controversy and offended few Hindu groups by sporting a 'Bindi' in her video 'Come and Get it". But that was not the only instance of a bindi adorning her face. She was repeatedly seen in bindi during the promotion of the video and even in live performances. Though, the religious groups looked at it as an insult to a religious symbol, Selena did carry it all around with a lot of grace and confidence. In fact, she grew so fond of it that several times she was seen wearing the bindi casually and clicking selfies for Instagram. I'd say controversy or no controversy; she looked absolutely fabulous in a bindi.
Paint it Henna
The Good old Indian Henna or Mehendi found new popularity when Vanessa Hudgens showed up with hands dyed in Mehendi. In fact, this was not her only experiment with the South Asian customary pattern. She was also seen displaying an elaborate henna design on her palm, her hand, and nails while on shopping with family for her sister's birthday at Los Angeles in 2013.
Desi Jewelry
The 'Dark Horse' singer was welcomed with a 'roar' in India when she flew down to perform at the IPL Opening Ceremony in 2012. She reciprocated the welcome by slipping into a desi choli and forehead adornment. To complete the look she pinned up a heavy maang tika in the middle partition of her hair and wore bangles to go with her Indian ensemble. Her performance on the hit number Teenage Dream bought her a helluva applause, but she certainly got it more for the new desi look that she donned during the event.
The Brilliant Nose Ring
Apparently this was not the only time Katy embraced a piece of Indian jewelry. She was also seen spotting the traditional heavy ear to nose bridal piece on a regular day. And yes, she did make it look trendy like no one ever did.
Typical Indian Attire
Toxic singer, Britney Spears left no stone unturned in her homework. She looked every bit of a Bollywood item girl in her turquoise blue lower, golden blouse, and heavy jewelry to go with it. She looked amazing in this attire during a show in New Orleans and it was certainly a special treat for her Asia and Indian fans.
6 Yards of Elegance: Well here, the star is the saree, because this simple unstitched 6 yards of fabric has left a lot of divas in Hollywood awe-struck. And most of them have carried it off, pretty stylishly.
Look at this pic!!! Who would say Selena is not Indian?
It's official – Victoria Beckham can carry off just anything with tons and tons of grace!
Paris Hilton could be perfectly casted in a romantic Yash Raj Movie. Just imagine her silver pallu blowing by the European hills!
[sc:mediad]
Oprah during her India visit tried this Orange and Pink silk saree. We know Aishwarya did lend her a hand, but hey – she just couldn't get better.
When it comes to Madonna, nothing can go wrong – not even the saree.
It looks as if Liz Hurley has been wearing the saree since ages, that is the perfection she carried it with.
Lady Gaga has tried a lot of outrageous outfits, but she does look intense and at peace with the six yards of fabric here.
Jessica Alba tried her best to pull off the saree in The Love Guru, but Alas! She forgot the petticoat beneath. Nevermind! Given the fact that sarees can be a little too complicated to carry, even for quite a good number of desi girls, we would want to mark her generously for the Indian jewelry that she wore to complete the look.
Could we forget Berry's look from Cloud Atlas? She pulled off this red saree like a pro.
This is when Pamela Anderson made her special appearance in Big Boss. And she totally claimed everyone's attention.
This list would be absolutely incomplete without the mention of how pretty the Pretty Woman Julia Roberts looked in a saree in the movie, Eat, Pray, Love.
[Also Read: Hollywood Celebrities in Indian Wear]
Tattoo Time: Not one but many Hollywood stars have been influenced by the gravity of the Sanskrit language and shlokas. Few of them even got tattoos in Devnagari, which is the script of Sanskrit and Hindi.
Katy Perry got the phrase 'Anugachhatu Pravah' inked on her arm, just like ex-husband Russel Brand as a mark of their love. The inscription means 'Go with the flow'.
Jessica Alba got this one right! She has the Sanskrit work 'Padma' that translates into Lotus in English inked on her wrist.
Ace sportsman David Beckham has gotten wife Victoria's name inked on his wrist in the Hindi script, Devnagari.
American Actress Singer, Brittany Snow has tattooed the word 'Abhay' in devnagari on her ankle. The word means 'Fearless.'
Wild child Miley couldn't resist the charisma of Indian-ness either. The former Disney star has a Tattoo of 'Om' inked on her wrist.
[Also Read: Infinity Tattoos]
Were you aware that the West was so very captivated by the East? We have been following their style and fashion and they found it all in our age old tradition, which we at times reject as obstinate. Proud! Aren't we?