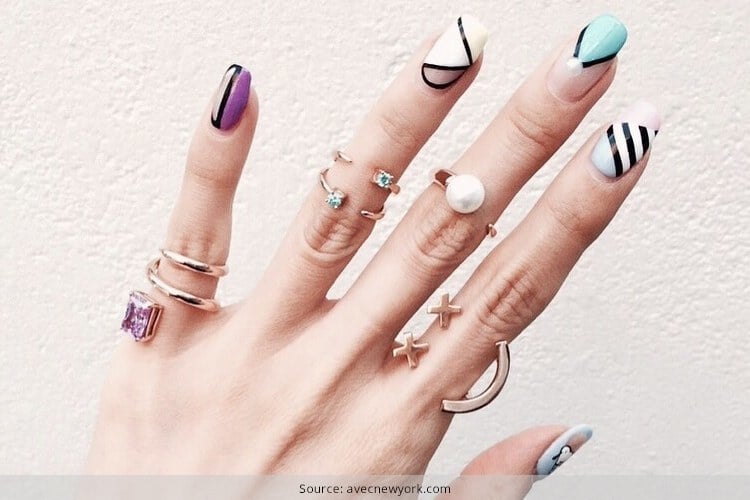 Fashion accessories usually change by the season. While summer brings you casuals and pastels, the Fall and Winter season starts to throw spotlight on leather, suede, wool, cashmere and silk. But how would you do up your fingers – resort to the same boring patterns or go up the fashion cloud and pursue something adventurous, jerky and in-your-face?
[Also Read: The Full Finger Fashion Rings]
Yes, yes knuckle rings are coming to be the hottest trending statement for the fashion babes. It is known by several other names – Midi rings, mid rings, memory rings, phalanx rings, stacked rings, multiple-finger rings.
Tiny and elegant looking, these rings have become a craze in Brazil, have taken up the fashion streets of New York and now are a hot topic for blog-ologists, what say?
We Go Telling You How To Put On Cutesy Knuckle Rings And Above The Knuckle Rings To Add To Your Fashion Sense And Sensibility. Yo!
Knuckle rings and above knuckle rings are dress accessories that are dainty, versatile, and are quite easy to wear and flaunt. Plus they make a superb mix-and-match with your classical western and boho outfits.
Above the Knuckle Rings
Fashion gets simple and striking when you use above the knuckle rings. You can customise it for occasions and moods.
Plain Multi Bands
Knuckle rings can be plain enough and yet look simple and perfect for the occasion (or no occasion). The best part about it is that it doesn't take the attention away from the clothes you wear.
If you want to make these plain bands even more interesting, then just stack them up and wear on multiple fingers – whether it is your thumb, index finger and even your little finger.
You can also put on an assortment of metals if you want to explore out things with knuckle rings. There is gold, silver and even rose gold to satisfy your selection criteria of a three-toned metal. Honestly, there is so much of diversity you get by wearing plain simple knuckle rings that it's extremely heartening.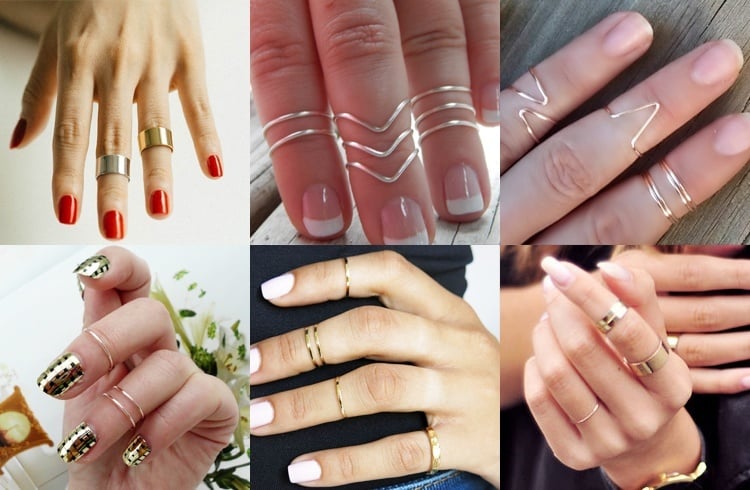 Bow Style
Bows remain an all time favourite among girls, whether it is in the form of hair bands, clothes, accessories, or even jewellery.
A bow knuckle ring adds a lovely element of sophistication to your feminine charm. Yeah, it needs a bit of effort to bend and loop the wire but a bow style knuckle ring goes all the way to give you a girly vibe.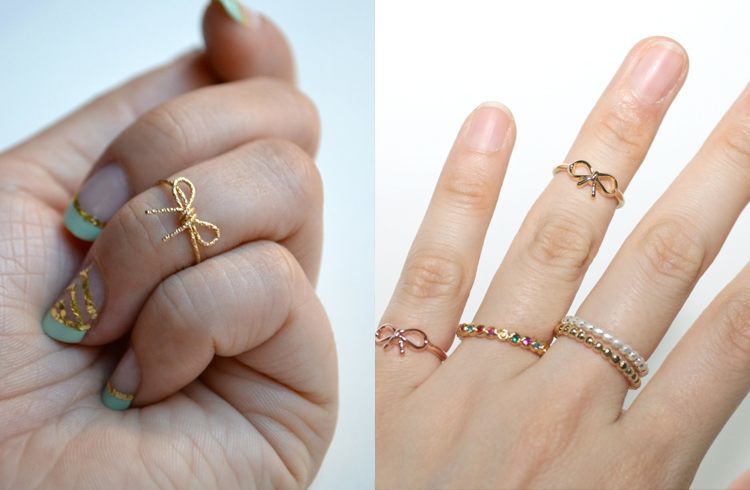 Chain Connected Knuckle Rings
If you want a boho inspired look on your fingers, then chain connected knuckle rings is the best bet. All you need to do is take two plain band knuckle rings, hook them up with a chain (like the one you use for wearing chains around your neck) and you are done. Just hook the chains side by side on two fingers. You can also connect them from bottom to top in order to use it on a single finger.
[Read Also: Cocktail Rings for the Celebration Hour]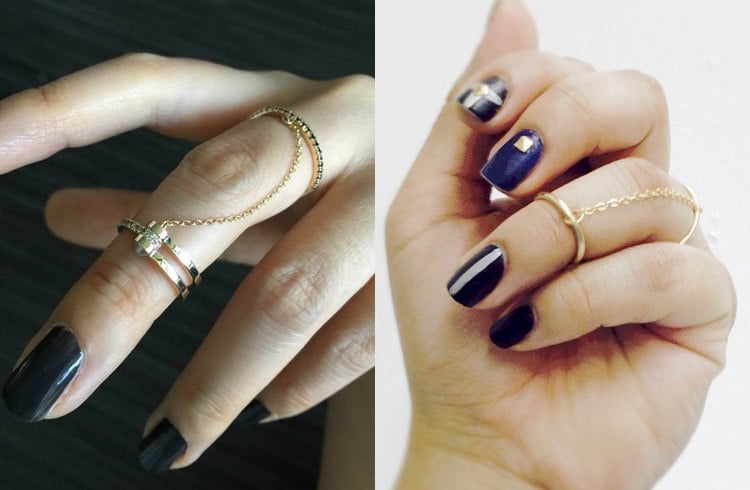 Chevron Knuckle Rings
These types of rings are easy to make since wire bending required is less. You just need to style a V formation on each ring and bingo you are right there to get the perfect chevron look.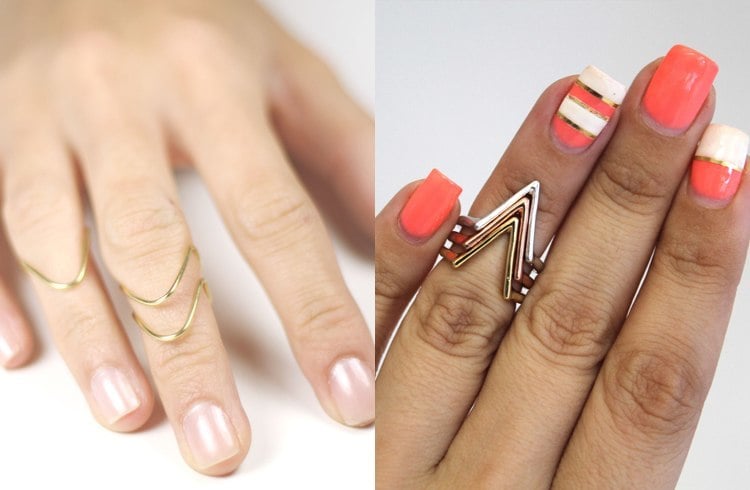 Letter Knuckle Rings
Making a letter knuckle ring is the toughest thing to do in all diy knuckle rings. Why because it needs you to create a loop first and follow it up by bending the wire in order to form the letters. This is the best way for you to shout out 'love', 'care' and other such emoticons on your finger.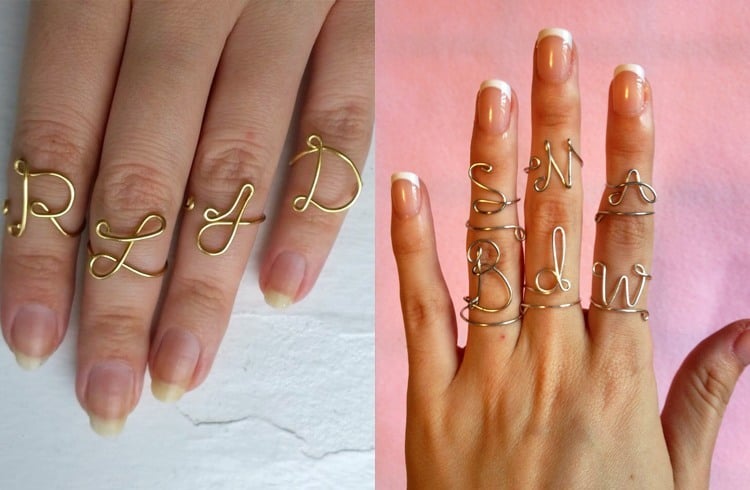 [sc:mediad]
Bling Ring Knuckle Rings
All the shining baubles need not be for ears. Wear some in the form of knuckle rings and see how your fingers do the talking.
Now go play with your fashion moods by picking your favourite knuckle ring. Drop in a line or two and tell us which knuckle ring pattern interested you most.