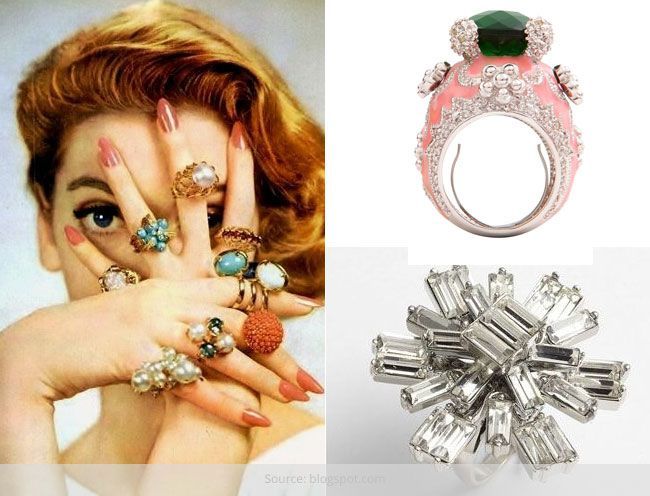 Fascination aside, there is always a sense of intrigue when it comes to women's fashion. Some of the wildest fashion trends and most expensive comes from this breed. That is why they leave an imprint in the mind for many years.
One such element of sophistication and amazement is Cocktail Rings. Worn in cocktail ceremonies and hi-fi social gatherings, they are symbolic of luxury that needs no introduction. Fancy a Cocktail Ring that is made of 18-karat white gold and encrusted with 214 brilliant-cut white diamonds. Oh, my my….talk of luxury and there is never an end.
Evolution of Cocktail Ring
Defining a cocktail ring is simple yet has a legacy behind it. As per confirmed sources, "A cocktail ring is an overly large ring that is mainly worn at cocktail parties. It became especially popular back in the nineteen forties and nineteen fifties. During this time, cocktail parties were illegal and a ring such as a cocktail ring suggested that not only was one drinking illegally, but she was doing it in style! Although, cocktail parties are less popular now, large cocktail rings are still very popular for dressy or formal occasions such as film premieres, Broadway productions, and award shows." What a definition, this is.
Cocktail rings 'were' as well as 'are' constructed from both costume and fine gems/materials.
There are 18K cocktail rings with big stones to take your breath away. Then there are cocktail white gold rings and cocktail yellow gold rings in combination with sparkling diamonds and coloured stones (such as Cocktail Amethyst Rings, Ruby Rings and Emerald Rings) to woo your heart. All in all, this special occasion jewellery is tailor-made for occasions like anniversary, engagement, and even an evening party.
Cocktail Rings that look like Cocktails
Piaget as you know is a renowned Swiss luxury watch maker and jeweller. Piaget watches might be on everyone's wish list but equally so is their "Limelight Paradise" collection that reinvents the cocktail ring. Yes, this famous ring actually looks like cocktails and is different from the Piaget classics belonging to the past. What a sight it makes holding and wearing rings that are designed to look like thirst-quenching alcoholic beverages.
Hold your breath as you are about to witness Piaget's tropically colored gemstone rings in green tourmaline, amethyst, and blue topaz adorned with straws, lemon slices, and diamond salt on the rim.
Top Styles of Cocktail Rings
A cocktail ring is indeed the best way to express your sense of style. Though worn more with knee-length dresses, modern day cocktail rings look wonderful when teamed up with long skirts and black ensembles. Here are a few style patterns of cocktail rings that are more popular and preferred:
Gemstone: What makes precious and semi-precious stones stand out.
Floral: In this pattern, big flowers are sculpted out of metal and carved out of gemstones.
[Read More: Knuckle Rings]
Abstract: This one has artistic jewellery featuring sculptures as well as gemstones made in eye-catching styles.
Novelty: Favourite animal, insect that diversifies your jewellery.
Estate: Antique jewellery this is with embellishments made of 18K gold. Usually, they are a symbol of family heirloom.
Some Quirky Cocktail Rings
Stella & Dot Soiree Trio Ring
Explore the charming trio of pave´ balls that are covered in 200 stones in crystal, black diamond and light peach glass.
Floral Cocktail Ring
These savvy and bright multihued stones shine immensely sitting atop a domed ring set in floral motif.
Ombré Bouquet Crystal Statement Ring
A creation of Kate Spade New York, this dramatic cocktail ring has rings of crystal petals in shades of pink that form a lovely blossom.
Kenneth Jay Lane Pave Cocktail Ring
With Swarovski crystals spilling over the rounded edge of this ring, the piece is not only innovative and imaginary but equally glamorous. "Elegance, luxury, and good taste never go out of style," says the Michigan-born Kenneth whose creations are designed with the everyday woman in mind. That is why, they have caught the fancy of classic beauties as Jackie Onassis, Audrey Hepburn, Sarah Jessica Parker, and Nicole Kidman.
[sc:mediad]
Victoria Townsend Smoky Quartz Cocktail Ring
This glorious cocktail ring from Victoria Townsend has to its credit round-cut smoky quartz (11 ct. t.w.) set in 18k gold over sterling silver.
Gold Ruffled Cocktail Ring, Moonstone
Available in 18kt yellow gold, rose gold, or white gold, this ruffled cocktail ring from Emily & Ashley makes a superb heavenly product.
Ophelia Cocktail Ring from Margaret Elizabeth
Gold-filled White Topaz that looks elegant and sophisticated to the core.
St. Tropez Style Emerald Crystal Cocktail Costume Ring
Go flash this gorgeously flamboyant ring from St. Tropez and watch the men hover around you like mad. It's a large, emerald-cut green hued crystal set in a contemporary gold tone setting.
When Buying a Cocktail Ring….
All expensive things need to be bought carefully. Whenever you make up your mind to buy a cocktail ring, first consider what stones they are made of. Normally as has been the trend, the center stone is big. Therefore it makes better sense to go with a synthetic stone that has better clarity. That is because the ones having genuine stones have natural flaws that become more visible because of their size.
Make sure to inspect the construction of the ring. Going by the track record, jewellery pieces often have a weak structure. Avoid rings whose stones are held loosely in the setting. Ask what metals and alloys the ring is made of. Many wearers are allergic to nickel, so don't buy rings that are made with 10K yellow gold or ones made with white gold that contains nickel.
Last but not the least, most cocktail rings have multiple small stones that are held in place by prongs. But there is a flip side to it. Which is that more the prongs in your ring, higher is the risk element of their bending, breaking and wearing out in the process.
A look at the pros and cons of wearing Cocktail Rings would help you more in their selection and maintenance. After all, beautiful things need to be preserved in order to get lasting value.