"Elegance is the only beauty that never fades" – Audery Hepburn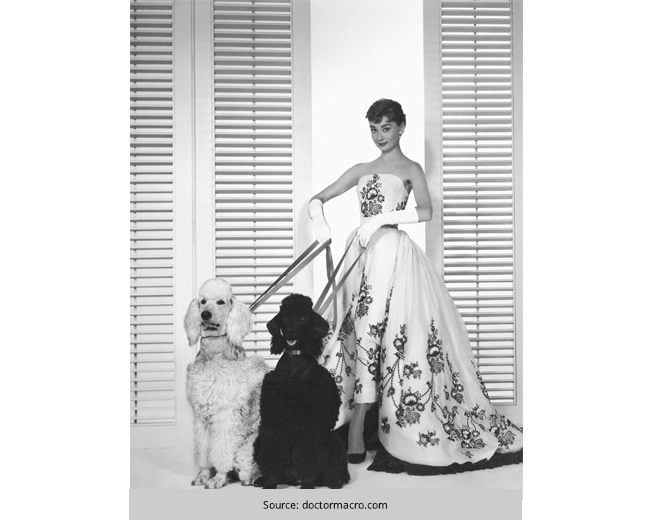 Audrey Hepburn's style and elegance continues to inspire designers to this day. She was the epitome of Hollywood Glamour. This slender framed dame has given us some of the most iconic fashion trends of all time.
The LBD
Who could forget the little black Givenchy dress that she wore in the movie "Breakfast at Tiffany's"? Decades later, the LBD is still going strong as the most favoured dress for dinner parties and special occasions.
But it was not all dresses and flowing gowns that the starlet sported. She was as elegant and chic with her casual clothing as she was with her dressy gowns. Her sense of fashion seems timeless. Her cropped pants and ballet slippers are still considered extremely trendy today.
Perhaps that's what makes Audrey Hepburn stand out from her counterparts. While many of the actresses from the golden age of Hollywood were fashion figures, their outfits and looks, while captivating, may not be replicated today as it would be considered to flamboyant and over the top. But Audrey's style was very minimalistic and contemporary for her time. So even today, women take inspiration from her.
Audrey Hepburn before Movies
Before she came into acting, Audrey Hepburn learnt ballet for many years. Interestingly enough, when you look back at her physical stature and her sense of style, it looks like ballet had a big impact on both those aspects. Her clothes were elegant and sophisticated and she carried herself with much grace in them.
While looking at Audrey's fashion and style, we have to mention the turning point that made it all possible. It all started when she was cast in the film "Sabrina", at the sets of which she met French couturier Hubert de Givenchy. Therein started a life-long friendship where the duo created many iconic looks that forever changed the face of Hollywood. Here is what she had to say about Givenchy and his clothes:
"His are the only clothes in which I am myself. He is far more than a couturier, he is a creator of personality."
[sc:mediad]
Audrey, with her elfin beauty and petite stature, knew exactly what will work for her. And Givenchy with his vision and understanding of her was able to create clothes that will fit her personality. It was truly a match made in fashion heaven.
Audrey Hepburn being fitted by Givenchy
Apart from her clothes, Hepburn also made a statement with her makeup and hairstyles. Her signature look was minimalist makeup with bold eyeliner to play up her eyes. She has sported a number of hairstyles over the year and has never been on to shy away from going in for a very short cropped cut. But as with everything else, her intrinsic femininity shines through.
Even when she wears manly clothes, Audrey Hepburn can never be mistaken for a man or be described as a tomboy. She looks so comfortable in her clothes and radiates confidence that an outfit that would look silly on someone else looks trendy and sophisticated on her.
Case in point
Even as she aged, Hepburn continued to enthral the fashion world with her style. Here's a picture of her, taken at the 64th Annual Academy Awards.
At 63, Audrey Hepburn succumbed to colon cancer. Her death marked the end of an era in Hollywood fashion. There are few fashion icons who can claim that they changed the course of fashion and created a lasting impact on the world. Audrey Hepburn definitely holds that distinction. But as she famously said: