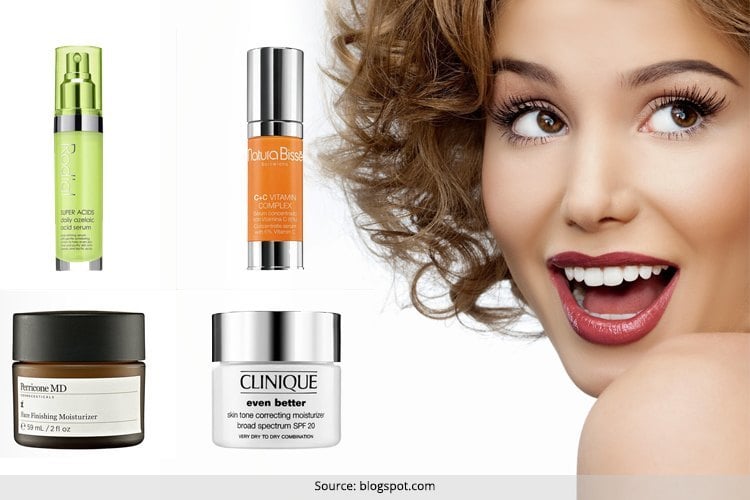 Each time you reach out for your favourite international cosmetic brand, you get convinced by it after reading the scientific names printed on the label. At the back of your mind, you get a sense of assurance of the research that must have gone into the making of that cream, tube, shampoo or lotion.
[Also Read: Some Of The Most Gorgeous Chocolate Beauty Products]
But ever thought about the 'acids' in these beauty products that deliver incredible results? Not to worry, it's not the deadly and skin-harmful Tezaab, but the skin-friendly acid that moisturises and revitalises your skin deep down.
There are some acids, the alpha hydroxy ones that have resurfacing properties, whereas others delight your skin with their hyper-pigmentation-fighting, acne-controlling and pore- shrinking properties. In short, it is the 'science of beauty' at work in acid products meant for skin.
Well we know so many ladies and girls such as you who are desperate to get fairer and smoother skin. So here we go revealing glycolic acid products that will give you clearer, youthful and Instagram look.
Come let's go discovering the acids in beauty cosmetics that will make your skin look flawless!
Hyaluronic Acid
Ever tried out wrinkle fillers? They have skin-plumping hyaluronic acid skin care built into them. Apart from skin boosting properties, the Hyaluronic Acid products hydrate skin as well.
Glycolic Acid
Sourced from sugarcane, products with glycolic acid are the safest and effective way to exfoliate skin. With alpha hydroxy acid contained in them, glycolic acid products deliver their action in a smooth and powerful way.
Glycolic acid products also even out skin tone removing dead surface skin cells and stimulating collagen for younger looking skin.
Alpha Lipoic Acid
Known for its powerful anti-inflammatory effects, Alpha lipoic acid inhibits signs of aging, and skin wrinkling.
Linoleic Acid
This is a fatty acid found in sunflower oil that is better known as Vitamin F. Linoleic Acid is meant to retain skin moisture.
Lactic Acid
Lactic acid comes from milk. It also exfoliates dead skin cells away giving you younger looking radiant skin.
[Also Read: How to Get Rid of Dry Skin with Lactic Acid]
Citric Acid
This type of acid is easy to guess. Amply found in Citrus fruits, the cosmetic products having citric acid promote skin exfoliation to get youthful skin.
[Also Read: The Miraculous Lemon for Skin & Hair]
Azelaic Acid
A powerful antioxidant, Azelaic Acid has the ability to minimise and fade away skin pigmentation and reduce redness caused by acne and skin breakouts. This particular acid is found in wheat, rye and barley.
Kojic Acid
This type of acid product has strong skin lightening properties making it a perfect choice for those ladies suffering from pregnancy marks scientifically called 'melasma'.
Ellagic Acid
Welcome to a world of raspberries and pomegranates kissing your face. Yes, it is ellagic acid that has copious amounts of these yummy fruits in the form of antioxidants that reduce sun damage and formation of brown age spots.
Ferulic Acid
With antioxidant and hydroxy acid rolled into one, ferulic acid serum exfoliates dead skin cells, clarifies and brightens skin tone. Salicylic acid in it also helps in exfoliating to get a smoother skin tone.
[sc:mediad]
Gallic Acid
Sourced from tea leaves and oak bark, the gallic acid is one such tannin that has strong astringent properties. The result is tighter, firmer and poreless skin.
Mandelic Acid
Acne, age spots, wrinkles, skin discolouration, Mandelic Acid helps treat all these skin problems effectively and in an advanced way.
Nicotinic Acid
Known as niacinamide, this type of acid gives you triple benefits – minimises skin discolouration, brightens skin tone and improves skin elasticity.
Retinoic Acid
This acid is completely different from the OTC retinal treatments and is very effective in fighting acne.
Salicylic Acid
Shiny hair can be yours when you shampoo them with Salicyclic acid scalp shampoo which moisturises your scalp and prevents dandruff from surfacing.
Now get ready to transform your skin and hair the acidic way. It's a technique you would love it. Let us know which of these 'acidic' cosmetics you plan to try on yourself and why.