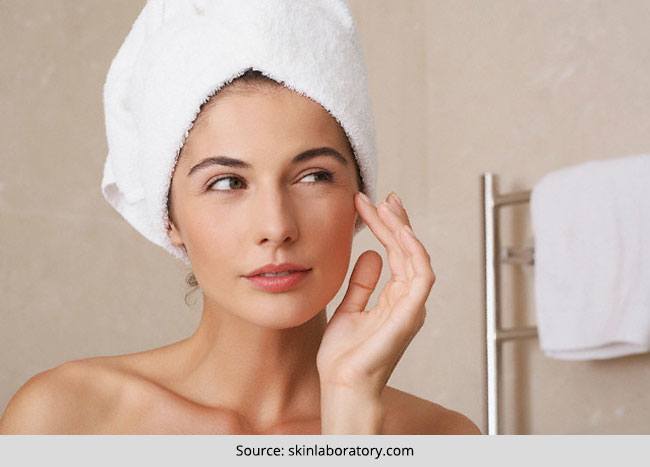 Whenever you're thinking of some home remedies for your skin care then you should always head for your kitchen, where you'll always get some of the best natural sources for your beauty regime and solutions to your beauty ailments. For instance, you can get rid of dry skin with lactic acid usage that is present in milk.
Lactic acid derived from fermented/sour milk is a prominent skin care aid that helps in improving skin's texture and hydration level. If you debunk history, and dig into beauty secrets from around the world, you'll see how Cleopatra, the epitome of beauty, used to take bath in sour milk that enabled her with drop-dead gorgeous skin.
Now hold on, this doesn't mean you need to take a dip into a tub full of sour milk. That's because lactic acid doesn't work that way. You can instead go for some useful treatments that make use of lactic acid in an effective way on skin, which you'll explore from this article.
[Also Read: Do Chemical Peels Work]
Lactic acid is actually alpha hydroxy acid (AHA), a type of acid that's beneficial to our skin. Just as citric acid is found in citrus fruits and is an alpha hydroxy acid; in the same way lactic acid is found in sour milk.
If you apply the lactic acid on the skin then AHAs present in the acid helps in slowing down the signs of aging and even fight against fine lines, wrinkles and sun damage.
Here are 3 important benefits of lactic acid to your skin-care routine –
1. Lactic acid improves skin texture
You should go for cleansers, scrubbers and lotion that contain lactic acid. They exfoliate and improve skin's texture. Lactic acid also removes dead skin cells, thereby giving glow to the skin. They also reduce acne scars and age spots from your face and pigmentation from your skin.
[Also Read: Do Chemical Peels Work]
Lactic acid also firms up sagging skin, whilst promoting collagen growth that fights against fine lines and wrinkles. Even this acid cures skin ailments such as rosacea and helps fight against skin cancer, diabetes and thyroid problem.
2. Lactic acid treats skin from sun damage
If you're looking for something to treat your skin from sun damage then go for cream containing lactic acid. The AHA topical cream is usually thicker in quantity and stimulates collagen production that helps in reducing fine lines and wrinkles.
[sc:mediad]
Lactic acid also improves hyper pigmentation, whilst cleansing dark patches that appear on the skin. Lactic acid also helps in skin lightening by reducing tanning and discoloration of skin.
Besides, if you've dry skin then lactic acid is your beauty staple. Look for body lotion that contains both lactic acid and humectant, which work together in exfoliating and moisturizing the skin.
3. Lactic acid works as facial peel
If you have dry skin and looking for a special type of facial, then I suggest you to go for lactic acid facial peels that not only boost oil sebum in your skin but also treat your skin from sun damage and prevent premature aging at the same time.
However, make sure you take professional's help as usage of concentration of lactic acid varies depending upon the damage occurred on the skin. For instance, alpha hydroxy acid peels are offered in concentrations ranging from 10-70%. If the concentration is higher than 30% then lactic acid acts as chemical exfoliator that dissolves dead skin cells from the top layers of the skin. Make sure you read all the ingredients before buying any products from the stores. Some chemicals can be dangerous and can cause further damage to the skin.
So here are the top 3 benefits that are sufficient to convince you to get rid of dry skin with lactic acid usage. Hope this helps!