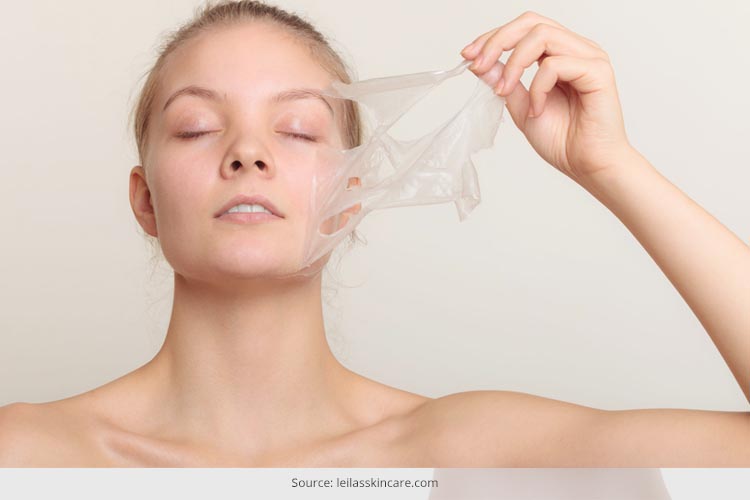 Before your dermatologist or skin specialist answers do chemical peels work, they would want you to be very realistic with your expectations. Chemical peels would not reduce the blood vessels on your skin or fade the capillaries away. What they wouldn't also do is to remove raised scarring for example kelloids and syringomas too. If you thought chemical peeling was a facelift, you were wrong and to answer your question do chemical peels work, we would say yes it does. Chemical peels help remove uneven skin tones, even out the skin damage done by the harmful UV rays of the sun and brings about a younger and very vibrant look to the skin as well. We hope a part of the question on do chemical peels work is answered.
[Also Read: Everything You Wanted to Know About Chemical Peels]
Types Of Chemical Peels
There are no set number of types of chemical peels available in the market these days. And there are plenty of combos to choose and use as well, each to a skin type best suited. What one needs to check with the specialist is about the strength of the peel. From superficial to medium-depth peels, there are stronger acids for specific skin care needs. Moreover, chemical peels are customized for an occasion too. A bridal chemical peel would be very different from that of a daily working peel; strength and concentration of the acids matter.
Benefits Of Chemical Peels
Reduces acne
Reduces hyper-pigmentation
Reduces fine lines
Reduces wrinkles
Reduces tanning effects
Tips To Bear In Mind
While choosing a process from the various types of chemical peels available, you should contact an expert only for the same. Not just any spa expert or a beautician, but someone who has been an esthetician for skin for at least a decade, and with testimonials from clients in the industry to prove his or her mettle.
For Acne Prone Skin
For those who have acne issues or acne prone skin, it would be best to use chemical peel benefits that have beta-hydroxy acids in it. Such chemical peel processes help bring down inflammation since the presence of salicylic acids in it has properties much on the same lines of aspirin, which reduces inflammation. Salicylic acid is also oil soluble and since oily skin has plenty of oil to deal with, acne and oily skin should use chemical peel treatments that have this ingredient in them.
For Dry Skin
The benefits of chemical peels can be mastered upon dry skin tones too, since the hydroxyl acids in them are gentle and work best without any allergic reactions.
After Care
The chemical peels used for skin lightening or removing wrinkles and lines, would be different from one body to the next. After care therefore is a must, with the help of a mild lotion and a cleanser, on a daily basis.
[Also Read: Post Peel Treatment]
Stay away from products that have alpha hydroxyl acids, vitamin C and retinol in them. Rather use bland products for the week after the chemical peel has been done. When going out and even if it isn't sunny, always wear sunscreen lotion, which helps protect the skin from the hidden harmful UV rays of the sun on a cloudy morning.
Side Effects If Any
We would encourage you to read on more about the chemical peels benefits and to hear from real men and women who have used the process to look younger, brighter and vibrant. It would again depend from one person to the next on how chemical peels work, and also on the talents of the expert chosen for the process.
[Also Read: Ways to Use Orange Peel for Skin]
Reputed dermatologists wouldn't allow nursing and pregnant women to use chemical peels for sure. Lighter peels are always used for the first time since it has lower concentrations of lactic acids and glycolic acids in it. Deeper chemical peels have more complexities associated with them, so if you have had cold sores in the past or major skin acne issues, your dermatologist would advise you against it.
We hope this post with a gist on everything you wanted to know about chemical peeling comes in handy. Do speak to a specialist and never DIY the process on your own!