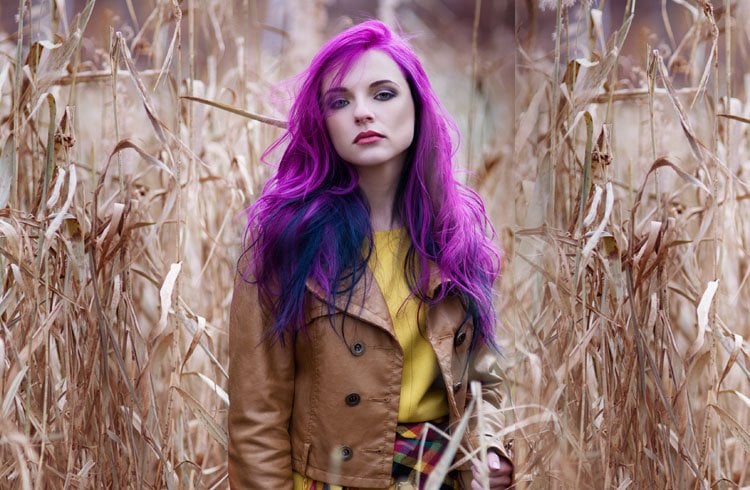 With more and more women getting out of their comfort zone and trying out exciting new hair colors, the black and purple hair color trend has become a raging hit in recent times. The best part about this color combination is that it suits pretty much any skin tone, be it dusky or fair, and goes well with pretty much any type of hair, curly, wavy or straight.
[Also Read: Black And White Hairstyles]
Here's a quick look at this color trend and the black and purple hairstyles that you can flaunt with it.
Purple Black Hairstyles
If you are intrigued by the black and purple hairstyles trend and want to try it out, then here are some cool hair styles that you can do to rock the look.
Purple Bangs
This is perhaps the easiest and quickest way to emulate the black and purple hair trend. You simply color your bangs a nice deep purple and color the rest of your hair black. The result is a stunning look. You can make it as subtle or as vibrant as you want.
Purple And Black Ombre
Of course one of the best way to show off the black and purple hair trend is to do a nice ombre. Take your hair from black to purple gradually for a mesmerizing look that you will fall in love with. Ensure your colors blend together to form a gradual gradient instead of a stark dip-dye effect.
[Also Read: How To Bleach Black Hair]
Reverse Ombre
If you feel that a regular ombre is too tame for your liking, then why not spice things up a little with a reverse ombre. Going from purple to black, this ombre is not for everyone. If you love trying out whacky color combinations and want to create a unique look for yourself, then this style is the one for you. Be warned though, the reverse ombre is a lot more difficult to create than a regular ombre. Also, regular touch-up of the roots is required as having outgrowth that's a different colour than the purple will look quite hideous. While with a regular ombre you can simply let your hair grow out, you can't do it with a reverse ombre. Regular touch-ups are the way to go with this style.
[sc:mediad]
Peekaboo Purple Highlights
How about some peekaboo purple highlghts? Because, really, regular highlights are just way too mainstream and boring. The basic difference between regular highlights and peekaboo highlights is that peekaboo highlights are pretty random in their placement, which is what makes them more interesting and unconventional. You can either take chunky sections or thin sections to highlight, depending upon your preference.
[Also Read: Granny Hair Trend]
Purple Black Hair Dye
As for good purple black hair dye brands, try searching for brands and reviews online to get a better idea as to which brands would work well on your hair. Depending on your hair's color and texture, the saturation of the color from the dye will differ. While going to a salon to get your hair color done is the best option, if money is an issue, you can always look up video tutorials online to try out some of these styles yourself. If you want a very vibrant purple, then bleaching the hair sections that you will be coloring purple before proceeding with the color will help achieve a very vibrant purple.
[Also Read: Black and Blue Hairstyles]
So now that you've read about it and seen some photos of it, what's the verdict? Do you love, or hate, the black and purple hair trend? Are you raring to try out this look or are you going to steer clear of it?