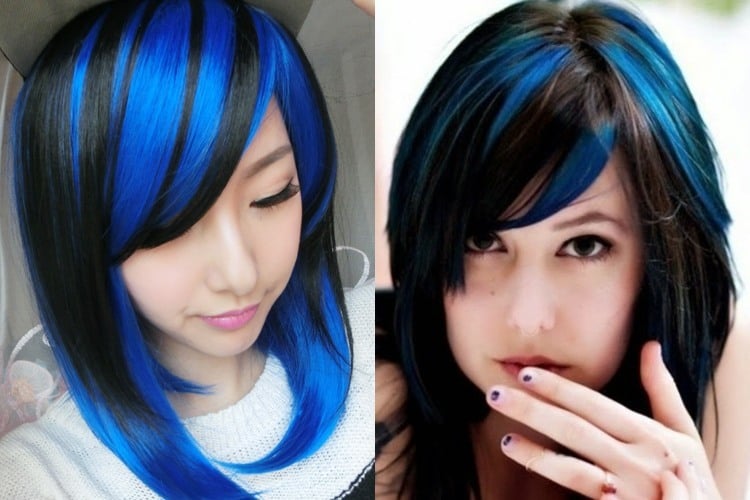 There are a lot of cool ways to do a black and blue hair color effect. You can do an ombre or dip dye effect or you can think of some even more creative ways to implement the black and blue hairstyles trend.
Whether you are planning to color your hair and need some Hair Color Ideas for inspiration, or you simply want to see some cool hair color, this article on black and blue hair is sure to interest you.
Black and Blue Hair Styles
Black and blue hair color is one of those unique color combinations that looks good on you no matter what your skin tone or hair texture. It looks just as good on curly hair as it does on poker straight hair. There are so many different shades of blue that you can experiment with, making this a super fun hair color combo to try out!
The Asymmetric Bob
The asymmetric bob paired with black and blue hair color is a match made in heaven. The asymmetric bob is a really chic hairstyle and black and blue hair coloring complements it really well. One of the best ways to color your bob is to give your hair dashes of blue at the ends while keeping the rest of your hair black.
Blue Curls, Anyone?
If you have curly hair, then this is a great option for you. Use a nice vibrant cobalt blue on random strands of hair. The black will help show off the bright blue and your curly hair will get more dimension.
Fringe Me Blue!
A fringe looks never better than when it is colored a bright blue color. Make sure the blue frames your face to light up your eyes and make your facial features pop. It is a good idea to not color all the hair on your fringe blue. Instead, do a highlight kind of effect by alternating between blue and black.
Emo/Goth Chick Look
There is absolutely nothing subtle or understated about this look! It screams emo with its stark contrast between black and blue. The blue is a bright sky blue on top which then blends into a cobalt blue which goes on to black. If you love edgy hair colors, then this one might be just the one for you. But if you are little skittish about trying out bright colors, then you better stay far, far away from this one!
[Also Read: Red and Black Hairstyles]
The Ocean In My Hair!
How would you like to have the ocean in your hair? Well, not literally of course. But this awesome black to teal blue-green ombre comes close enough. Your hair caught up in a breeze will look like the waves at sea. Not an easy look to achieve, so make sure your hair stylist knows what he/she is doing!
[sc:mediad]
Chunky Blue
Take a fat, chunky strand of hair from the side of your face, color it bright blue, and color the rest of your hair black. That's it, you're done with the look. Yes, it is as simple as that. And since the blue is not too much, this is one of the safest and easiest black and blue hairstyles that you can try.
Balyage Gal
How can we not mention the balyage look? From Black to a deep blue, this look is a definite winner in our books. Take a look and see if you like it as well.
[Also Read: Black And White Hairstyles]
Now that you've seen all the cool blue looks that you can create, what are you waiting for? Go get your black and blue hair dye and get coloring!