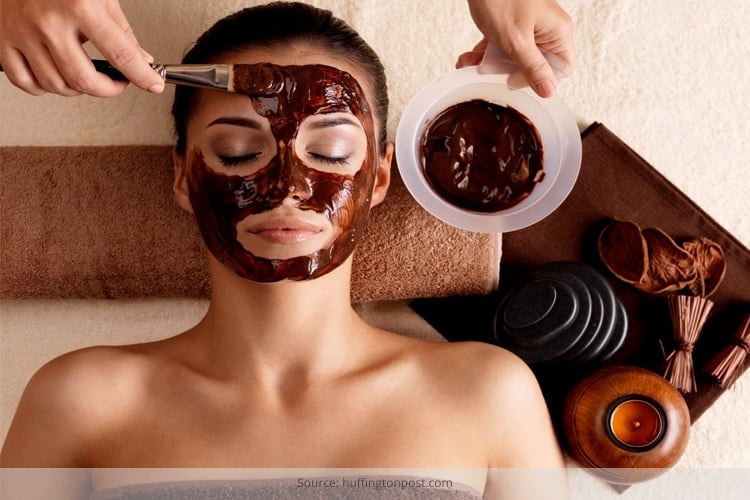 What is the difference between a beauty addict and a chocolate addict? Well, not much. If you are a chocoholic-cum-passionate beauty lover, you can have lots of cocoa-based 'edible treats' for your skin. Yes, chocolate has significantly high antioxidant content. Studies have proved that antioxidant properties of real cocoa extracts are much stronger than that of green tea and red wine. Moreover, you may truly find yourself struggling with the urge to lick the product jar or mixing bowl clean. Read on below to know more about various delicious chocolate beauty products.
[Also Read: Beauty and Health Benefits of Dark Chocolate]
Chocolate Based Beauty Products For The Benefits Of Chocolate
There are tons of chocolate-based beauty products available in the market, which are amazing for our skin. We have listed some of the most gorgeous chocolate based beauty products so as to get the maximum benefit of chocolate:
1. Lush Cupcake Fresh Face Mask
Imagine slathering the messy, gooey chocolate cupcake batter on your face for getting rid of excess oiliness. This fresh face mask by Lush offers exactly such an amazing experience. The 100% natural product is enriched with moisturizing cocoa butter, deep cleansing rhassoul mud, detoxifying linseed and refreshing spearmint oils. Moreover, it has a yummy chocolaty smell, which will magnetize you instantly.
Price: $6.95 for 2.1 oz.
2. MuLondon Organic White Chocolate Truffle Moisturizer
Love chocolate truffle? Then, you'll surely love this white chocolate truffle moisturizer from MuLondon, one of the best chocolate skin care products. This handmade product is completely organic with zero presence of mineral oils and chemical compounds. Rather, it contains pure cocoa and Bourbon vanilla extracts along with jojoba oil, shea butter and rosemary antioxidant, which make it delicious-looking and yummy-smelling.
Price: $23.56 for 2 oz.
3. Karin Herzog Chocolate Face Cream
The name Karin Herzog is very much popular in the beauty world for its gorgeous chocolate beauty products. So if you are planning to treat your face with highly potent cacao antioxidants, indulge in this luxurious chocolate therapy. The combination of pure Swiss chocolate, avocado oil and orange oil will protect your facial skin, while hydrating it deeply and making it softer.
[sc:mediad]
Price: $55 for 1.73 oz.
4. Philip B Chocolate Milk Body Wash And Bubble Bath
According to Philip B, this is 'a nurturing blend', which is totally 'playful and magical'. But for chocolate-lovers, it is basically a small bottle of 'guilt-free happiness' with luscious aroma. Yes, this paraben-free body wash is high in cocoa butter, pure vanilla extract, milk proteins, wheat amino acids, aloe vera and safflower seed oil, which eventually produce velvety lather. Result? Perfectly nourished, silky and radiant skin!
Price: $35 for 11.8 oz.
[Also Read: Top 5 Indian Spices for Skincare]
5. The Body Shop Chocomania Body Scrub
The Body Shop products need no introduction. And when it comes to the Chocomania Body Scrub, you can't help but get tempted to use it right after seeing. The granular scrub contains pure cocoa butter, which gives it a chocolaty brown color as well as a decadently aroma. Besides, it is rich in organic cane sugar and soya oil, which improves blood circulation in skin through proper exfoliation and keeps it silky soft at the same time.
Price: $20 for 200 ml.
6. Vaseline Lip Therapy Cocoa Butter
Forget all other lip balms as you have Vaseline Lip Therapy Cocoa Butter with a thick creamy formula combining triple-purified petroleum jelly and rich luxurious cocoa butter. It locks moisture in the lips, makes them softer and smoother, and prevent them from further drying.
Price: $3.29 for 0.25 oz.
DIY: Homemade Chocolate Beauty Products
If you are not that fond of store-bought cosmetics loaded with chemicals, simply don't worry. You can make your own chocolate beauty products at home and get a flawless, glowing skin. So, give the following DIY chocolate beauty products a try and your skin will definitely thank you!
[Also Read: Benefits Of Chocolate Wax]
1. Chocolate Face Mask 1
Get rid of pesky acne and ugly wrinkles with this simple yet luscious chocolate mask. And guess what? It smells divine!
Ingredients:
Pure cocoa powder – 4 tbsp
Raw organic honey – 2 tbsp
Melted organic coconut oil – 3 tbsp
Process:
Combine everything together to prepare a mixture of medium consistency. Apply it all over your face. After 15 to 20 minutes, rinse off with tepid water.
2. Chocolate Face Mask 2
This is one of the best natural anti-aging masks you can ever try out. It suits all types of skin and vanishes age spots, fine lines, wrinkles, etc. effectively.
Ingredients:
Pure cocoa powder – 2 tbsp
Mashed ripe avocado – 2 tbsp
Freshly brewed matcha green tea – 1 tsp
Unsweetened almond milk – 4 tbsp
Process:
Blend all the ingredients into a smooth mixture and slather on your face evenly. Allow it to sit for around 20 minutes. Then, wash off with lukewarm water.
3. Chocolate Face Mask 3
Now you don't have to head to the spa on the weekend to relax, nourish and rejuvenate your facial skin. Here is an easy homemade alternative for you
Ingredients:
Pure cocoa powder – 3 tbsp
Raw organic honey – 2 tbsp
Finely powdered oatmeal – 2 tbsp
Heavy cream – 2 tbsp
Process:
Combine the ingredients properly to come up with a smooth blend. Apply all over the face and massage into the skin for a few minutes. Then, let it sit for 15 minutes. Wash off with tepid water.
4. Chocolate Hand Scrub
Chocolate can make your dry chapped hands soft and perfectly moisturized. Do try this hand exfoliating scrub for the best result:
Ingredients:
Pure cocoa powder – 4 tbsp
Brown sugar – 1 cup
Olive oil – (1/2) cup
Vanilla extract – 1 tsp
Process:
Make a thick gritty paste by mixing all the ingredients well. Dampen your hands, apply the scrub thoroughly and exfoliate in a gentle manner by using small circular motion. Wait for 3 to 5 minutes and rinse with fresh cold water.
So, these were some sinfully delicious beauty products and DIY recipes based on chocolate. Can you really resist yourself from indulging in these?