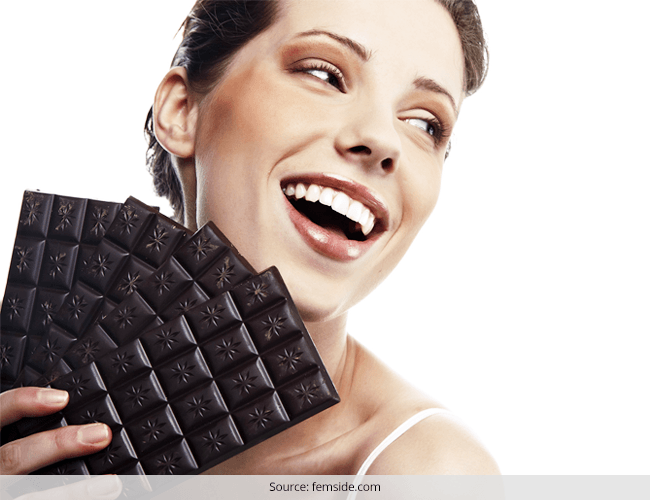 It's an ultimate treat that sets the mood for Valentine Day gifting. It's a great token of love and affection towards friends and family members. Chocolate is a recipe of expressing love, care, fondness. Remember the Cadbury Dairy Milk jingle of yesteryears and its heart-melting lyrics "Kuch Khaas Hai Zindagi Mein…Kya Swaad Hai Zindagi mein" being danced around by a lovely looking girl.
[Also Read: Benefits of Chocolates]
Chocolate melts hearts but it also brings cups of joy to your skin and health thanks to 'dark chocolate'. A little bitter in taste, this variant of chocolate is packed with antioxidants and nutrients that help you look healthy and beautiful. Reap the beauty and health benefits of dark chocolate and start inviting attention from the ones who matter, including your bosses and superiors!
Benefits of dark chocolate on skin
Dry skin repair
Dark chocolate is not to be treated as just an ordinary confectionary item. The iron, calcium and vitamins A, B1, C, D and E in it make you strong from inside which shows up on your skin. Give up drinking your usual cup of coffee or tea and indulge in this cocoa-rich drink. It will surely leave your skin moisturized and glowing.
Beauty tip: Make a chocolate body scrub made out of olive oil, brown sugar, cocoa powder and vanilla. It will help slough away dead skin cells from your body giving you a refined polished skin.
[Also Read – Homemade Face Packs for Dry Skin]
Protects from harmful UV rays
Dark chocolate has flavonoids that have been scientifically proved to protect your skin from sunburn and UV damage. That is quite an achievement in itself going by the fact that it is just a chocolate.
Beauty tip: Apply dark chocolate directly to the skin since it helps repair and hydrate sun-exposed body parts. However, you can use sunscreen too before going out in the sun.
Promotes hair growth
Dark chocolate is full of minerals such as copper, iron and zinc that push up cell renewal. In the process, it boosts new and healthy hair strong from the roots.
Beauty tip: Eating chocolate daily helps increase oxygen and blood flow to the scalp. What you therefore get is solid, bulky, strong and healthier hair.
Brings shine to hair locks
Can you imagine a homemade hair mask churned out of none other than a piece of dark chocolate? It works wonders on your tresses.
Beauty tip: Take some dark chocolate and add some honey and yogurt to it. Now apply it to your hair and leave it on for about an hour. Rinse with cold water and see superb shiny hair impress everyone.
[Also Read: Natural Home Remedies For Shiny Hair]
Removes wrinkles and fine lines
There is no harm in nibbling a small chunk of dark chocolate. Cocoa in it helps reduce stress hormones. This means less breakdown of skin collagen, therefore fewer wrinkles.
[sc:mediad]
While Buying Dark Chocolate…
Dark chocolate is the best chocolate in the world. But when you go to buy it from a consumer store or order it online, do remember a few things:
The chocolate should be organic in nature and should have about 70% cocoa
It should be having a smooth and velvety texture and there shouldn't be any dots or streaks. Buy it without hesitation if a piece of dark chocolate breaks with a firm sound.
Chocolate with fillings (caramel or peanut butter) should be avoided since they have sugar and hydrogenated oils which increase obesity
Put your dark chocolate in a cool, dry, odour-free place and away from direct sunlight. This will increase its longevity
Usage Tips of Dark Chocolate
Before you start indulging in dark chocolate, make note of the following things:
Avoid melting chocolate at high temperatures. It is important to keep the heat factor under control
Stay away from adding water to the chocolate at the time of brewing as it can end up hardening the chocolate
A drop of moisture can ruin the chocolate recipe. See to it that the utensils required for making a chocolate recipe are dry enough
So if your goal is to get younger looking skin, healthy heart and beautiful tresses, start giving dark chocolate a try in your dietary regimen.