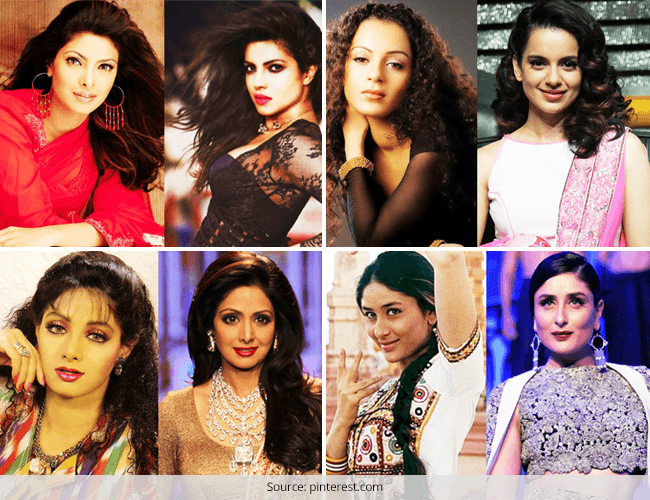 They are hot, vivacious and they sizzle every time they make an appearance. That being said, let us make you aware that some of our Bollywood Actresses have drastically transformed from their debut days. Let's go back in time and compare their past to their present.
[Also Read: Yesteryear Bollywood Actresses then and Now]
Priyanka Chopra – Then and Now
When Piggy Chops made her Bollywood debut in 2003, she looked nothing like the confident, fashionista that she is now. Apparently, she went under the knife to get a more shapely nose and a fuller mouth. Her sense of fasion too has seen a big transformation – donning the likes of Zac Posen, Nikhil Thampi etc. Even her acting has become more powerful and realistic, when compared to her debut days. Below is a picture of this Bollywood actress then and now.
Kangana Ranaut – Then and Now
Hailing from a small town in Himachal, Kangana began her journey as a reticent Simran from Gangster. Her noticeable performance won her Filmfare award for the best debutante. Her acting has only evolved since then, and power packed performances in Queen and Revolver Rani only prove this.
Talking about her fashion sense, unlike her earlier days, Kangana is definitely one of the top fashionistas in India, today, and she gets better with passing year. She is one film star who never stops experimenting and it shows in her personal style too.
Her 'Gangster' days with knitted dresses, casual skirt and curly locks gave a bohemian vibe. Cut to 2015, she is every designer's dream muse. Rumors has it that she underwent the knife to get a bee-stung lips and a fuller bosom.
Look this celebrity then and now.
[Also Read: Bollywood Plastic Surgeries that Horribly Went Wrong]
Sridevi – Then and Now
Sridevi has always been a diva. During the 80's she captivated the fashion brigade with her shiffon sarees, maxi dresses and her wavy locks. Cut to 2015 and she is still giving every fashionista a run for their money. With the release of her movie 'English Vinglish' she regained her stardom. Her style too has changed since then – casual dresses gave way to couture, wavy locks traded for a more sleek and classy do . Rumors has it that she did a nose job for more chiseled features.
With her style statement, and her acting ability she will always be Queen Bee of the tinsel town. Take a look at Sridevi then and now.
Kareena Kapoor – Then and Now
This Kudi from the Kapoor Khandaan debuted in 2000, in the film Refugee, in a simple no-makeup look. Cut to 2015, she is counted among one of the most glamorous actresses in tinsel town. Her fashion has seen a pleasant change since her early days, and today, she is counted among some of the top fashionistas of Bollywood. Bebo too apparently went under the knife to correct her face profile. Below is a picture of Kareena Kapoor back then and now.
[Also Read: Bollywood Plastic Surgeries that are Successful]
Shilpa Shetty – Then and Now
Talking about Bollywood makeovers and not include Shilp Shetty? From bushy brows and long hair during her Baazigar days, to super enviable figure in the item number in Dostana, Ms. Shetty has gotten only better with age. She also went under the knife to get a shapely nose. Look at the drastic change in her looks from back then and now.
Isn't it really surprising to see these Bollywood celebrities then and now. While there are a few celebs who confess their makeovers, some like to keep it behind the covers.
If you have come across other bollywood actress who have gone under the knife, share it with us. We would love to hear.