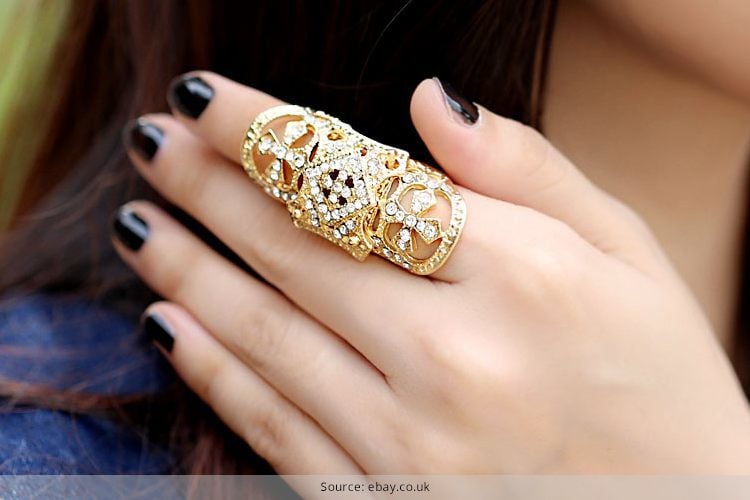 We have been fascinated by jewelry since the wake of civilization. Mankind has, thus been in an endless endeavor to out with some new form of jewelry for wooing his better half.
So, here we are to discuss the Full Finger Ring Trend
The most recent development in this field is the full finger ring.
[Also Read: Types of Diamond Cuts]
The Gold Ring
Gold is one metal that never loses its luster. And when I say that, it is not a remark only on its physical property but also the value it has successfully associated itself with since ages. Every new piece that is introduced in the jewelry business, gets a mold in gold as well. The full finger ring designs are hence available in gold too. But this one could be heavier on the pocket to some extent so go prepare for it. Again, the beauty that it adds to your hand is on every thought totally worth saving for it. Perfect as a wedding gift for someone very dear to you.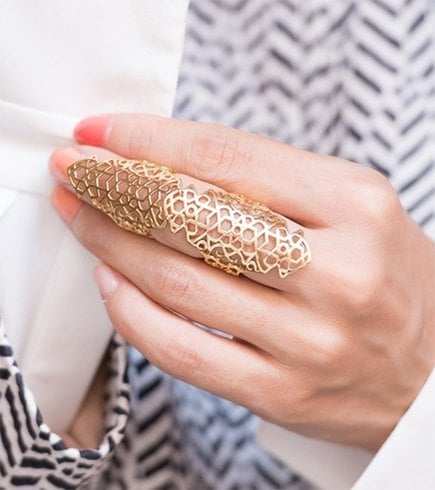 Here are some more full finger gold rings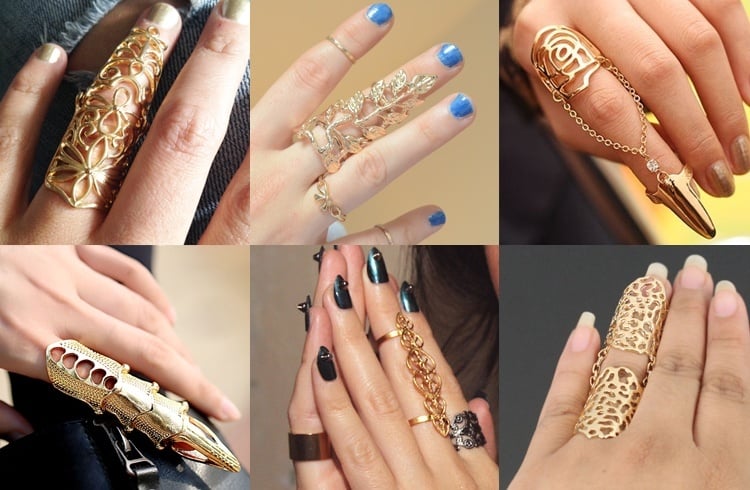 Diamond Studded Rings
If you could save for a li'l longer, then you go for these absolutely blinding full finger fashion rings ampled with diamonds flowing through the entire design of the ring. These rings come in various patterns and cuts. You will be provided with a wide range that will display designs with thick arrangements and those with more fine patterns. Choose as per your budget and occasion. But then they say, 'Diamonds are a girl's best friend' and apparently they (diamonds) are forever. So, even if you end up spending a few lacs on it, it is totally worth it.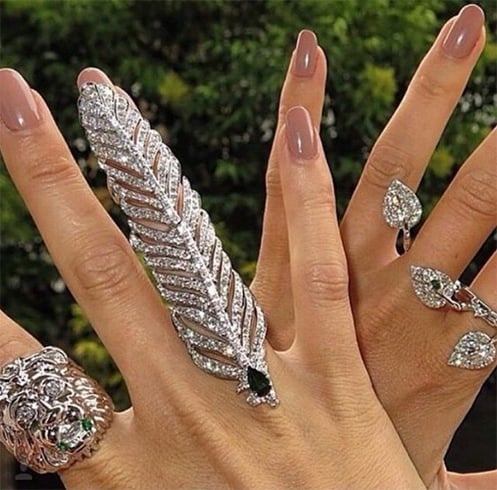 [Also Read: Trendy Gypsy Jewelry]
Here are some more diamond studded rings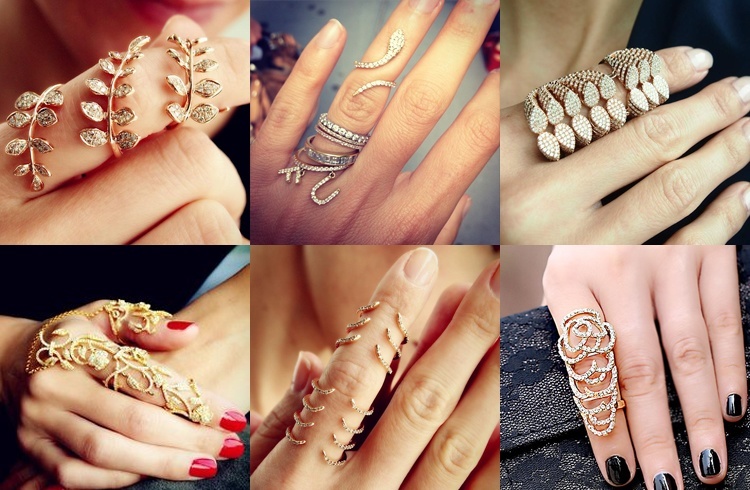 Costume Jewelry
For those of your who are looking at sporting this full finger ring trend, yet not ready for some serious kind of investments, may go for costume jewelry or as you may call it, fashion jewelry. They are not made up of any metal of resale value and have stones for studs. But just to experiment with the style before you are sure if this is something you would want to indulge in (which I am sure you certainly will decide in the affirmative later) you may just buy a couple of full finger rings from the costume jewelry section of the mall.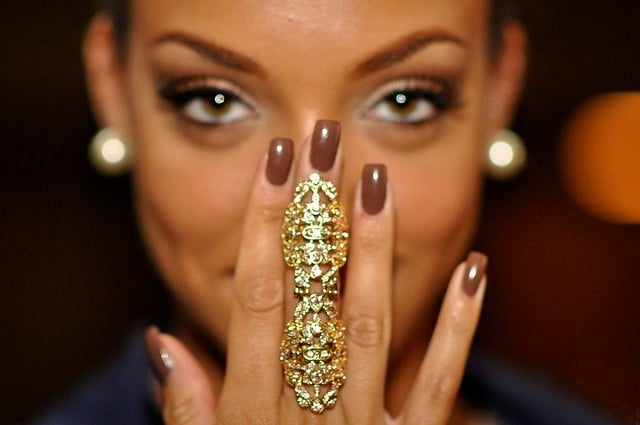 Here are some more full finger diamond rings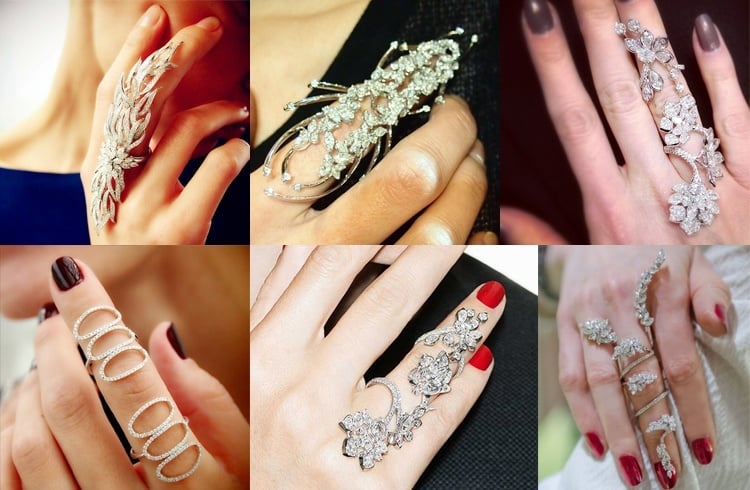 Junk Jewelry
Those of you who are more of a tom boy, and are not interested in the girly bling-bling, you can also pick up a couple of full finger fashion rings from the stand alone junk jewelry sellers. They are incredibly inexpensive and you always have a chance of winning a bargain. One can choose from the craziest designs that the imaginative mind can think of. These rings can be teamed with a couple of beaded and colorful bracelets. Due to their utmost casual appeal, you do not need to spend hours in front of the dresser to match up to the aura of the ring.
[Also Read: Promise Rings For Women]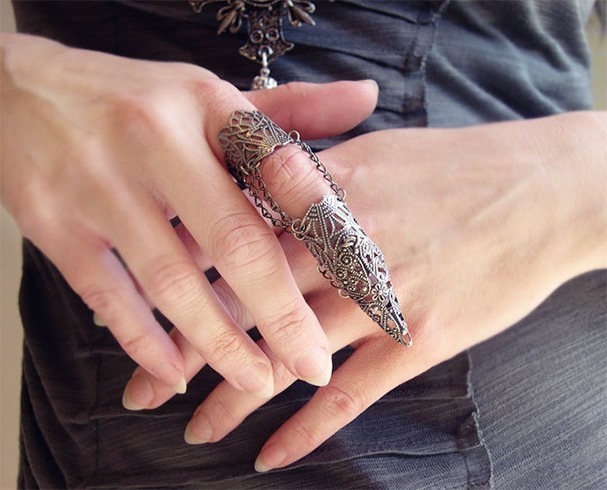 More Junky finger rings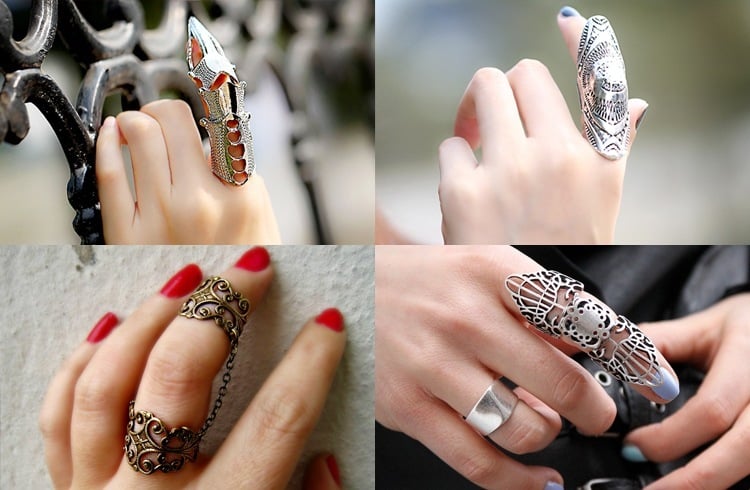 [sc:mediad]
Wearability
The beauty of the product is that these rings can be worn in any of the fingers that the jewelry fits into. One may wear it one the index finger, the middle finger or the ring finger. You just need to be sure that it fits perfectly. The fashion will fail miserably if you have to adjust it to your finger every other minute. You would rather try it to all the fingers and settle for the finger where it sits perfectly.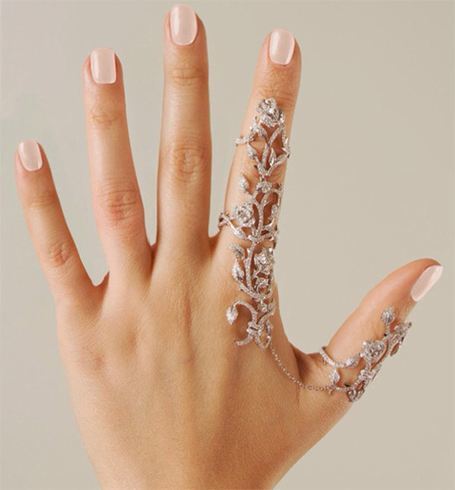 Here are some more double full finger rings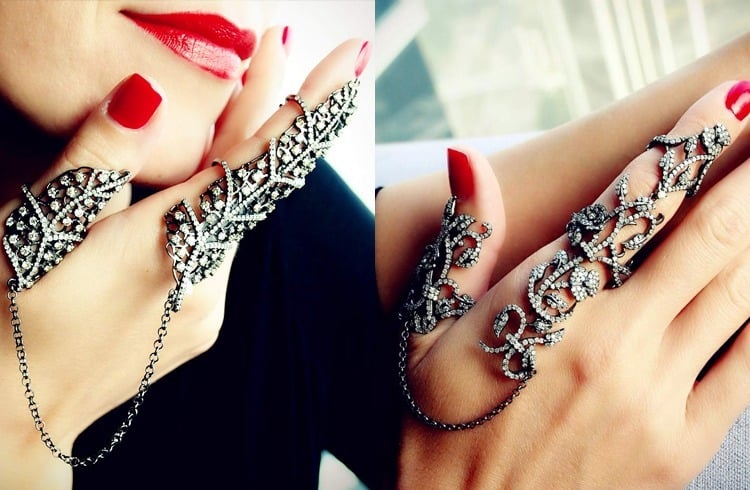 Availability
These rings are easily available in malls, stand-alone shops and online stores. If you are looking at getting an expensive one, step into the precious jewelry stores. All gold and diamond jewelry showrooms will have a few readymade designs. If none of those designs suit you, you may order one from the catalogue, or refer to one from the net. Any expert goldsmith will be able to make you one as per your instructions. Full finger rings in costume and junk jewelry can be easily availed from the online shopping websites, boutique stores or chain-stores in malls, or road-side stalls.
This is a very new fashion trend which is here to stay for some time. Investing in a precious jewelry will not be a bad idea, I'd say. For college goers with limited pocket money, it is suggested by a piece of fashion jewelry from a costume jewelry store and wear them to weddings and other traditional occasions. For daily college wear a little toned down costume jewelry piece or a junk piece of jewelry will make an impeccable match to your regular denims and Tees.
Images Source: pinterest, etsy