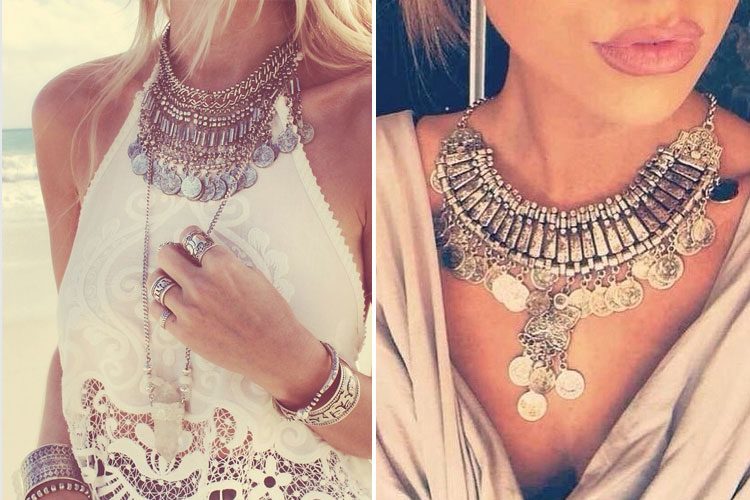 "All that glitters ain't gold", says an old adage. The same holds true for those who love their accessories sans the shine, shimmer and bling; too much of it! The best thing about gypsy accessories apart from the statement they make would be the versatility of these precious babies. Wear them for work, to drop your son off to school, attending your daughter's soccer game or even when meeting MIL for tea, the beaded and rustic beauties would surely charm the eyes of the onlooker, no doubt. Keeping that in mind, here are ten beautiful gypsy statement accessories that we would like you to check out!
Oxidised metallic touches
Long necks need a little more dolling up than other parts of the facial structure, which is why an oxidised neckpiece is a must-have! With plenty of intricate designs bestowed on the accessory, wearing the statement piece with any ensemble wouldn't bring about a mismatch!
[Also Read: Must-Have Fashion Accessories This Season]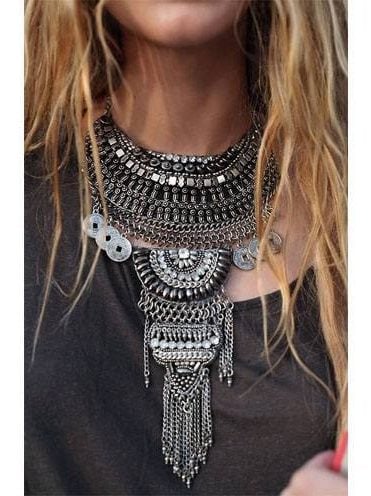 Like it big for the fingers to play with
We are talking about BIG CHUKY EMERALD GREEN rocks, embellishments so eye-catchy and pure, your heart would skip a beat! The old folklore of the gypsy clan says, a man and his ways are known by the biggest rock he offers his bride!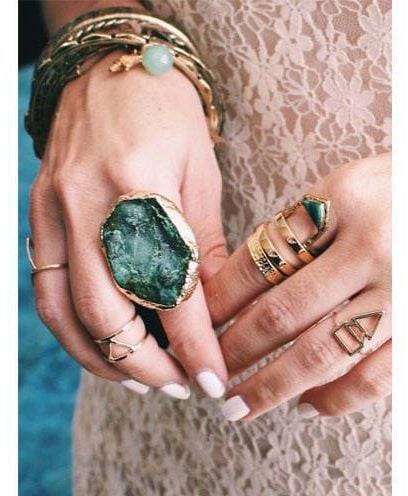 Rustic dangling neck beauties
Turquoise dangling beauties, set apart and with perfection, bring around the art and culture of the vagabonds that roam the planet. Adorning the neck and as it sits pristine, the neckpiece is a work of art fit for any event or occasion to flaunt at!
[Also Read: Beautiful Accessories for your Feet]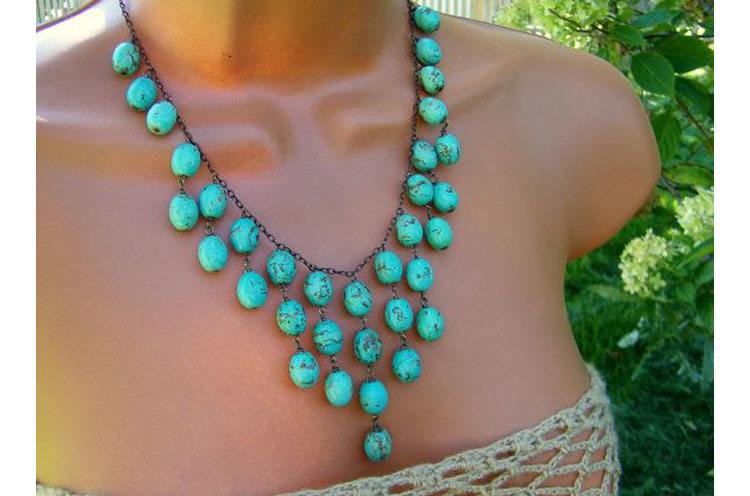 Colourful mini-drops from heaven
Your wrist shouldn't be bare, which is why dolling them up with a bastion of colourful beads emulating drops from the heavens above, should be your aim! For cocktail parties or maybe at play, these little beauties would make everyone envious and jealous of your prized possession!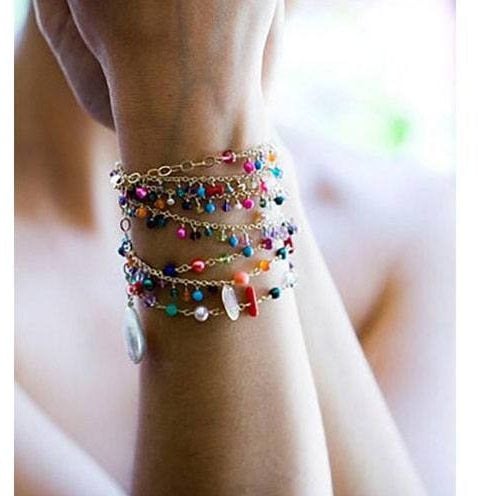 Mystical olive branch headgear
Ditch the plastic headbands and those made of cloth, and opt for something rustic, chic and sensual. The mystical olive branch in all its dull shine and with touches of oxidised silver for the cocktail party or a girls night out, why not?
Beaded beauty
Love those beads and natural stones? String them up in pairs or more, hang them low and loose if need be, but a pair of these natural beauties are must-haves for sure!
[Also Read: How to Wear Maang Tikka in Different Styles ]
Spiral stories
Let the ears not stay bare, keep them embellished with a beautiful brass pair. Chic and subtle, the leaf entwined with a spiral design speaks high of the Navajo culture. It is said that the olive branches when twirled, is a sign of abundance ahead!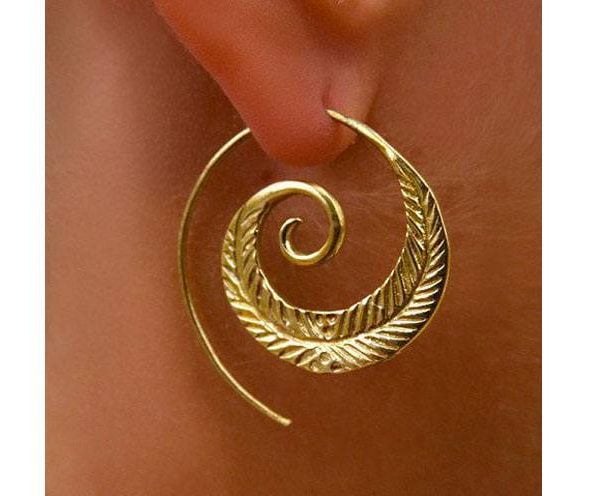 Bangles, bangles, everywhere
Ka-ching! Your wrists and hands would steal the show when embellished with a range of chunky oxidised or silver bangles. Ever wondered why the gypsy women are always lusted for their beauty? Music to the ears would be the sounds emanating from these babies, and your hands would be dolled a pretty pair too.
For the feet that brings you forth
Imitation tattoos in brass and gold be gone for good. When you have a range to rave about, in metal, silver and oxidised patterns to choose from, why splurge on temporary tattoos for the feet? Put your best foot forward and indulge in styles so chic and true to the soul, which would make every man want to kiss your feet!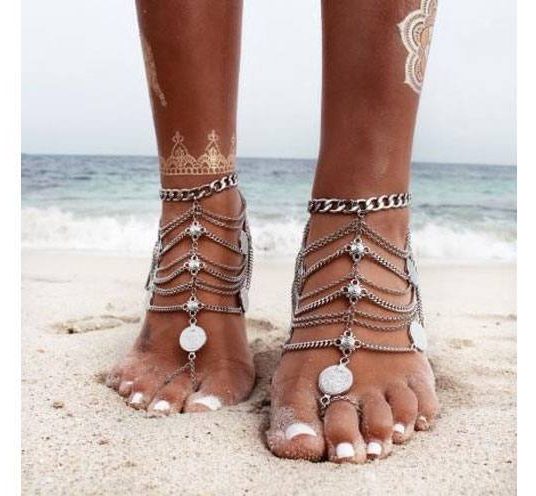 A little colour to shine your day
Metals needn't be the choice for everyone around, and with that being said, there are options otherwise to choose from. From Rainbow colours and spectrum of shades to opt for, quirky earrings for a girls night out anyone?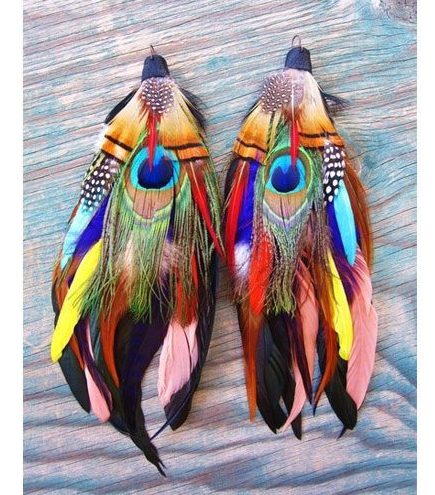 Romantic bib necklaces
Make a statement walking into the cocktail event wearing the most romantic bib necklaces of all, and in purple or mauve that too. Steal thunders around and flaunt this beauty like no one's business!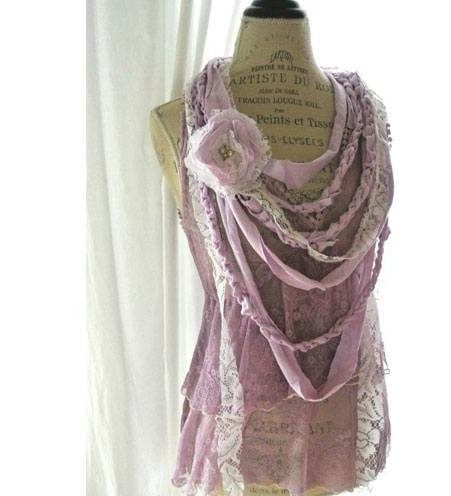 Loved them all to bits, so did we!