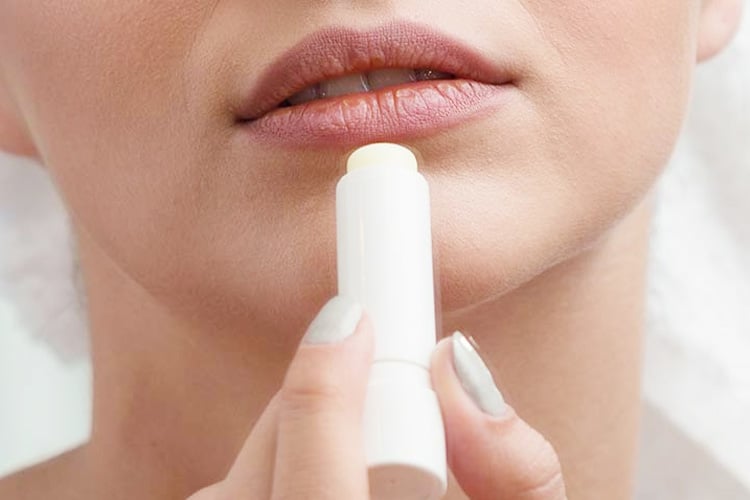 Aha…the next thing a girl has a fetish for (after her face that is) is her LIPS. This is one part of her body which she is extremely conscious and proud of. Why because she wants her lips "plump" and "pouty" the whole day (which is pretty understandable). But if you have dark and pigmented lips it can dampen your spirits. No worries. You can offset this problem by choosing best lip balm for dark lips. Yes, yes, your aim for soft rosy lips will be accomplished now if you know the best lip balm, best lip balm for dry lips, lip balm for dark lips, best chapstick and lip lightening cream. At the end of the day, you need a single lip product which offers you sun-protection and nutrients to hydrate, soften and lighten your lips. So, here's a list of the top-rated lip balm for dark lips to help you take your pick.
Any clue? What makes our lips turn dark?
There are multiple reasons for dark lips. It could be excessive exposure to UV rays, smoking, genetics, eating disorders, dehydrated and cracked lips, excessive use of lip colors and sometimes allergens in toothpaste or lip products having synthetic colors and fragrances. Nothing to lose hope when there is best lip balm for dry lips.
1. The Body Shop Vitamin E Lip Care SPF 15
Here's the perfect combination of a moisturizing lip balm and the goodness of Vitamin E. This is the best lip balm from the popular global brand. It soothes and shields our delicate lips from the weather changes. Use it for a minimum of 3 months and you will not touch any other lip balm.
Pros
Subtle (not overpowering) Vanilla fragrance
Contains beeswax and essential oils which condition and moisturise your lips naturally
When used over a period of time, it treats lips discoloration and pigmentation
Cons
Its popularity makes its availability a challenge
Rating: 5/5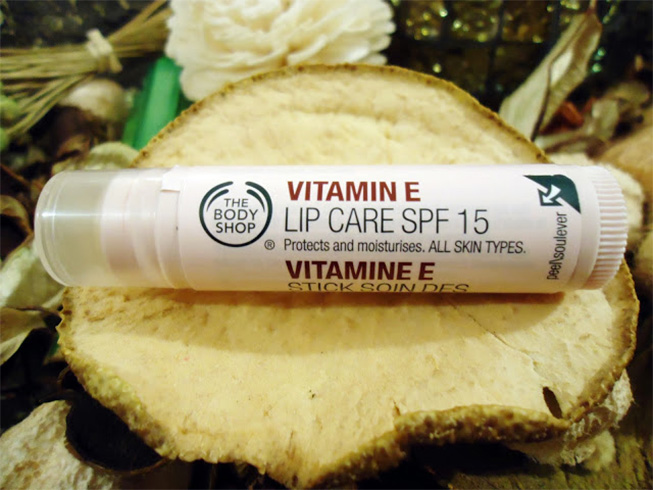 2. Kiehl's Lip Balm # 1
The formulation of this lip balm for dark lips has a feel-good factor. It has soothing emollients such as Lanolin, Squalane, Wheat Germ Oil, Sweet Almond Oil, Vitamin A and E to protect your soft and delicate lips from the harshness of the sun and cold winds. It also helps fight hyperpigmentation. Kiehl's Lip Balm helps heal dark lips when used over a period of time.
Pros
Intense moisture and nourishment
Apart from the "flavourless" version, this best lip balm also comes in different flavours
Cons
Slightly fluid consistency may be a turn-off for you
Rating: 4.8/5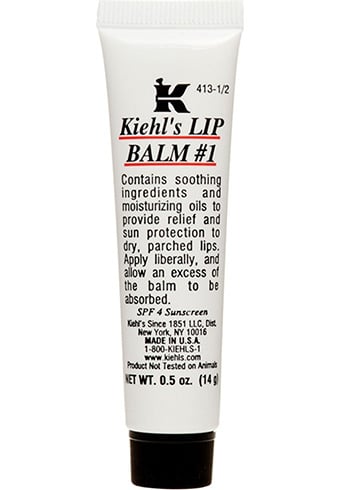 3. Forest Essentials Luscious Lip Balm – Sugared Rose Petal
Imagine honey-kissed rose petals to pamper your supple lips. This coming from a luxury brand is the stuff rosy dreams are made of. Forest Essentials brings an exotic lip balm – the best chapstick that gets you super soft and kissable lips through its moisturising and hydrating properties. Anything "luxe" in this lip balm for dark lips? Yes, it has Kokum butter, flower juices, minerals, proteins, and Beeswax. Its premium packaging spells class.
Pros
Lightweight yet intense moisturizer
Rose petals and honey work as an antidote to pigmentation of the lips.
Can be used as a lipstick base too
Cons
Its fragrance is not too appealing
Needs to be re-applied after every few hours (if you have super-dry lips)
Rating: 4.7/5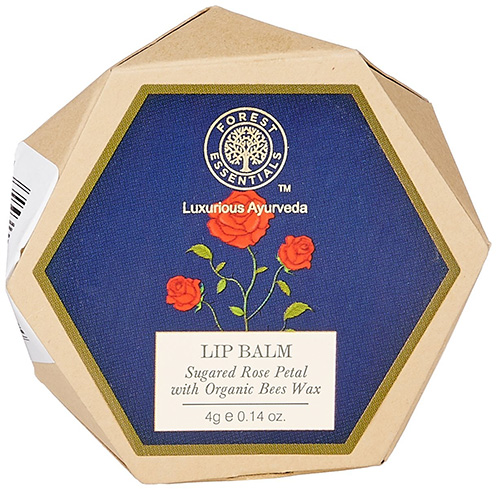 4. Burt's Bees Lip Balm – Beeswax
As its name suggests, the specialty of Burt's Bees Beeswax Lip Balm is its organic ingredient which conditions lips and brings back its rosy hue. This best lip balm for dark lips is the original Beeswax lip balm which heals dry, chapped, flaky lips amazingly. Expect super supple lips once you use Burt's Bees Beeswax Balm religiously.
Pros
Made of 100% natural ingredients
Has the goodness of Peppermint Oil
Repairs and hydrates dry lips
Cons
This best lip balm is available only online. Aww…..
Rating: 4.5/5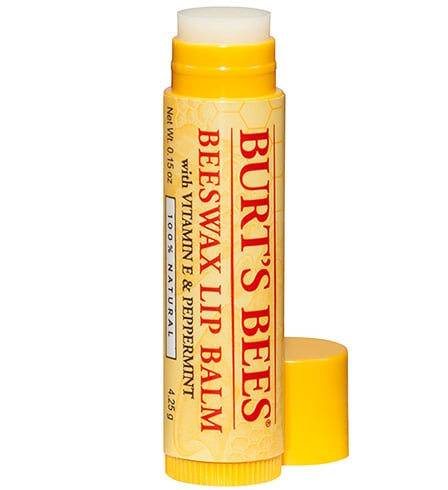 5. Neutrogena Norwegian Formula Lip Moisturiser SPF 15
Troubled with dry lips? Slide Neutrogena Norwegian Formula Lip Moisturiser on your lips and see how you experience the magic, its sunscreen formula protects you from the harsh ultra-violet rays.
Pros
Moisturises dry and chapped lips
Colorless and Fragrance-free
It has healing properties since its ingredients include Octinoxate and Oxybenzone apart from castor oil and the good old beeswax
Cons
Re-application of this lip balm is required at regular intervals
Warning message on the lip balm tube which is scary
Rating: 4.3/5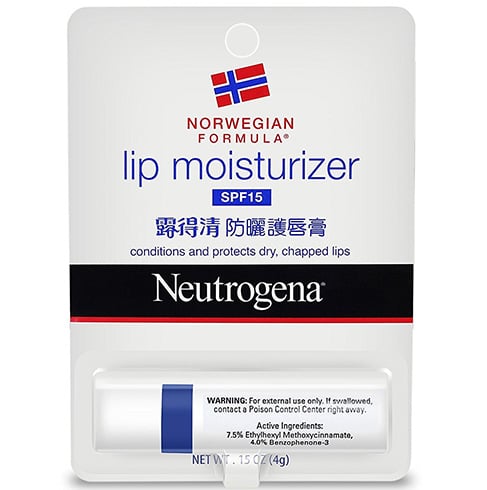 6. Biotique Bio White Whitening Lip Balm
With the natural goodness of Aloe Vera, this lip balm for dark lips works wonders for dry and discolored lips. Armed with SPF 30 PA +++ protection, this lip balm works well as an overnight therapy. Give it a shot!
Pros
Moisturises and hydrates dry lips
Cons
Not as effective as you think.
Rating: 4.3/5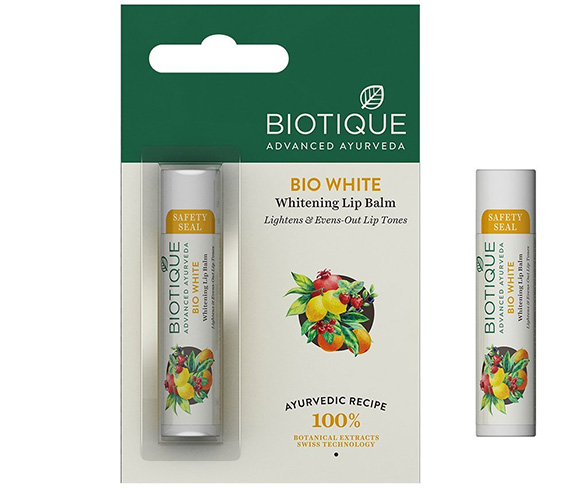 7. Natio Aromatherapy Moisturising Lip Balm SPF 30+
The Australian company 'Natio' brings this lip balm with sun protection. It is a magical formula enhanced with the goodness of essential oils, vitamin E and aloe vera that fights dryness and pigmentation of your lips.
Pros
Water-resistant for up to 4 hours
Cons
Re-application needed (from time to time)
Rating: 4.3/5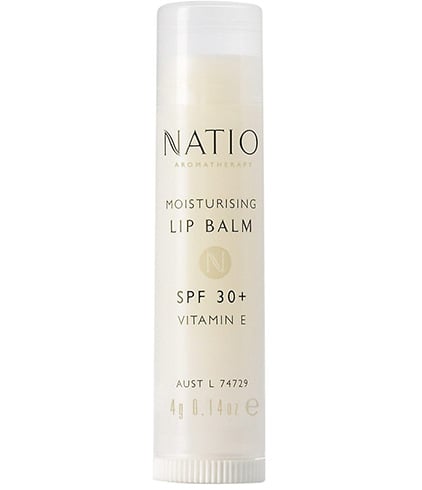 8. Vichy Aqualia Thermal Lips
This paraben-free lip lightening cream has a super-combo of – shea butter, glycerin, vitamin E and Asiatic acid. One of the best lip treatments from Vichy. Apply it before going to bed and wake up to the lips you always wanted – smooth and hydrated. It is a must-try!
Pros
Light and non-greasy texture
Intense moisturisation all-day long
Mild fragrance, but colourless
Travel-friendly packaging
Cons
Rating: 4.4/5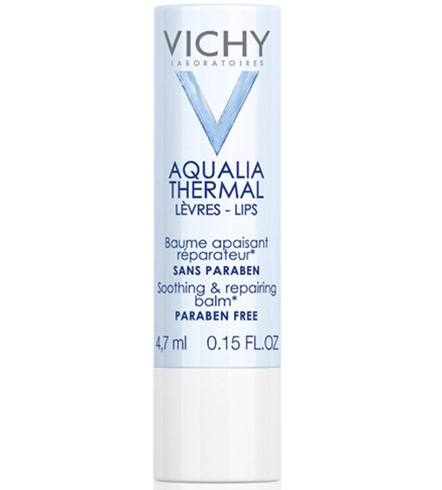 9. Sebamed Lip Defense SPF 30 For Dry And Chapped Lips
All-in-one intensive lip care. This is what Sebamed Lip Defense is all about. It is free of chemical preservatives and loaded with the goodness of vitamin E, rice bran, the essence of chamomile and jojoba.
Pros
It has SPF 30 to protect your lips from sun damage
Light-weight lip-care for the whole year
Perfect for night treatment
Cons
You can't call this lip balm for dark lips pocket-friendly since its price is on the higher side
Rating: 4/5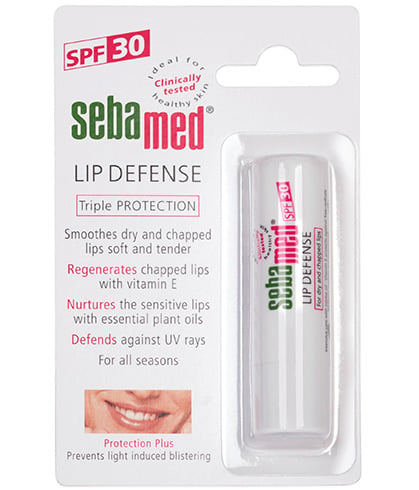 10. Carmex Moisturising Lip Balm
Did you know Carmex is one of the most famous lip balm brands in the world? For a very long time, you can safely forget about dehydrated and cracked lips with this lip balm. Ingredients include vitamin E, aloe vera, shea butter and avocado butter (apart from medicinal properties).
Pros
Comes in variants like balm, tube and chapstick
Cons
Not available in India so buy it online
Not ideal for pre-makeup prep
Rating: 4/5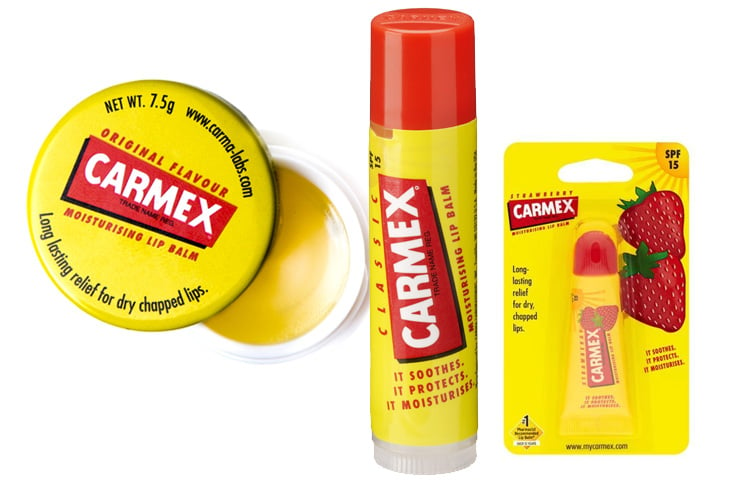 11. Khadi Herbal Lip Balm – Wine Grapefruit
Handmade and herbal, this lip balm for dark lips has essential oils to keep your lips nourished and glowing. Leaves subtle to mild wine hue on your lips. Ingredients include – beeswax, shea butter, grape seed extract, avocado oil, kokum butter, and glycerine. One can call it a lip lightening cream too as its regular use can help fight lip discoloration.
Pros
Comes in a small transparent jar
Heals and moisturises dry lips naturally
Your lips will look full and plump after application of Khadi Herbal Lip Balm
Cons
Due to its herbal properties, it's slightly bitter
Rating: 4/5
[sc:mediad]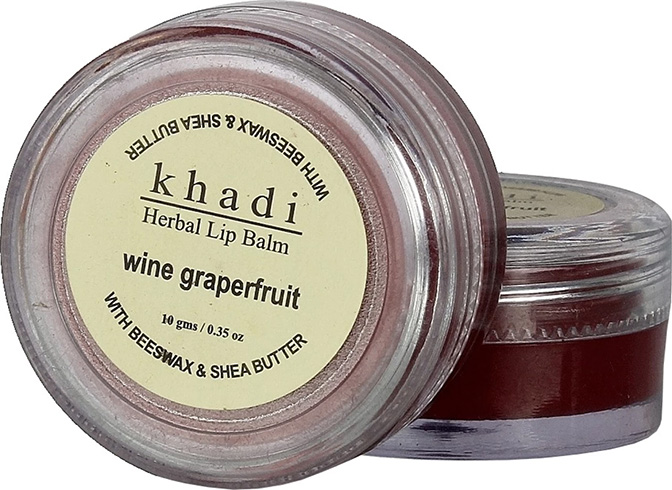 12. Blistex DCT Lip Protectant/Sunscreen SPF 20
It has magical ingredients like aloe vera, vitamins A & E, candelilla wax and cocoa butter.
Pros
Its creamy texture ensures intense moisturising
Highly recommended for those suffering from lip cracks or cuts
Heals acutely chapped lips
One tub of this lip balm for dark lips will last for a month
Cons
Offline availability is a problem. Sad, isn't it?
It is expensive due to import charges
Rating: 4.2/5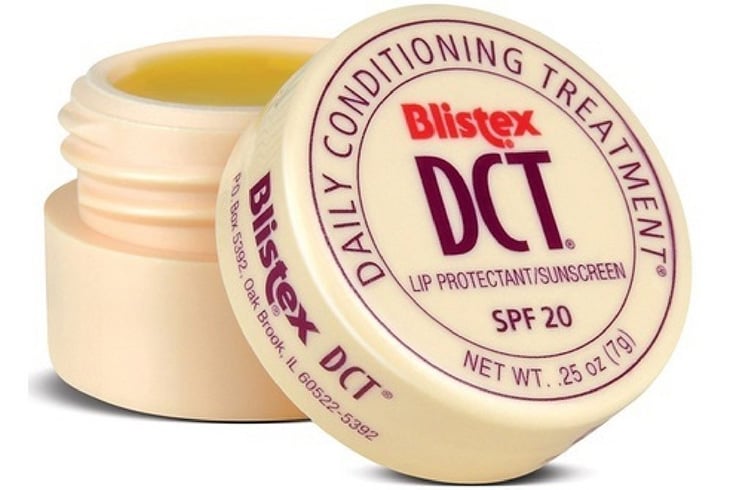 13. Palmer's Cocoa Butter Formula Lip Balm SPF 15
Palmer's products are the best in moisturisation. So when you get Palmer's Cocoa Butter Formula Lip Balm SPF 15 in your hands, you can safely kiss goodbye to your problem of dry lips forever. The combination of vitamin E and cocoa butter is just perfect. Its heavenly smell makes it the best lip balm for dry lips.
Pros
Cons
Not advised for lips which are acutely chapped
Rating: 3.8/5
14. Kiss My Face Sport Balm SPF 30
It is a go-to product if you love the outdoors. Kiss My Face will be your best friend when it comes to fighting dry and chapped lips. It has natural ingredients such as natural vitamin E, coconut oil, beeswax and shea butter.
Pros
SPF 30 to fight against sun-damage
Cons
Requires frequent reapplication
Rating: 4/5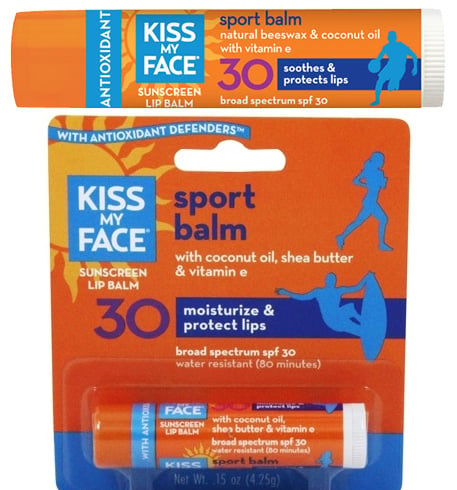 15. The Body Shop Cocoa Butter Lip Care Stick
Now, this isn't a chocolate if you think it has cocoa butter. It is a lip care stick with a rich buttery texture which will leave your lips kissably soft for hours together. This cocoa butter lip balm is one of the best products the brand has to offer in this segment. Some of the ingredients of this best lip balm include olive, sweet almond and coconut oils apart from cocoa butter.
Pros
Light-weight and Colourless
Exfoliates dead skin from lips
Repairs and heals dry lips with its intense moisturisation formula
Cons
Rating: 4.4/5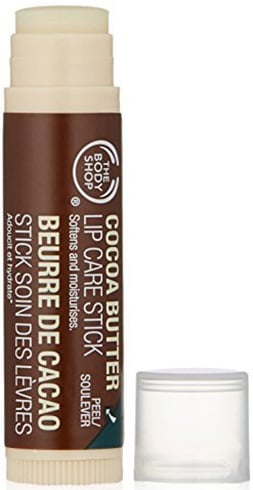 16. Himalaya Herbals Natural Moisturising Lip Butter
When you have exotic butter in a lip balm, you can very well imagine how effective it would be in treating the driest of lips. Meet Himalaya Herbals Natural Moisturising Lip Butter, a formulation which is dermatologically tested. Humble pricing that delivers results. Makes lips soft and smooth effectively from day one. Smells wonderful too. Talk of ingredients and this lip balm from Himalaya has butter from sal, kokum, mango and cocoa along with vitamin E. Reduces pigmentation of lips.
Pros
Non-greasy moisture-rich formula
Pleasing cocoa butter fragrance
Cons
Not effective against sun damage
Rating: 4/5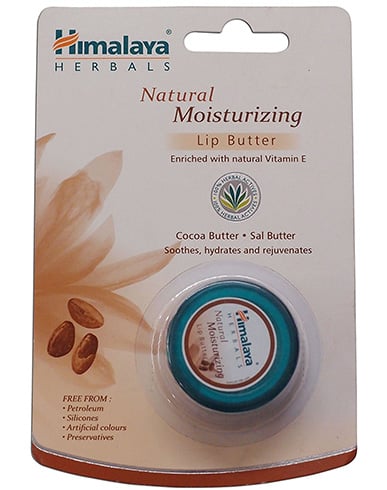 17. Nivea Lip Balm Original Care
You have seen some of the most expensive brands in lip balms listed above. Here comes the most affordable and best lip balm from Nivea. The budget-friendly Nivea Lip Balm Original Care hydrates dry lips. Its creamy texture helps it glide easily on the lips for smooth application. Also, brightens the lip tone.
Pros
Effective pocket-friendly option
Stays on for long so no need to re-apply it
Helps prep your lip for makeup
Cons
If applied in excess, it leaves a whitish residue on the lips
Rating: 3.5/5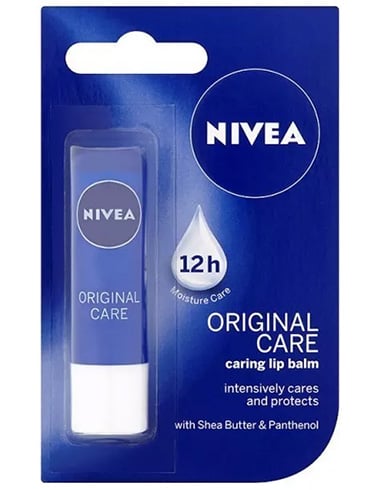 18. Omorfee Lip Lightening Salve
Call it lip lightening cream because this lip balm does away with dark lips. It is enriched with sweet almond oil, pure carrot seed oil, cocoa butter and watermelon extract – to get you a pink pout. One of the best lip balm for dark lips.
Pros
Lemon, an active ingredient in this lip balm, helps fight discoloration
Moisturises, heals and nourishes chapped lips
Cons
Rating: 4.8/5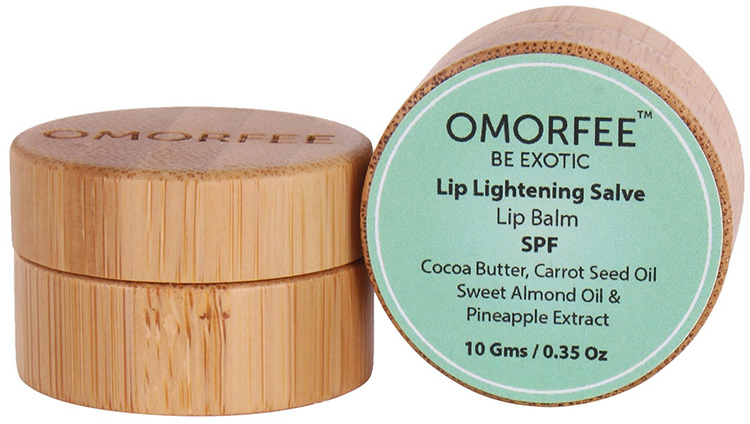 19. L'Occitane Shea Ultra Rich Lip Balm Organic
With 100% Shea butter, this natural lip balm hydrates your lips beautifully. Use it at night and wake up to soft lips.
Pros
Lightweight creamy formula
Helps prep your lip for makeup
Cons
No protection from sun damage
Rating: 4/5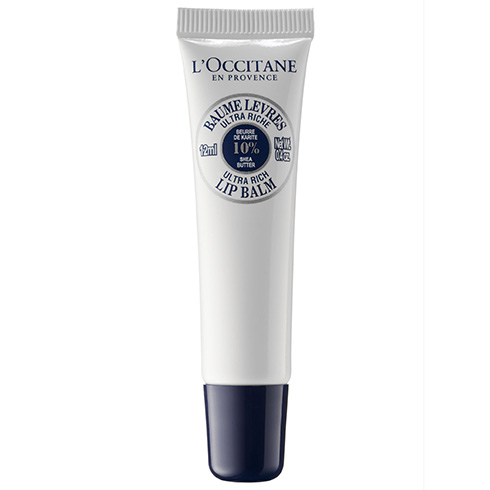 20. Biotique Bio Almond Overnight Therapy Lip Balm
You will be surprised at the number of moisturising oils this lip balm has – there is sunflower oil, sweet almond oil, kushumbhi oil, castor oil and sesame oil. Hold on! There are vitamin E and antioxidants also in it to moisturise and nourish lips.
Pros
Thick and creamy consistency
Intense hydration guaranteed
Recommended for overnight application
Smooth texture for easy application
Available in 2 packaging forms – tube and tub
Cons
Needs long-time commitment to deliver desired results
Rating: 4/5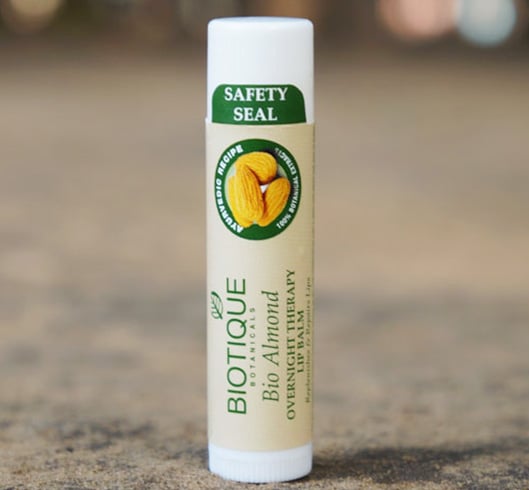 So, my friends, these are the best lip balm for dark lips. Pick one that suits you the most and kiss adieu to discoloration blues! Write in and tell us which of the lip balm for dark lips can also be touted as the best lip balm for dry lips.
Images Source: pinterest, blogspot