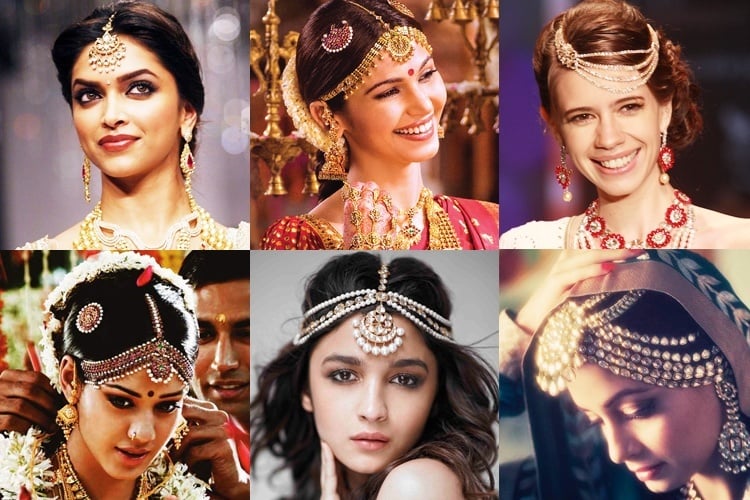 No Indian bride can look beautiful and complete without a maang tikka on her forehead. They not only look dazzling but are a symbol of South Asian brides. How many of us are aware of the religious reasons behind wearing a maang tikka. In fact they are meant to protect the bride from bad energy and give her good wisdom. Ahoy! Wish that happens more.
[Also Read: 6 Revival Accessories from Solah Shringar for New Age Bride]
Okay what is maang tikka? It's a huge medallion of sorts attached to a chain with a hook. It can be in gold, silver and gemstones such as ruby or crystal. The chain can be studded with diamonds and rhinestones depending on the bride's preferences. Maang tikka can also have side panels with one or multiple layers attached to it so as to make it look more elaborate and gorgeous. There are multiple ways to attach a maang tikka on head. All you need is a bit of patience, confidence and eagerness to do it.
Types of Maang Tikka designs
Variety is the spice of life and the same applies for maang tikka too. There are many design schools of thought when it comes to maang tikka. Here are some for you to get wooed:
Kundan Maang Tikka
If you have decided to wear a lehenga bedecked with kundan work, then wear a kundan tikka as complementary jewellery. See to it that the maang tikka made of kundan is not too large on your forehead. It should ideally fit in the middle of the forehead so that there is considerable gap between your brows and tikka.
[Also Read: Red Bindi: Resurrection of the Third Eye of Fashion]
The maang tikka designs in Kundan set in double strand looks very classy as it lines the hairline too of the bride apart from the maang.
Diamond Maang Tikka
If diamond necklaces are on your mind, then couple them with dainty looking diamond maang tikka design. Perhaps then, you will look absolutely regal and out of the world.
Rajasthan Diamond Maang Tikka
Rajasthani brides are a class apart when it comes to wearing maang tikka. Remember the round shaped designs worn by Aishwarya Rai Bachchan in the film Jodha Akbar. She looked an absolute stunner in it. Sometimes, even gold and kundan work is done in designing Rajasthani Maang Tikka.
[Also Read: Why Indian Women Love Their Gold?]
Styles of wearing Maang Tikka
Now that you have read the variety of maang tikka designs, one question that would come to your mind is how to go about wearing the maang tikka.
Though there are various ways to go about it, one way is to put more focus on the pendant of maang tikka. While doing it, you will have to hide the chain which can be done by covering the chain with your hair and combing the hair backwards or sideways.
On the contrary, there are some maang tikkas that have beautiful chains which you may not have the heart to hide. If this is the case, you need to do the parting of your hair in such a well defined way, that when you put the tikka it shows off splendidly.
Style 1: Flat Pendant
This is the most common form of maang tikka usually worn in North Indian ladies. In this style, the hair is centrally parted and taken back as a simple bun or let loose. It is worn on festival occasions too such as Karwa Chauth.
[Also Read: Bring out the Bride in You this Karva Chauth]
Style 2: Spherical Pendant
Also called Borla, this is a common technique worn by Rajasthani women especially on the occasion of Teej. The spherical pendant needs to be secured at the front using bobby pins.
[sc:mediad]
Style 3: Side Panels
This is an extended maang tIkka which runs along the side temples. It is most often women by South Indian women particularly Bharatnatyam dancers.
Style 4: Multi layered Side Panels
Maatha patti of this nature with multiple side panels is called Shringar Patti. It is noted for giving a royal look and appearance to the wearer.
Style 5: Side of hair
Usually triangular fan shaped, this style is mostly worn by Muslim ladies. It is also called Jhoomar and goes well with Anarkali salwar kameez.
Tips to follow while wearing Maang Tikka
Following things need to be kept in mind while wearing maang tikka.
Keep your hair shoulder length long as that will add beauty to your maang tikka.
Wash your hair one day before wearing maang tikka. Freshly washed hair will be difficult to maintain when you are tying the maang tikka.
Apply just a bit of hairspray so that fly-ways don't come near your hair. This technique will keep the hair in place and make it comfortable for you to wear maang tikka.
Put the maang tikka in such a way that the chain of its lies in the hair parting and the central pendant in the centre of your forehead.
To ensure extra security, attach the hook of the maang tikka with bobby pins of the same colour as your hair so that they remain secure.
Now that we have shared the world of maang tikkas with you, choosing one for your wedding or social occasion should not be difficult. Happy looking gorgeous best!