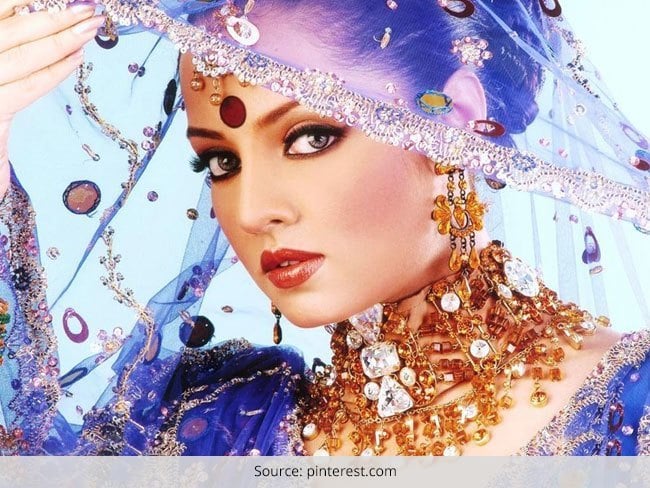 Indian traditional fashion accessories are now hugely being adopted by the international fashion houses. For instance, bindi and maang tikkas are among the trending elements seen on international runways these days.
If you remember Chanel Paris Bombay fashion show of 2012, Karl Lagerfeld had hugely promoted Indian tradition, as he sent down his models flaunting bindi or third eye and maang tikka on their foreheads.
While tattoo has become one of the biggest trends of the decade, perhaps it's time to debunk our timeless culture and highlight the birth of our customary symbol. Bindi, which has also become a sort of fashion statement these days for the West, is arguably the most visually fascinating of all forms of body decoration.
History of bindi
The word 'bindi' is derived from the Sanskrit word 'bindu'. It means a dot and suggests the mystic third eye of a person. The most amazing factor about the existence of bindi or the third eye, besides the limited amount of literature that exists on it, is the attitude of people towards it.
Here is an attempt to understand the history and significance of bindi in Indian culture. Continue reading!
Historical and religious significance of bindi
Bindi, which is also known as kumkum in South India, is 5000 years old. The practice of wearing bindi is mentioned in our Hindu mythological texts including Puranas,  Lalitha Sahasranamam, Soundarya Lahhari etc.
While the mythology describes Hindu Goddesses wearing bindis or the third eye on their foreheads; bindi has also been specifically mentioned in the Mahabharata.
The epic states how Radha had turned the kumkum into a flame- like design on her forehead, while Draupadi on the other hand, in despair and disillusion, had wiped the kumkum off her forehead on the day of her Vastraharan.
Besides, use of Kumkum attains special importance in temples dedicated to Shakti, Lakshmi and in other Vaishnavite temples. Kumkum is of special significance of Fridays and special occasions.
In ancient days, materials like chandhanam, aguru, kasturi, kumkum and sindoor were used to make the bindi. Even powdered saffron was used along-with the kusumbha flower to create a paste, which was worn on the foreheads by married Hindu women.
In those days, garlands were also an important part of the evening dress of both men and women. So as to complement this evening look, 'Visesakachhedya'(painting the forehead with a bindi or 'tilaka') was also worn.
Historical findings show that thin and tender leaves were cut into different shapes and pasted upon the forehead. These leafy bindis were also known by various names – 'Patrachhedya', 'Patralekha', 'Patrabhanga' or 'Patramanjari'. Such natural accessories and sandal paste was used for adorning not only the forehead but also on the chin, neck, palm, breast including other parts of the body.
Cultural significance
It is also found in Sanskrit plays of Kalidasa and other works like Panchatantra or Kathasarita Sagara. Tulsidas mentions it in his Ram Charit Manas at the time of the marriage between Ram and Sita.
Shankaracharya writes in Soundarya Lahari:
"Tanothu kshemam nas tava vadhana-saundarya lahari. Parivaha-sthrotah-saraniriva seemantha-saranih. Vahanti sinduram prabala-kabari-bhara-thimira-. Dvisham brindair bandi-krtham iva navin'arka kiranam."
(Oh mother, let the line parting thine hairs, which looks like a canal, through which the rushing waves of your beauty ebbs, and which on both sides imprisons, your Vermillion, which is like a rising sun, by using your hair which is dark like the platoon of soldiers of the enemy, protect us and give us peace.)
In the 19th century, Sufi leader Sharafuddin Maneri encouraged Muslim women to apply sindoor in Bangladesh. This was severely condemned by reformist movements. In today's world not only the Hindu damsels use bindi but it also found it has eventually found its way to the homes of Buddhists, Jains, Muslims, Christians, and Jews etc.
Significance of red color bindi
The color red has its own significance in Hindu culture. As per our mythology, red represents Shakti (strength). It also symbolizes love in other parts of the world. In Aryan culture, bindi stood for blood. A groom used to apply his blood, on his bride's forehead as recognition of wedlock.
While some believe this existing practice among Aryan women of applying a round shaped red Tilaka called Bindiya or Kumkum could be a survival of this. But then our Ramayan also illustrates Sita wearing bindi on her forehead from sindoor.
This way, bindi is also believed to be a derivation from Sindoor (Sindhura) or tilak in red color. Tilak which also suggests pleasant odour was used as a synonym for kumkum.
How is Kumkum different from Sindoor?
Kumkum and sindoor are different as they are prepared from two different materials. While Kumkum is made of red turmeric; sindoor, which is worn on the centre parting of the hair, is made of zinc oxide.
In Indian culture, both sindoor and kumkum are auspicious, as both of them signify good fortune (Soubhagya) for Hindu married woman. As they stand as symbol for married women, widows aren't allowed to wear sindoor or kumkum.
However, today widows do wear bindis instead of leaving their forehead bare. Mostly, they chose black or brown instead of red for their bindi. In some communities, female folks are refrained from wearing kumkum during menstruation, so they wear turmeric kumkum instead.
Significance of bindi for Hindu married women
In North and East India, it's essential for married women to wear bindi. The bride steps over the threshold of her new home, resplendent with the red bindi on her forehead. Red bindi is one of the most important parts of the Solah Shringaar for a Hindu bride.
The third eye is supposed to augur prosperity for the home she is entering. However, the same does not hold true for women in South India, as here it is a prerogative of all girls to wear a bindi.
Significance of the position of bindi
The very positioning of the bindi in between the eyebrows has its own scientific significance. The area between the eyebrows is the seat of latent wisdom and is known as the "Agna" (the 6th chakra) meaning "command".
The area is called agna chakra, as it controls various levels of concentration attained through meditation. The central point of this area is known as the "Bindu" wherein all experience is gathered in total concentration.
The scholars and yogis say that during meditation, the "kundalini" or the latent energy that lies at the base of the spine is awakened and rises to the point of sahasrara (7th chakra) situated in the head or brain. The central point, the bindu, becomes therefore a possible outlet for this potent energy. It is believed that the red kumkum present between the eyebrows retains energy in the human body.
Bindi evolving as a fashion statement
Remember a round palette of tiny bottles with different colors inside? This kumkum bottle was a huge hit among girls and women till 90's, which they heavily dotted on for their shringaar. This countryside makeup item was also widely used in towns and cities till a decade ago.
With everything being modernized, this makeup item has also received an upgrade. The self-adhesive bindi or stickers are widely preferred over the liquid kumkum as they are mess free and easy to apply.
When brands like Shilpa and Suruchi bindi were launched into the Indian market, the liquid kumkum gradually lost its popularity and soon the bindi witnessed a revolution in form of beautiful designs from the typical round shape to long embellished designs. Today, the bindi is available in exquisite designs made from sequins and crystals.
Bindi on fashion runways
This third eye of fashion has extended its reach overseas. It is considered as a casual fashion accessory for the west, thanks to the models flaunting bindis in the runways that's inspiring global fashionista to adopt this style.
Jean Paul Gaultier had recently presented his models wearing black bindis inspired from Bollywood's 60s fashion.
And how could we miss ace designers like Manish Malhotra and Sabyasachi Mukherjee, who have sent down their models with bindi at Lakme Fashion Weeks?
Even other leading designers like Gaurang Shah, Abraham & Thakore and Malini Ramani also accessorize their creations with bindi at various fashion weeks.
The traditional bindi is now seen as a fashion element other than just adding sanctity to the marital life of Hindu women. The Swarovski-studded bindis are now used as an alternative to nose piercings and are considered 'cool' in the west.
While the spiritual significance of this ethnic element is lost, the style factor is gaining more importance.
Celebrity bindi and controversies surrounding it
As I have mentioned in the beginning of my post how bindi has made its way into the international fashion runways, apart from being hugely donned in Indian fashion weeks; it doesn't come as surprise to see Hollywood celebs adopting this makeup accessory.
Selena Gomez is hugely seen flaunting bindi in her musical shows and award functions. Selena has worn bindi at the 2013 MTV Movie Awards and the 2013 Billboard Music Awards. She was also seen with it when she performed on "Ellen" and "Dancing With the Stars."
In an interview with New York radio station, the singer said, "I think the song has that Hindu, tribal feel and I wanted to translate that. I've been learning about my chakra and bindis and the culture — it's beautiful."
This had sparked huge controversy and Selena was asked for an apology.
As per Rajan Zed, statesperson for the Universal Society of Hinduism explained it well:
"The Bindi on the forehead is an ancient tradition in Hinduism and has religious significance. It is also sometimes referred to as the third eye and the flame, and it is an auspicious religious and spiritual symbol… It is not meant to be thrown around loosely for seductive effects or as a fashion accessory aiming at mercantile greed. Selena should apologize and then she should get acquainted with the basics of world religions."
Whatsoever, Selena has definitely joined the bandwagon of celebs including Katy Perry and Gwen Stefani who are also spotted wearing this accessory.
Impact of bindi on Instagram and Tumblr
It's no denying of the fact how bindi has been adored by the western fashion crowd since 60's. The role of bindi in selfie is of no surprise.
Selena Gomez did a selfie at Coachella and shared it on Instagram flaunting a long embellished bindi.
While the fashion on display stuck rigidly to a trusted festival formula, one such trend that stands out above all is the celebrity bindi. Young actors Vanessa Hudgens, Sarah Hyland and Selena Gomez all sported the Hindu symbol of the chakra in dozens of nauseatingly self-satisfied Instagram pics.
The adorning of the bindi by famous gig-goers seems to have been embraced as casually as big, hoop earrings and floppy hats, but when did it become acceptable for an ancient religious adornment to be treated as a disposable, shallow fad? It's still a debated topic. Right from the Beatles from 60's to Selena and Stefani in the 21st century; bindi has veen hugely appropriated over time.
With the proliferation of visual social networks such as Tumblr and Instagram, people do almost anything to make their selfies stand out from the crowd. The social media channels certainly play a huge role in promoting the bindi fashion.
Bollywood and bindi
Back home, bindi has had been an important makeup accessory for Bollywood actresses. Yester year actresses from Sharmila Tagore and Saira Banu to Nutan and Jaya Bhaduri were always seen flaunting bindis on their foreheads. Remember the shinning pink bindi on Sharmila's forehead in the movie Amar Prem?
Other Bollywood celebs like Rekha, Usha Uthup and Kirron Kher are also popular for their signature bindi style. These days Rani Mukherjee, Vidya Balan, the Bong beauty Bipasa Basu, Anushka Sharma and Aishwarya Rai Bachchan are seen donning this third eye at various events.
Today, the bindi or the third eye of fashion has been decontextualised to such an extent that much of its cultural significance has been vindicated. Today, the bindi is available just as a makeup accessory at Topshop and Claire's Accessories stores.
Let's look at some beautiful Bollywood celebrities sporting the Red Bindi.
Hope you enjoyed this post!!