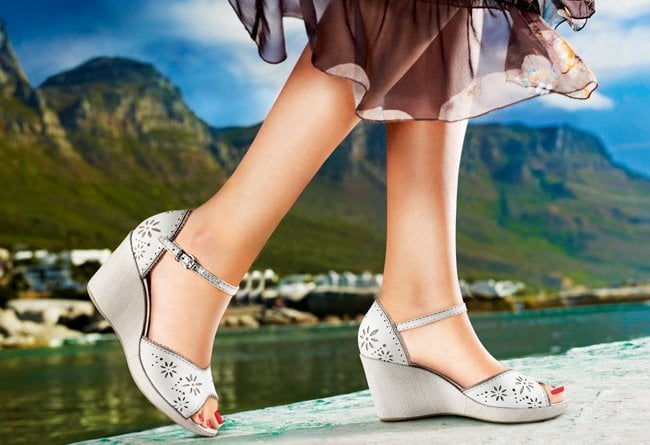 Have you ever dreamt about shopping anything if money were not a concern? I dream this all the time and have my own wish list ready even. After doing closets raids of some of my favorite celebrities, I have gathered top 10 shoes I would buy if I were a celebrity.
Celebrity Shoes
Get prepared to drool over this list of jaw-dropping high-end footwears. Read on to have your adrenaline rush provided you're a shoe lover!
#1 Tabitha Simmons Evita Chandelier Sandals
Price – $2,185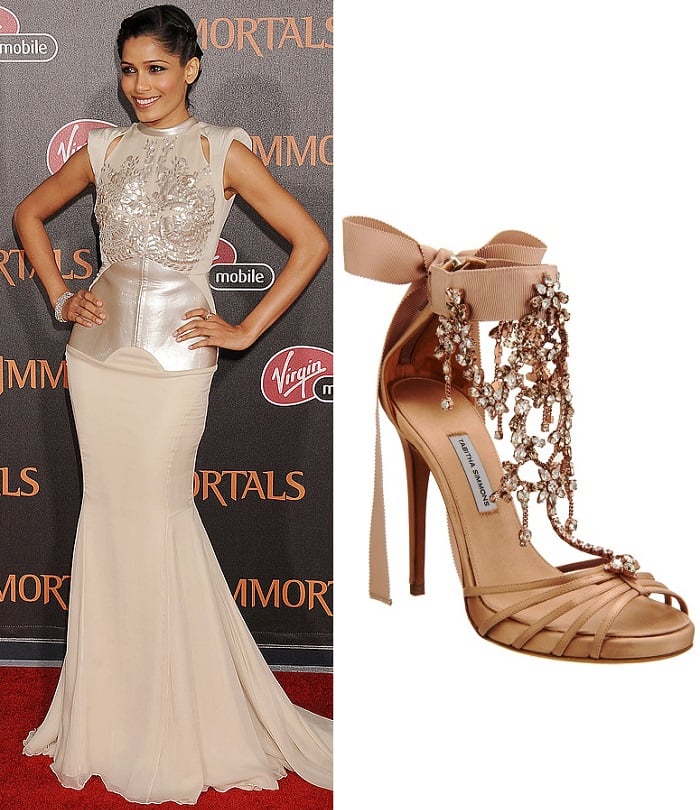 This is one of the top 10 shoes I would buy if I were a celebrity.
Freida Pinto is one such actress; you can blindly count upon for luxury fashion choices. Name any high end brand and the Slumdog Millionaire actress has worn it. I thought it couldn't get any better than this jaw-dropping pair of Tabitha Simmons Evita Chandelier Sandals, which she had paired with her Antonio Berardi gown to the "Immortals" LA premiere in Nov 2011. Later on, Freida had shifted to a Nina Ricci orange cocktail dress which indeed revealed her show-stopping shoes.
The flesh-colored satin fabric of the chandelier sandal covers the straps, platform, back and heel. The grosgrain ribbons act as ankle ties but the real closure on this sandal is the zip-up entry at the back.
[Also Read: What To Wear With Brogues]
Also seen was Sofía Vergara in Tabitha Simmons Evita Chandelier Sandals, as she had worn this style in the May 2012 issue of GQ Mexico.
#2 Christian Louboutin Lady Peep Spikes
Price – $1,595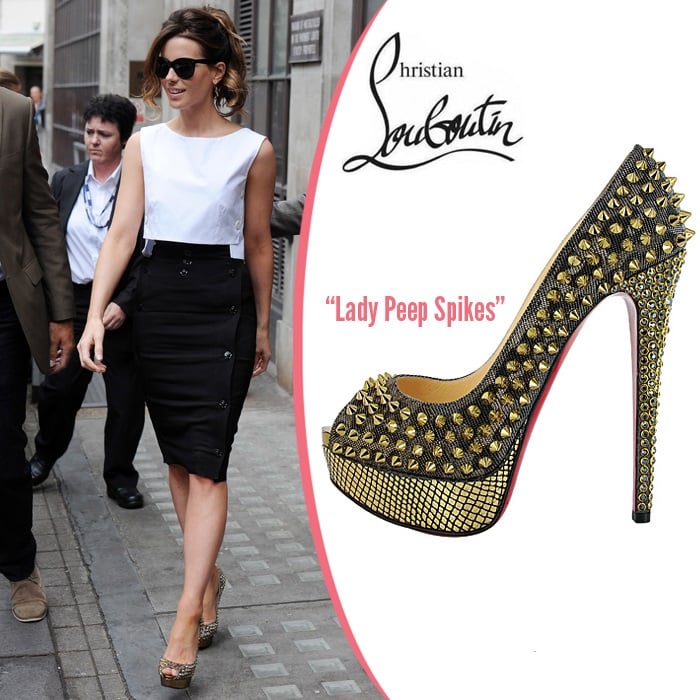 As mentioned in their official website,
"Our "Lady Peep Sling Spikes" is a sultry little lady with attitude to boot. Catch her while you can – in glamorous "Gomme," this heart-stopper has all of the daring ladies talking."
This is indeed one of the glamorous heels by the shoes magnet Fall 2012 collection. In a little more than two decades, Christian Louboutin's trademarked red soles have become one of the iconic shoe signatures. Whether covered in crystals, spikes, or black patent leather, his treasured stilettos are a testament to the power of bold design.
The Christian Louboutin Lady Peep Spikes is indeed one of my fancy desires, which I had spotted on Kate Beckinsale's feet.
The actress was spotted wearing Christian Louboutin Lady Peep Spikes while out promoting 'Total Recall' in London. These spike-studded peep-toe platform pumps feature crystal-embellishment, metallic glitter fabric and gold studs.
Even Hilary Duff and Kylie Minogue have also worn this embellished pump.
#3 Manolo Blahnik Hangisi 105 Satin Pumps in Cobalt Blue
Price – $965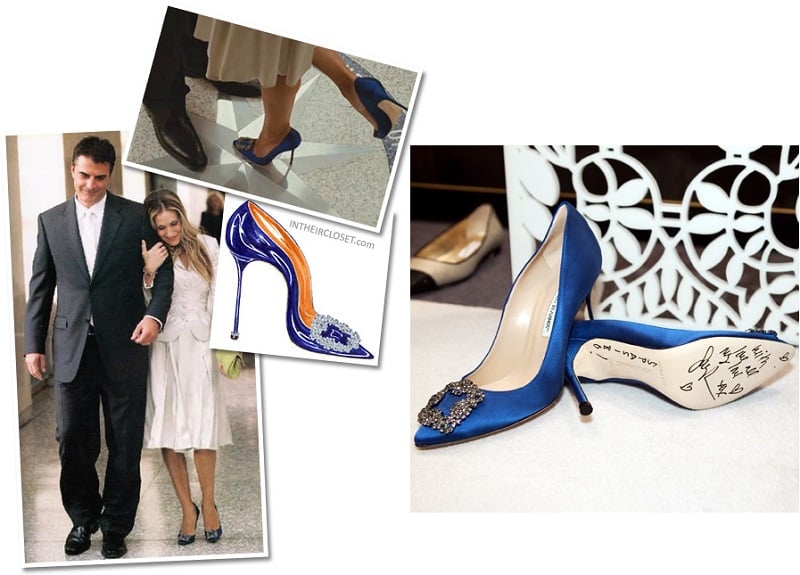 The Manolo Blahnik Hangisi pump has already graced the reel life Carrie Bradshaw (Sarah Jessica Parker) in the Sex and the City movie. The silver screen fictional fashionista had chosen this Manolo Blahnik Hangisi in cobalt blue as her "something blue". If you've a knack for fashion, then Carrie must be your ideal character from whom you love to take inspirations.
In the movie Carrie said they cost $525, but due to the vast demand retailers almost doubled the price to an outrageous $965 making them a fictional purchase for most of us shoe addicts who are living on a budget.
This is one such lavish pair I would certainly spend a fortune for.
#4 Tom Ford Padlock Ankle-Strap Pump
Price – $1150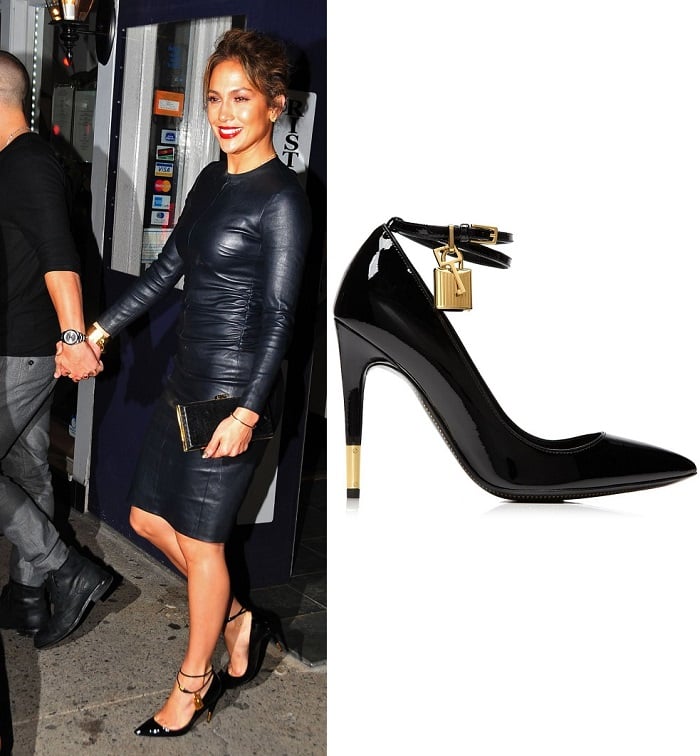 Just as Chloe's padlock bags became overnight success, Tom Ford's padlock ankle straps became a huge hit, especially among the celebrities soon after their launch.
These pointed-toe heels are from the Fall 2012 collection by Tom Ford featuring gold detailed heels with highlights – lock and key. Tom Ford seems to have celebrity's feet locked with his Padlock Ankle-Strap Pumps, offered in black patent leather and white patent leather.
And there is no doubt, these padlock pumps are a celebrity favorite for the likes of Jennifer Lopez and Kim Krdashian. JLo certainly loves this style, as she has been spotted at several occasions in these padlock pumps.
The simple, yet clever design, boasting a 4 1/4 inch golden-covered heel is bit pricey costing at $1100. In my opinion, the black option is more appealing than the white one.
#5 Louis Vuitton Pre-Fall 2012 Cap Toe Pumps
Price – $1500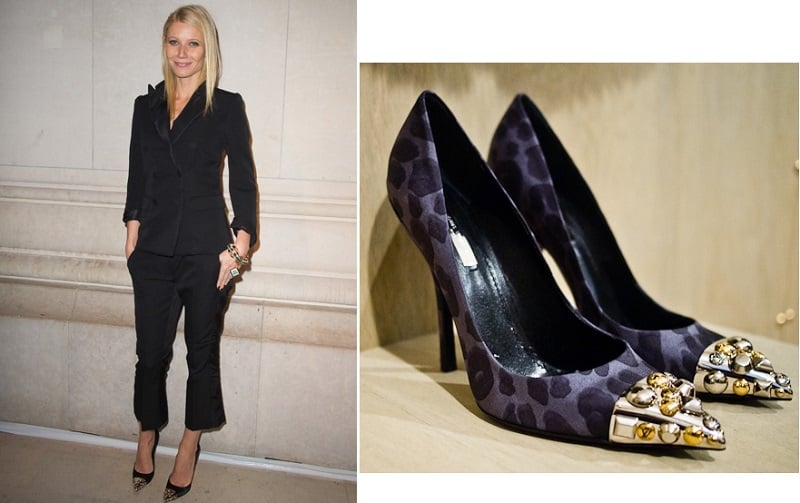 This is another luxury addition to top 10 shoes I would buy if I were a celebrity. LV, which is the most luxury brand in the world for bags, commands the same status in the world of fashion.
The LV Pre-Fall 2012 Cap Toe Pumps featuring black satin and studded/metallic cap-toe were a huge hit 2 years ago and are still ruling the scene, thanks to the prefernce by the celebrities. The metallic toes scattered with sparkling embellishments draw attention to the foot line.
Jessica Biel was spotted wearing Louis Vuitton embellished pumps while out promoting 'Total Recall' in London.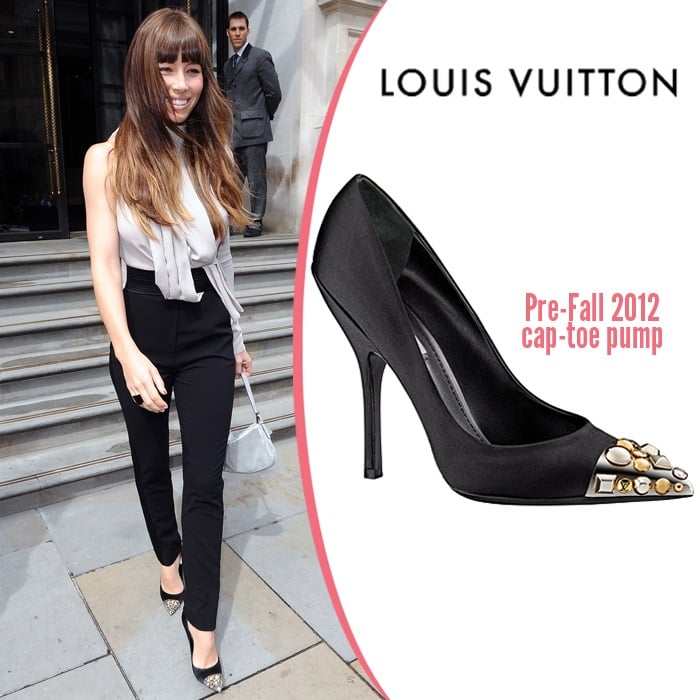 Jessica Alba is another Hollywood actress, who was spotted wearing Louis Vuitton embellished pumps to the premiere of 'Escape From Planet Earth' in LA.
Gwyneth Paltrow is yet another celeb to rock the studded Louis Vuitton cap-toe iteration — this time with the designer's Pre-Fall 2012 menswear-inspired suit. Besides, Olivia Palermo, Kirsten Dunst and Zoe Saldana have also recently worn this pump.
This is my kind of shoe anytime, any-day, all classed up in high style and mega sultry buzz.
Louis Vuitton has taken the footwear trend a step ahead, as they offer these pumps in sumptuous fabrics such as smooth satin, furry finishes and animal prints in contrasting colors to create a standout look. The top end texture stays true to the overall feel of the Louis Vuitton legacy, which is evident in the pointy toe and slim high heel.
#6 Salvatore Ferragamo Double Platform Pumps
Price – $800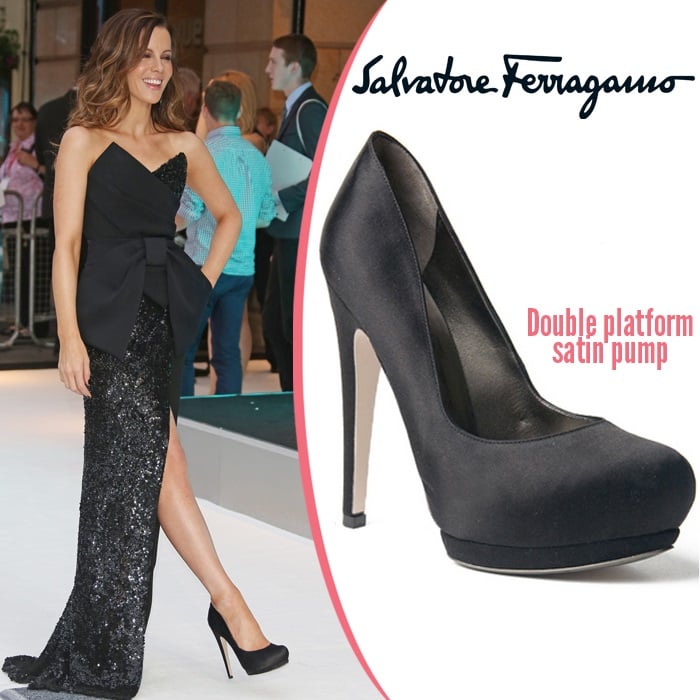 Salvatore Ferragamo is another luxury brand, Hollywood celebs hugely count upon. Early this year, Angelina Jolie had paired her sequined Elie Saab gown with Salvatore Ferragamo peep-toe pumps to the 2014 Academy Awards. The pale champagne satin peep-toe pumps with 100mm heel perfectly complemented Angelina Jolie's Oscar red carpet outfit.
However, I am much more inclined to the Salvatore Ferragamo Double Platform Pumps, which have a long fan following from Hollywood. The list includes the fashionista Sarah Jessica Parker, Jennifer Lopez, Kate Beckinsale and Amy Adams to name a few.
Kate Beckinsale wore Salvatore Ferragamo black satin pumps to the 'Total Recall' premiere in London, which she had paired with her Donna Karan Fall 2012 sequin embellished gown. These heels are from the Red Carpet Collection featuring a double platform.
These satin pumps were very popular on the red carpet in 2011, Nina Dobrev had also worn them to the Teen Choice Awards.
#7 Christian Louboutin Pigalle Spiked silver Pumps
Price – $3545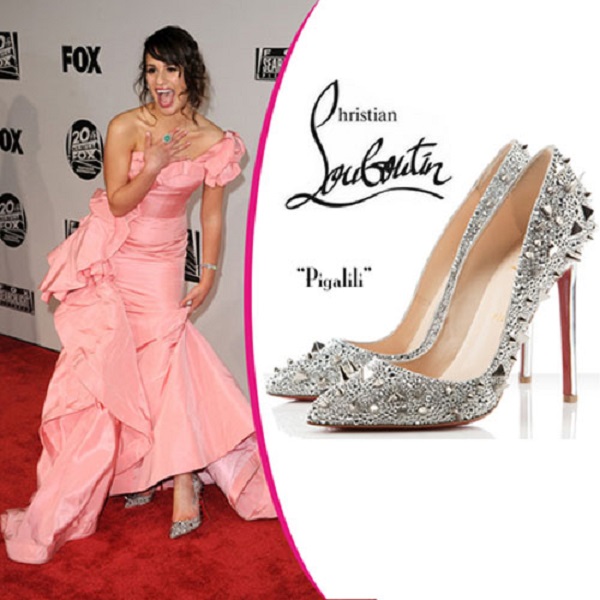 |This 120mm version in epi d'orpatent leather will keep you luxuriously on your feet from rendezvous to rendezvous.|
Named after one of his favorite neighborhoods in Paris, "Pigalle" is one of Christian Louboutin's most iconic pumps. With fine stiletto heel and pointed toe, this spiked pump is a stunning look for business and pleasure alike. And the Pigalle pumps are definitely a favorite choice by celebs.
Lea Michele kicked off the red carpet for the 2011 Golden Globe Awards in Christian Louboutin Pigalle Spiked silver Pumps.
The 24-year-old Glee star had paired her pumps with one shoulder gown with cascading ruffle detail from Oscar de la Renta, Lorraine Schwartz jewels and Judith Leiber bag.
#8 Jimmy Choo Falcon
Price – $2300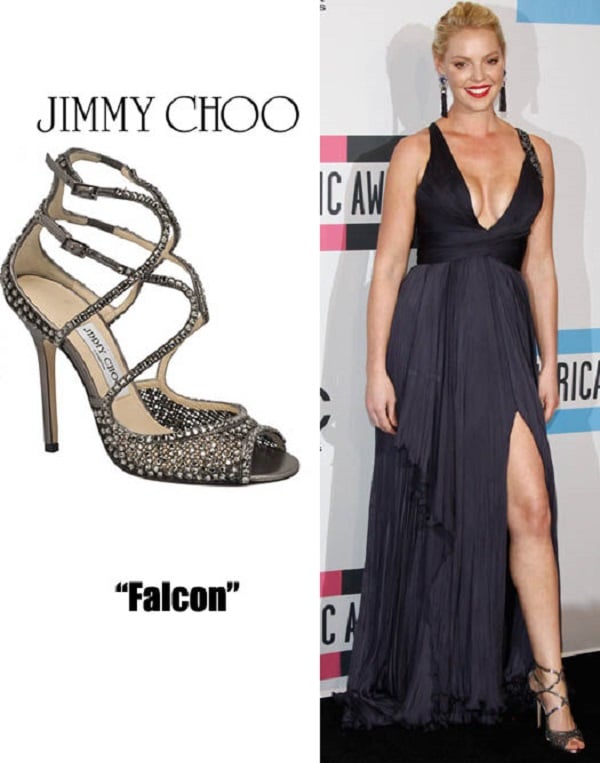 How could I not mention Jimmy Choo while talking about luxury footwear?
Jimmy Choo ranks first in terms of popularity and luxury and always finds its place whenever there is any movie featuring shoe brands such as In Her Shoes.
Katherine Heigl was spotted in Jimmy Choo crystal embellished Falcon heels to The 2011 American Music Awards. Rose Huntington-Whitley had also worn these heels this summer.
These Falcon crystal mesh sandals from JimmyChoo add the last finishing touches to anything that you are wearing. The heels measure 4.3-inches and are available in a single color choice of Anthracite for $2,300.
#9 Versace Idol Platform Sandal
Price – $2025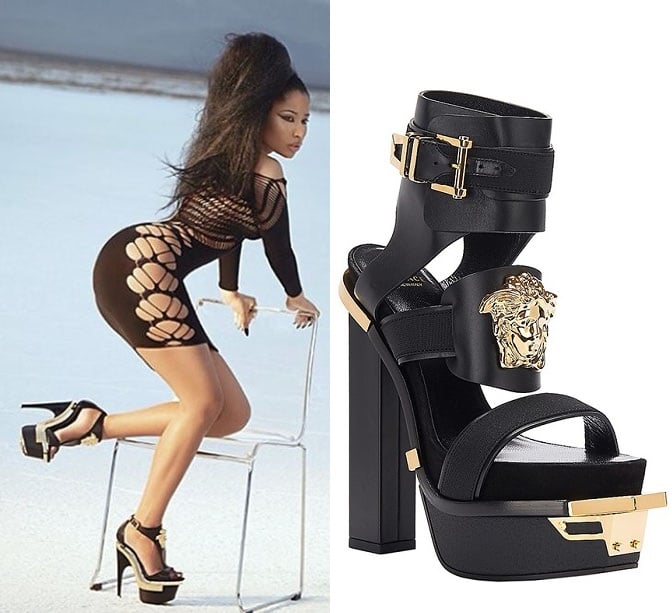 Versace is the most luxury fashion brand in the world and there is no surprise if the Versace Idol Platform Sandals are listed in my fantasy list.
These gorgeous Versace sandals are handmade by the finest artisans, excluding elegance. The large Medusa head on the front is the major highlight and adds the extra detail that makes these Versace shoes iconic.
Nicki Minaj filmed a new music video for her song "Lookin Ass Nigga" wearing a Faster by Mark Fast Classic Dress, which she had paired with Versace Sculpted Platform Sandals and a pair of Laruicci Fan Earrings.
#10 Giuseppe Zanotti Fall 2014 Black suede high heel sandal
Price – $ 2250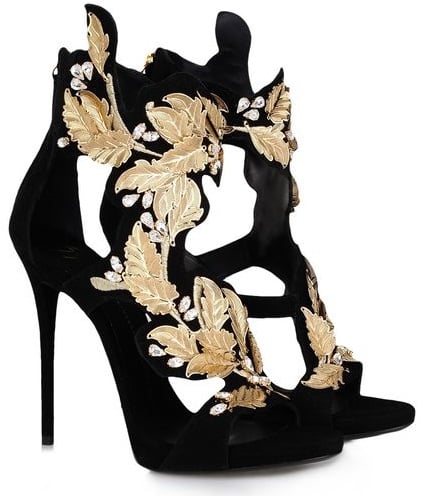 The Giuseppe Zanotti gold filigree sandal in black suede embellished with gold leaves embroidery and clusters of crystals were a major highlight from his Fall 2014 collection. As per the designer,
 "With a line that goes beyond the ordinary, Zanotti creates his own personal compilation. This eclectic collection embraces everything from shoes and bags to jewelry, accessories and clothing. A lady will find a creation for every occasion."
Another number which I loved from his latest collection was the Black suede peep-toe bootie embellished with gold studs and triple wrap-around leather straps.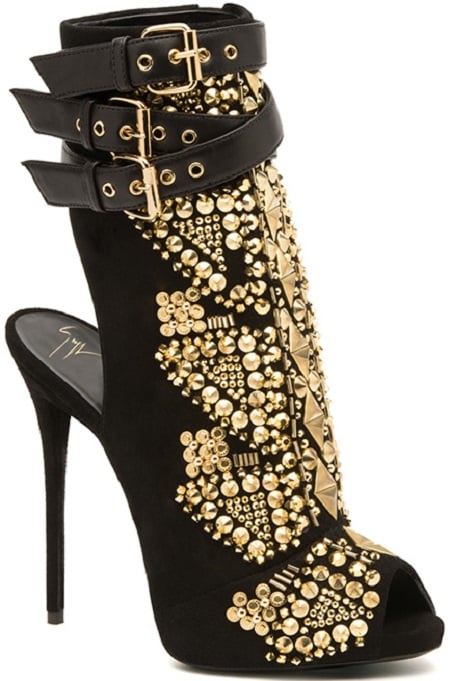 This collection is one to start budgeting for, carrying designs fit for every lifestyle and fashion twist. From the stunning geometric suede and rhinestone-embellished booty to the golden leafy filigree on an open-toed sandal; from the glittery flat boot to the crimson mule; Zanotti always finds a way to make you lust after his creations.
In addition to the flattering and statement making silhouettes, there is a plethora of dainty silver chains, buckles, calf hair, snake emblems, and gold plating to make sure that one look from onlookers will  have them keeling over in envy.
So these are my top 10 shoes I would buy if I were a celebrity or money was no object! What's your wishlist do let me know!!