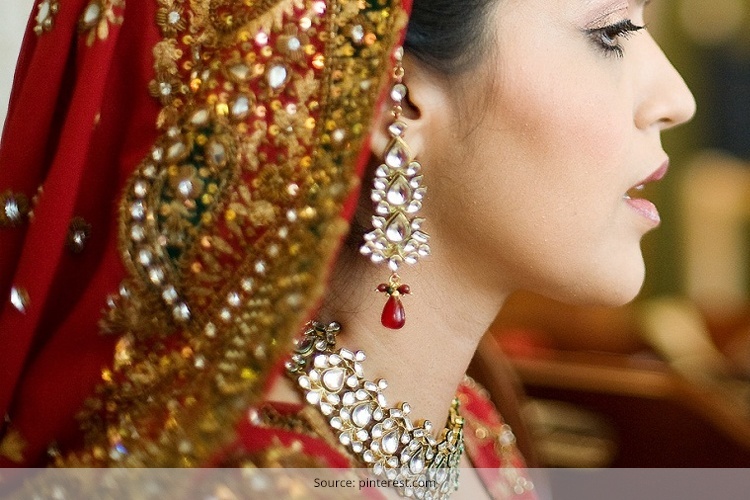 Cheers to the free-spirited new age Indian woman and her unfathomable poise against domestic violence, social assaults and her sheer gusto to beak the conservative barriers! This post is dedicated to all those fashionista, who are modern by look but deeply traditional at heart!
Here is a snippet from the Wedding Vows Collection…
"I vow to make excuses when you humiliate me in public
to forsake my friends and family when you isolate me
to value myself less when you belittle me.
I vow to blame myself when you hit me
And to fear for my safety and the safety of my children
Till death do us part.

I am Durga & Kali.
Love, Respect & Protect me.
Or else I will…"
The tradition of the Solah Shringar for Indian bride has been in existence since time immemorial. When I refer 6 accessories for bridal look this wedding season, some of would think what's new in it. Actually you are partially correct, while the other half of the story is all about twists and spins with modern edge elements.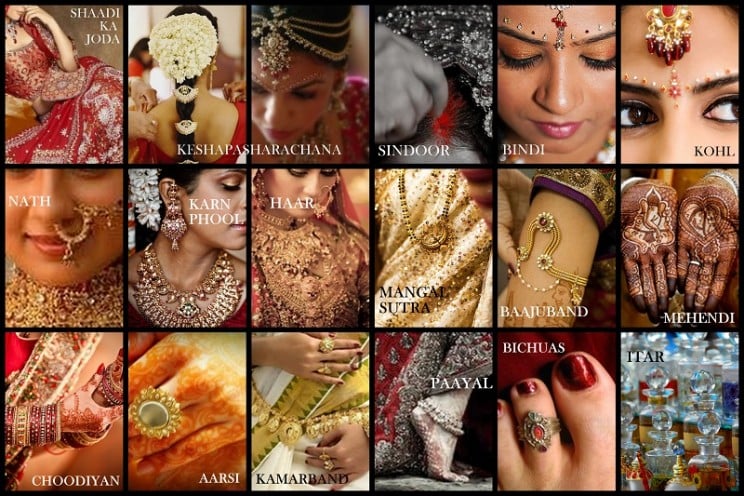 With the wedding mood in air, the brides-to-be are with mixed feelings – curiosity, excitement and perplexed about what their bridal shopping. While most of us admire the traditional jewelries from head to toe, but we are naive of the thought whether it would complement our latest designer wear and the new age setting.
This is the reason, we just keep rejecting old designs, so as to keep up the modern element. While it is already overwhelming to ponder over the wedding look; we just drop the idea of donning a complete Sholah Shringar look on our D day.
The good news is Indian fashion designers have revamped some of the age old traditional ornaments, adding some avant grade factors to the existing detailing. With a little twist and spin, the accessory not only looks more attractive but appeals to the modern bridal fashion.
The 2013 witnessed revival of some traditional bridal ornaments and when Channel showcased Paris-Bombay fashion show, sending down all their models wearing maang tikkas; that was then a sure sort call for these bygone embellishments.
Let's have a look at some of the accessories, which had lost their sheen amid the clichéd wedding look off late but thanks to our designers who have redefined their precedence. Read on!
Mod Manng Tikka
Getting inspiration from your own roots rather than sneaking through overseas traditions is always a wonderful feeling. And when a foreign counterpart starts taking cues from our rich workmanship, it then becomes a matter of pride. While Indian designers like Sabyasachi Mukherjee, Manish Malhotra, Manish Arora, Anju Modi and Ritu Beri were busy revamping this piece of head accessory, world's leading fashion house was seen chanelling our very own Matha Patti.
Karl Lagerfeld, creative head of Channel was seen baiting on this accessory heavily for this Paris Bombay Fashion Week.
Because of these fashion weeks, the over sized accessory has shown a glamorous comeback only to give the modern free-spirited bride a thing of timeless beauty radiating both conventional and contemporary elements.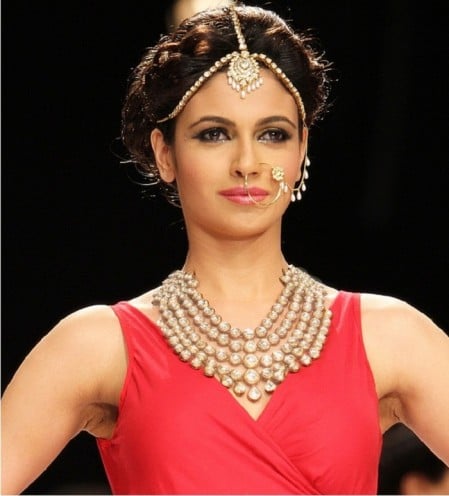 Kundan Nath
Nath or nose ring is another important part of bridal jewelry. Not many years ago, the bride's look was considered incomplete without this attention-seeking piece of accessory. The big nose hoops which were replaced by a solitaire nose stud by the course of time, has returned with a vengeance. And this time through Sonam Kapoor! Yes, you read it right. Sonam Kapoor's look at Cannes Film Festival 2013's red carpet has created history. Her vintage-inspired getup in Anamika Khanna's white and gold creation paired with a veil baroque-embroidered jacket was given a royal twist with her adorable kundan nath.
[sc:mediad]
And believe it or not, this year it is one of the most trending bridal jewelries in the Indian market and international alike.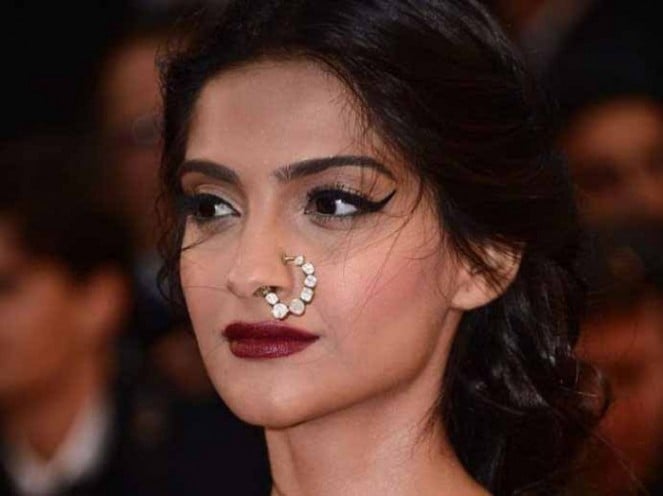 Hath Phool
Until Eina Ahluwalia's contemporary inception in the Indian jewelry world, I had never thought our century's old hath phool could even be listed in modern jewelry world. The hath phool typically comprises of a single ring or a ring to each finger and all of them are connected by a delicate bracelet thereby hanging the center piece on the center of the palm. While old hand ornaments were having rings for all the 5 fingers, the modern pieces come up up with only one or two rings to embellish this bridal accessory.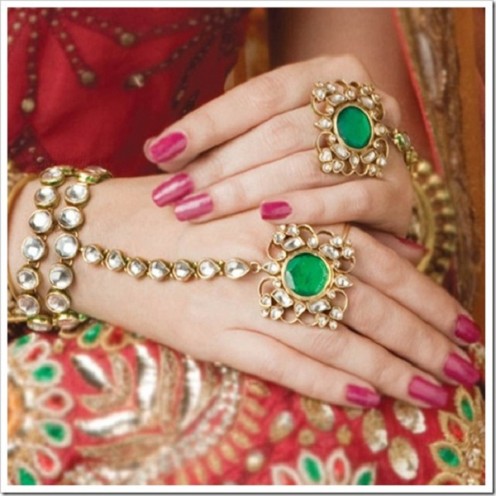 Kamar Bandh
Let me tell you, no matter what this wedding ornament is never out of fashion in India. The only difference is in their designs. While in north women wear to flaunt a kundan or polki encrusted sleek sari belt around their waist, it's compulsory bridal jewelry in south even today. Popularly known as phenta, sash, patka in various parts of the country, it is one of the most beautiful embellishments to complete an Indian bride's look.
Just like Sonam Kapoor, we can tag Shilpa Shetty to be the brand ambassador of this accessory. And a huge thanks to our Indian jewelry designers who have revolutionized this basic piece of traditional jewelry.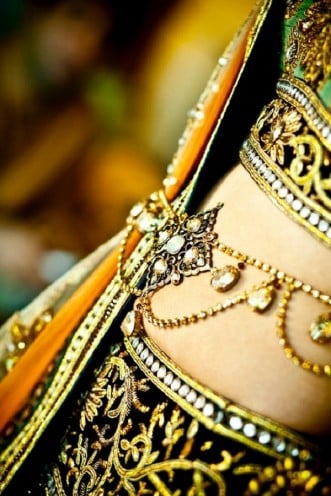 Click here to check out some fabulous kamar bandh designs
Jhumar
A must-have head accessory for Muslim brides, jhumar has been considered as a luxury symbol on wedding day.The basic purpose of this ornament is to give a bedazzled touch to the radiant face of the bride. While this jewelry dates back to the Mughal era, it has now certainly made its place in the bridal jewelry box radiating its poignant presence.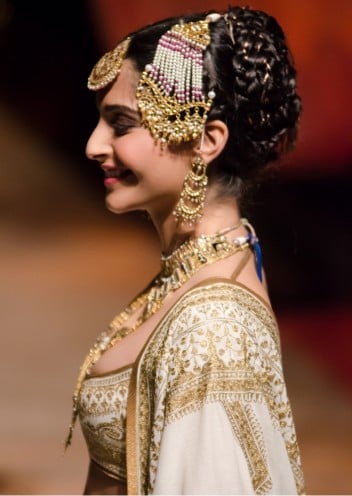 Kalire
This piece of bridal ornament, which is a norm among north Indian weddings has a significant presence in the post-wedding rituals. In earlier days, the kalire used to in gold coated metallic frail. The dome shaped streamers with a tinkling sound are tied to the chuda of the bride.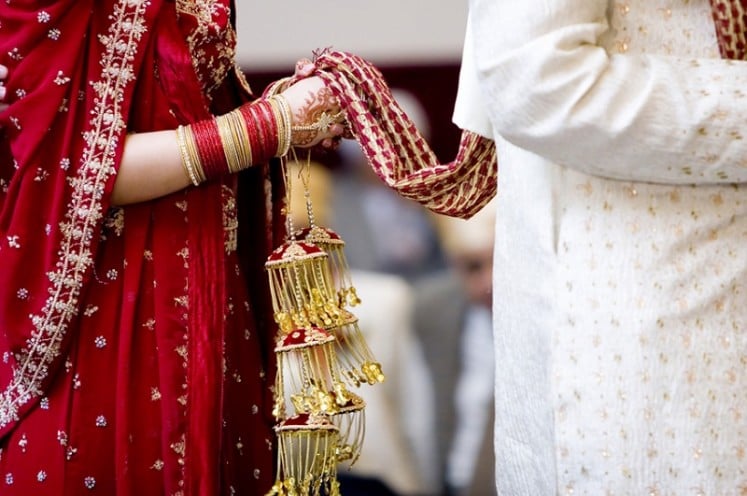 The ritual goes as this – during bidaai, the dulhan is supposed to hit her unmarried sisters and friends with the kalire and on whose ever head the dangler falls is considered to be the next to get married. This norm is somewhat similar to Christian weddings, where the bride tosses the bouquet and the bridesmaid who catches it is next in the line.
Images Source:pinterest.com