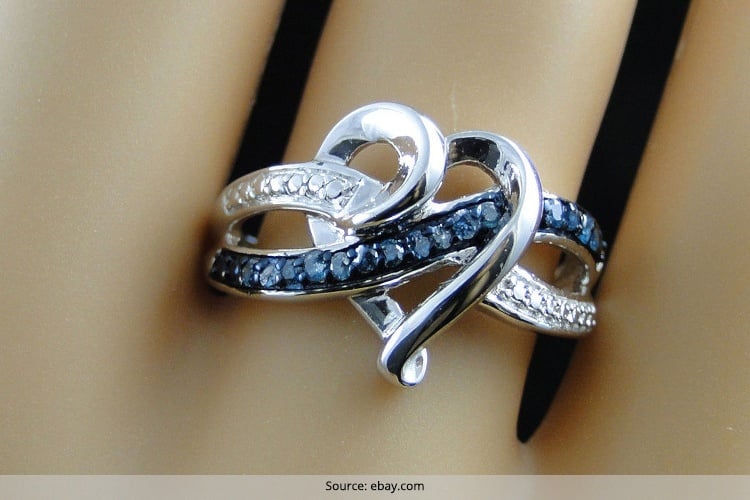 Who wouldn't love to have chic Engraved Gemstone Couple Rings worn at their roka or engagement? And when it comes to a choice of Engraved Gemstone Couple Rings to pick and choose from – topaz, cobalt, diamonds, rubies and more. Get ready to be spoilt and pampered for choice.
Let's look at some promise ring ideas
Not all couples would want to wear fancy diamonds for their engagement. There are bohemian couples who love colour and deep shades, which is why topaz Engraved Gemstone Couple Rings is trending these days.
Go Back In Time
Remember the days when you would sit your gal pals and discuss marriages over the little doll parties you organized? Most of us went through that phase, and we wanted big engagement rings to flaunt and show off, right? What about three-stoned promise rings for women, embellished with precious rubies and emeralds or cut diamonds?
Back when we were teens, we watched how pop star and actress Jennifer Lopez flaunted her precious four-carat diamond promise ring. That is exactly what made us day dream about a hefty ring on our frail fingers, with cut diamonds to flaunt, didn't it? We aren't selling you a dream here, rather we are showing you ways to decide on which of the engraved promised rings should be sitting pretty on your finger.
[Also Read: Diamond Engagement Rings]
Keep In Mind His Budget
Cut to this day and age, let's not be too hard on our men who wish to marry us and be one with us for life. Keep in mind his budget and shop together if possible for the best promise ring ideas the two of you would be happiest with.
[Also Read: Engagement Rings For Women]
Why Should He Buy You a Promise Engraved Gemstone Ring?
To begin with, a promise engraved gemstone ring is not that costly to buy; he can thus afford something large and impressive with finesse and super sexy cuts to gift you. Should the two of you plan on having a minimal budget engagement ceremony, the promise ring engraving ideas out there wouldn't rip your bank accounts and wallets too.
[sc:mediad]
In addition to that, gemstone engraved rings speak volumes about the emotions and care that goes into the making of the jewel, and into presenting it to the lady a man wishes to marry.
[Also Read: Promise Rings For Couples]
Should you want your engagement to stand out from the rest, ask him to carefully pick a ring that matches your personality and lifestyle; each ring with engraved words has a story to tell.
[Also Read: Cute Engagement Ring Designs]
Did You Know Of The Meaning Each Gemstone Carries?
Every gemstone embossed and embellished on an engraved ring has a story to tell. And the key to buying one successfully lies in the choice of gem bought. In India, astrologers can help you find out the birthstone that suits your kundli and lagna, and he can adhere to the same when picking a gemstone ring for you.
Culturally and traditionally speaking, gemstone rings with carved words on them have more meanings to succumb to. For example, love, passion, hope, togetherness, bonding, union of two souls et al!
The Four Types Of Precious Stones
There are four types of precious gemstones found on engagement and promise rings, namely;
Diamonds
Emeralds
Sapphire
Ruby
Sapphire gemstone promise rings speak of royalty, especially when the newlywed Duchess of Cambridge sported one at her marriage when tying the knot to Prince William. So did Lady Diana wear one!
[Also Read: Most Expensive Engagement Rings]
Ruby gemstone promise rings were very popular in the late 80s, especially when Sarah Ferguson was gifted one by the royal and very dapper Prince Andrew, before she became the Duchess of York.
The famous band ROLLING STONES too sported ruby gemstone promise rings. Scroll back and you would find stories about band member Keith Richards gifting his fiancé with one.
With regard to emerald engagement and promise rings, it was Jackie Kennedy – a political fashionista in her own rights who sported the emerald gemstone promise rings. Throughout the 1930s the emerald touch was seen at most weddings, engagements and proposals. And why not, emeralds represent Goddess Venus, the Goddess of love!
[Also Read: Solitaire Rings Every Woman Dreams To Own]
While you still are shopping with him for 'his and her promise rings', don't forget to check for certifications from GIA and the AMERICAN DIAMOND COUNCIL. Remember, apart from gifting reasons, an engraved gemstone promise ring is an investment too!